All the Expenses You Never Considered When Getting a Divorce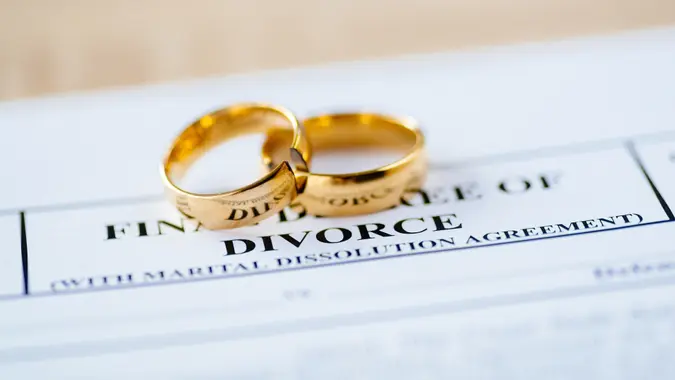 Daniel Jedzura / Shutterstock.com
Divorce is probably the worst time in many people's lives and not something most people think about, much less plan for, when they first get married. Unfortunately, divorces take more than just an emotional toll; they can be incredibly expensive depending upon how a couple goes about it. And expenses are likely to crop up that you never even considered. Here we speak to experts about all the expenses associated with divorce.
Read More: $1M Is No Longer the Standard Nest Egg – Here's How Much Most Americans Think You Actually Need To Retire
Check Out: Jaw-Dropping Stats About the State of Retirement in America
Lawyer's Fees
The average cost of divorce in the United States, as of 2019, was $15,000, according to Thomas A. Greenwald, a family law attorney and partner at Goranson Bain Ausley. "That cost typically includes the hourly rate of attorneys, which may range from $200 to $700 per hour, and the cost of paralegal fees, which may range from $100 to $200 per hour," he said.
He points out that a simple email exchange with an attorney can easily cost $125. Lawyers are necessary, however, to determine such things as division of property, custody arrangements for children, vehicle transfer documents, investment accounts, and all the other paperwork associated with splitting apart a life that is financially sewn together.
Helpful: 7 Tips for Managing Your Money If You're Newly Divorced
Other Expert Fees
But wait, there's more when it comes to professional fees. In addition to lawyers, you may need to hire other experts, such as forensic accountants, business valuation experts, accountants and child custody professionals — including psychologists, said lawyer Rajeh A. Saadeh. "If these kinds of professionals need to be hired in order to fully flesh out and litigate issues in a divorce, their costs can become quite sizable," he said.
Make Your Money Work for You
Discover: Divorcing During the Pandemic? Here's How To Safely (and Cheaply) Break It Off
Tax Consequences
Divorce often means liquidating assets, such as a home, stocks, cars and other items purchased together. Saadeh pointed out, "There may be tax consequences that may need to be borne by one or both parties depending on how assets are valued and divided." For example, if the court compels a sale of stock, the sale will result in capital gains consequences, and the court might allocate the parties to share that tax burden or one party may have to suck it up.
Find Out: The Biggest Money Mistakes Women Make in Relationships
The Cost of a New Place To Live and Bills
Both parties will have to live separately, most likely — whether you stay in the home you shared or get a new one through purchase or rent. You'll have to come up with the finances to pay for your home, and on only one income (unless you're getting spousal support — but even that is likely to be less than two incomes), according to Francis Locknear, founder and CEO of TheCostGuys.com. "Once you decide to [live by yourself], you need to hire movers, pack your belongings and pay for rent. You would also need to purchase new household items and pay your monthly bills."
Auto Loan/Car Insurance
If you purchased a car together with your spouse, you may need to refinance your loan under your own name, Locknear said. "You may need to be prepared for the monthly payments for the loan and insurance [to increase]. As a single person, you will no longer be qualified to have a shared insurance discount in your policy."
Read More: Divorced in Retirement? 20 Ways To Maintain Your Financial Independence
Cellphone Plan
Chances are that you've been on a family cellphone plan, which saves you money. According to Lewis Landerholm, managing partner at Pacific Cascade Family Law, "One expense that frequently surprises couples is their cell phone plan…when they get divorced each partner will need to sign up for their own individual plan. This can be a greater expense than they are used to paying…" In addition, they may have to pay a cancellation fee if their phone plan is still under contract.
Make Your Money Work for You
Insurance
Your car insurance may immediately become higher once you're a single person, said Maria Barlow, a divorce lawyer with The Barlow Law Firm LLC. "Also, you may lose your bundled packaging–i.e. home and auto rates or multi-car rates."
Even more costly may be medical insurance, she said. If you were on your spouse's insurance you may have to start fresh, obtaining your own insurance and paying more. You may also have to pay to cover your children if the spouse's insurance will not.
Living on One Income
What many people do not think about in advance is that not only do you have to pay a ton of money for the divorce itself, but afterward, "You will definitely be down to one income and you may be supporting two households," said Russell D. Knight, a divorce lawyer in Chicago. "You will not have the same lifestyle after a divorce."
The Cost of Dating Again
Eventually, you may begin dating again, Knight said. If you spent $200 per week on going out to dinner or other entertainment that would be $10,000 per year. "This doesn't include gym memberships, new clothes, babysitters, etcetera."
Learn: How Much Does It Cost To Get a Divorce?
Retirement Funds
You and your spouse may both have investment accounts such as pension funds, IRAs, 401(k) plans and the like. Depending upon how contentious your divorce is and the laws governing divorce in your state, you could be in a position to lose part of your own retirement funds, or gain part of your spouse's, Knight said.
Make Your Money Work for You
Emotional Costs
The ideal divorce is done amicably, possible with a mediator, where everything is agreed upon outside of court. But that is not always how it goes. "The unexpected costs of divorce may have a significant impact on parties financially and emotionally," Greenwald said. "Many parties find it helpful to seek assistance through therapy or divorce groups to manage the stress and anxiety caused by divorce."
More From GOBankingRates