The Cost of a Summer Wedding in 2021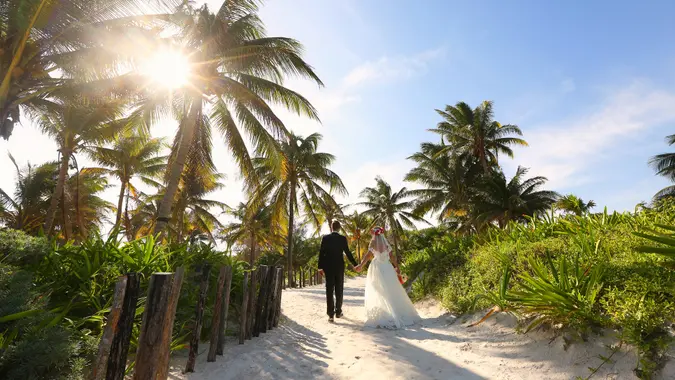 ©Shutterstock.com
Weddings are notoriously expensive affairs — between the venue, catering, entertainment, cake, flowers, photographer and other costs, these celebrations cost tens of thousands of dollars. And although wedding costs tend to go up every year, costs actually took a dip in 2020 due to the pandemic — according to The Knot, the average cost of a wedding decreased from $28,000 in 2019 to $19,000 in 2020. But that downward trend seems to be reversing — with a vengeance — for 2021.
Tips: How To Save on Your Destination Wedding
See: Are Cash Bars at Weddings a Big No-No?
Labor Costs, Equipment Rental and Food Prices Are All Higher This Year
The Consumer Price Index posted its largest increase since 2008 across all sectors from April 2020 to April 2021, including costs for shipping and food — categories that could add to the price tag of a wedding, U.S. News reported. In addition, labor costs for servers and bartenders and equipment rental prices have also increased.
Make Your Money Work for You
The costs for flowers may also be more, as many mom-and-pop floral shops have closed during the pandemic, and with less competition, those that remain can charge more for their flower arrangements. Plus, many vendors — including caterers and decor hire companies — are raising their rates to account for lost income in 2020, Business Insider reported.
Save More: A Wedding for Less Than $10K? Here's How
Good To Know: If Your Parents Help Pay for Your Wedding, How Much Say Do They Get With Plans?
Venues Have Raised Prices To Make Up for 2020 Losses
With large gatherings banned in many states for much of 2020, wedding venues lost a lot of business last year. Now, they are trying to make up for their losses by charging more for 2021 weddings, U.S. News reported. And these price increases have been substantial — wedding planners told the outlet that they have seen price increases in the range of 30% to 40% for some venues.
Check Out: Do You Still Have To Buy a Gift for a Destination Wedding?
Make Your Money Work for You
It May Cost More To Attend a Wedding, Too
If you're attending a destination wedding or a wedding out of state, you'll have to pay more for your trip this summer — gone are the days of the insane travel deals you were able to score during the pandemic. According to Forbes, airfares have risen an average of 9% compared to 2019 and hotel rates are on the rise as well.
Wedding at Any Budget: $10K, $25K, $50K and Sky's the Limit
And if you plan to rent a car, be prepared to pay top dollar. Many rental car companies sold off a lot of their fleet during the pandemic, so they now are dealing with high demand for a low supply. This means they are able to charge more than before — if you're even able to get a rental car reservation at all.
You should also expect to pay more for a wedding gift. Consumer prices have skyrocketed across many categories and particularly for home goods, which tend to be a popular category of wedding gifts.
Last updated: June 30, 2021
Make Your Money Work for You