Are You Financially Ready Series: Get Married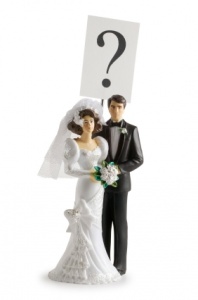 Every one of life's major milestones comes with financial considerations that must be made before taking that next big step. In this series, we walk you through these financial considerations to help you determine if you're truly ready to cross life's major bridges and so you can do it debt-free.
Are You Financially Ready for Marriage?
Getting married can be an especially tricky situation when it comes to money because it's not just about you anymore. You're bringing another person into your own financial situation, and perhaps even more frighteningly, joining theirs. Hey, for better or worse, right?
A lot of people put off marriage until they are "financially stable," but what does that really mean? Below are the various items you should be able to check off your list before walking down the aisle.
You've Had "The Talk"
In addition to how many kids you want and whether you'll live in the city or suburbs, a frank discussion about money and marriage needs to occur before the wedding (even better, before the engagement ring is purchased).
Make Your Money Work for You
Sponsors of
Are you a spender or a saver? Will both of you work, or will one of you stay home with the kids? Are you going to combine all your finances or keep separate accounts? Do you have outstanding debts that could put a strain the family budget?
All of these questions and more will need to be addressed. Then you will both have to decide if you can live–as husband and wife–with the answers.
You Both Have Few Outstanding Debts
You may want to believe that love for one another is enough to maintain a happy marriage, but that is rarely the case. A touchy subject that can lead to a lot of grief down the line, debt brought into a marriage is one of the top reasons problems occur.
At the very least, before you get married, you need to be up front about any outstanding debts to your name and vice versa. However, it's best if you eliminate as much as that debt as possible before tying the knot. Once you become husband and wife, you also become liable for each other's debt if it goes to collections.
Make Your Money Work for You
Sponsors of
Your Credit History and Scores are in Good Standing
It's a common credit myth that getting married will merge your credit–you will both maintain separate credit history and credit scores no matter what.
However, it's still important that you and your future spouse both have decent credit when you enter into marriage. When it comes to joint ventures like buying a house, both of your credit scores will be taken into consideration. That means one spouse with bad credit can hold both of you back.
Many experts actually recommend trading credit reports so you both know exactly what the other is bringing to the relationship. It's not exactly romantic, but neither is divorce.
The Ceremony and Honeymoon Are Within Budget
Let's not forget the event that kicks everything off: The wedding. The wedding ceremony and following honeymoon can be a huge expense for the bride and groom (and their families), but is that how you want to start off your new life together–in debt?
Make Your Money Work for You
Sponsors of
You may deserve a Vera Wang gown and two weeks in the Bahamas, but those may not be realistic expenses. Remember, when the honeymoon is over, you have to return to normal life and all the financial obligations that come with it.
For anyone considering marriage, you may never truly feel "ready." At the very least, you can know if you're financial stable enough for marriage. Money can put a huge strain on any relationship, so do your future spouse and yourself a favor and get finance straightened out before you tie the knot.
Check in next week to find out how to tell if you're financially ready to buy a house.