Have Houseguests Coming? What Costs Should You Ask Them To Chip In for and How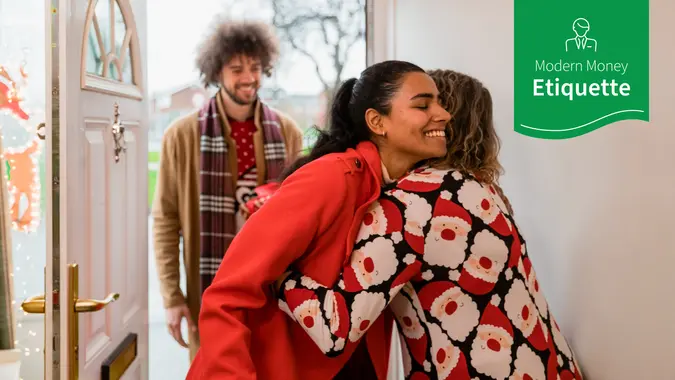 SolStock / iStock.com
The holiday season is almost here, and you're expecting houseguests. Hopefully, you're excited to see the friends and family members who will be staying with you — especially as the pandemic might've kept them from visiting last year.
Cut Costs: 6 Holidays Purchases That You Should Only Make at CostcoFor Your Holiday Shopping: The 14 Best Holiday Deals From Costco's Early Black Friday Coupon Book
However, you're not looking forward to the added expenses that come with having more people under your roof. You want to ask them to chip in to help cover the costs, but you're not sure if it's appropriate to do so, and how to even start the conversation.
Jodi RR Smith, president of Mannersmith Etiquette Consulting, based in Marblehead, Massachusetts, said who did the asking is an important factor that plays into this scenario.
"If the homeowner did the asking, then the homeowner is the host," she said. "As the host, if there are any expenses you expect the guest to cover, this should be discussed clearly and explicitly in advance."
Be Aware: Rude Money Questions You Shouldn't Ask at the Holidays
On the other hand, if the guest initiated the visit, she said they should make it clear in their request to stay with you what expenses they plan to pay in advance. Additionally, she said each person's socioeconomic status must be considered.
Make Your Money Work for You
"Groceries would be dependent [on] both of these factors, as well as the length of the stay," she said. "The longer the stay, and certainly one more than a few days, groceries and staples should be discussed during the planning phase."
Holiday Money Etiquette: Everything You Need To Know for the Season
If you go out to eat during their visit, Smith said you should have a conversation before reservations are even made about who will be paying the bill.
Even if your guest doesn't have much extra money, she said they should still find a way to contribute to the household during their stay.
"The guest can always do something," she said. "From getting up early to bring coffee and pastries back to making-serving-cleaning an entire meal, there is always something for a guest to do to show the host some appreciation."
On the Other Side: How To Be a Financially Gracious Houseguest When Staying With Friends or Family
Make Your Money Work for You
Regardless of the situation, she said it's important to have these conversations in advance, so everyone is on the same page from the first day of their stay.
Even if you're not hosting overnight guests this holiday season, you might be welcoming family into your home for a gathering or friends for a party. Costs for these types of events can add up fast, so you might be wondering if it's acceptable to ask guests to help foot the bill.
"As a general rule, it is not appropriate for a hostess to ask her guests to chip in for the celebratory expenses," said Maryanne Parker, founder of Manor of Manners, an etiquette consulting firm based in San Diego. "But of course there are exceptions to the rule."
Helpful: How To Handle Holiday Invites and Events While on a Budget
She said any guests attending a traditional celebration — i.e., your family's annual holiday dinner — for the first time should not be asked to chip in under any circumstances.
Make Your Money Work for You
"If it is truly a burden for the celebrations to go smoothly, we can definitely try and collaborate with other family members or relatives and try to create a pleasant and unforgettable experience," she said. "Asking a new visitor to pitch in is not appropriate."
She said one easy way to ask people to chip in is to host a potluck.
"This is the appropriate way to ask people to contribute to the entire celebration," she said. "We can create a spreadsheet before the event and make sure that everything is rather clear from the beginning how we will be organizing the family dinner or the holiday celebration."
Related: The Etiquette of Requesting, Giving and Receiving Money as Gifts
If you do decide to ask people for cash to help cover the cost of an event, Parker said you must have this conversation beforehand.
"It is extremely rude to invite people and ask them afterwards to pay for particular items, without informing them from the beginning," she said.
She said to simply let your guests know you would be happy to host a holiday event but would need everyone to pitch in to make it financially feasible for you.
Make Your Money Work for You
"Being transparent is the key," she said. "Most people are in the same situation and they will be happy to participate."
Hosting friends and family during the holidays should be something that makes you happy — not stresses you out due to the costs associated with it. Don't be afraid to speak up in advance if you need help covering costs, so you can enjoy visiting with your guests without going into debt.
More From GOBankingRates