My Parents' Ugly Divorce Taught Me These Valuable Money Lessons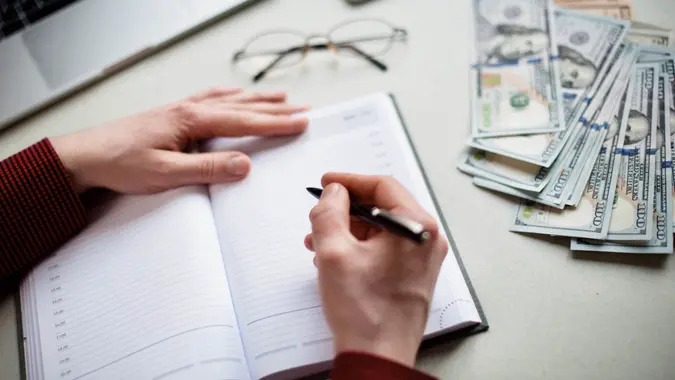 @lelia_milaya / Twenty20.com
My parents were high school sweethearts who were together for 27 years. They had six children together and built a profitable business from the ground up. Before you say "awww," let me be frank: For as long as I can remember, they had arguments — ones that slowly escalated and eventually turned into physical and emotional abuse. Definitely not a great situation.
Neither of my parents were formally educated. In fact, my mom graduated high school, but my dad didn't make it past 10th grade. They worked factory jobs until they began expanding their family and had my oldest sister. My mom was a stay-at-home mom, taking on the nonstop job of raising kids, while my dad continued to work. They eventually found a gap in the market and launched their own business. It was incredibly demanding (24/7/365) and led to unhealthy coping mechanisms, resulting in drug addiction. With addiction came the abuse.
Read More: My Parents' Divorce Turned Me Into an Extreme Money Saver
I was 16 years old when their marriage finally ended. There were a lot of broken hearts and financial uncertainty as my mom tried to navigate her newfound independence, supporting six kids on $7.25 per hour working at a hobby and craft store. We went from living a comfortable life to being so broke we slept on the floor of an apartment because we couldn't even afford a mattress.
It was ugly. But in the ugliness of their divorce, I was able to learn some very valuable lessons about money.
Lesson No. 1: Education Is Important for Helping Support Yourself Financially
I'm not saying that a college degree is a guaranteed ticket to a good income, but education is incredibly important when it comes to supporting yourself. According to the U.S. Bureau of Labor Statistics, full-time workers over 25 years old earn a median salary of $736 per week with a high school diploma. Meanwhile, full-time workers with a bachelor's degree earn a median salary of $1,338 per week.
Make Your Money Work for You
While this is not always the case, the statistics do show that those with formal education tend to earn more than those with a high school diploma. I took my observations and suggestions from my mom and pursued my bachelor's degree and master's degree.
Keep in mind that there are plenty of other options than a college degree. Trade and vocational schools are a great option, and never discount the power of pursuing skills taught outside of the classroom.
Learn: 21 Careers That Are More Likely to Lead to Divorce
Lesson No. 2: Financial Transparency Is Key
Ideally, both parties should have an equal say in the management of their money. I have discovered that in abusive relationships, one party having sole control over money is very common, but in healthy relationships, it's important to be transparent and communicative about finances.
As a financial coach, I often see couples struggling with money. They might have one person who takes control of the management and one that doesn't even know how to access the joint account. It's common but not ideal. In a healthy relationship, there should be transparency over spending, savings, retirement, credit scores and goals.
It's not fair for one person to handle the huge responsibility of money on their own.
Check Out: 6 Money Mistakes That Can Lead to Divorce

Lesson No. 3: Prepare for the Worst and Hope for the Best
This lesson was the hardest for me to grasp. I grew up being taught that marriage is forever and naively thought that once you say "I do," you're in it for the long haul. The American Psychological Association states that as many as 40-50 percent of marriages end in divorce. That's a pretty bleak finding that really shouldn't be ignored.
Make Your Money Work for You
While it's perfectly acceptable and normal for us to believe our marriages will be different, the reality is we can't predict how they will turn out. Whether it's divorce or death, marriages will eventually end, and we need to discuss and plan financially for those events.
Documenting how you would split assets and approach money in the event of a divorce is a healthy conversation to have before marriage. This might result in creating prenuptial agreements that could protect both parties if the marriage fails.
More on Divorce: 40 Secrets Only Divorce Attorneys Know
Lesson No. 4: There Is a Huge Difference Between Wants and Needs
After my parents separated for the last time and my siblings and I were sleeping on the floor in my mom's apartment, I had one event that changed my perspective on money forever.
One day, my mom and I were walking. We glanced over and saw that someone had thrown away a mattress at an apartment complex. Disgustingly enough, we were stoked. They say one man's trash is another man's treasure, and it was true. This used mattress meant that we no longer had to sleep on the floor. We grabbed the car, loaded that mattress on the roof and took it home. Finding that mattress in the garbage taught me the true difference between a want and a need.
To this day, whenever I catch myself saying I "need" something, I always correct myself and reflect on this lesson. Most things in life are rarely a need.
Make Your Money Work for You
Divorce is ugly. It's painful, heartbreaking and hurts every party involved. However, I truly believe that by being able to support yourself, being financially transparent in the relationship, planning for the worst and recognizing the difference between wants and needs, you will have a better financial life and maybe even marriage.
Click through to read about 10 things you should know about your money as you divorce.
More From Our Smart Money Squad
We make money easy. Get weekly email updates, including expert advice to help you Live Richer™.