Should You Charge Your Adult Kid Rent?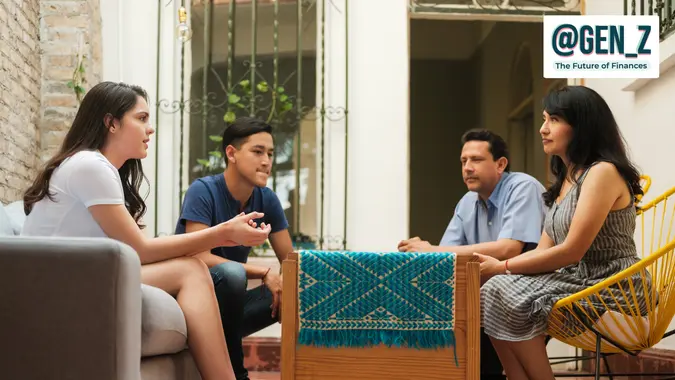 aldomurillo / iStock.com
Whether it's due to the high cost of rent, lack of affordable housing, a job struggle, too much student debt or another reason, it's not uncommon for children to move back in with their parents. The question is: Should you charge your adult child rent?
Advice: Why You Need To Cut Your Kids Off — and How To Do It
Tips: How To Help Your Adult Children Get Back on Their Feet After They Move Back Home

From a logical perspective, it makes sense. "A child is legally an adult and therefore rent-chargeable once he/she reaches the age of majority at 18 years old," said Collen Clark, a lawyer and the founder of Schmidt & Clark, LLP. "This is the time when parental obligations end as self-sufficiency and a sense of responsibility is already acquired by a person. Life, however, can be so unforgiving that even the most well-prepared adults need their folks' help."
If your adult child is living with you (or planning to move back in), here's how to figure out whether you should charge rent.
Make a Comeback: How To Bounce Back Financially in 2021
Why Charging Rent Is a Good Idea
Charging rent to an adult child is a good idea for many reasons. First of all, as a parent, you need to prioritize your retirement, which means that you shouldn't be footing the bill for an adult child. Next, by charging rent, it sends a message that you expect your child to be financially responsible. Finally, by charging rent, you'll avoid creating a situation where your child is unmotivated to find another place to live because of the free ride.
Make Your Money Work for You
Your Money: Stay on Track With the Financial Stability Roadmap
How To Charge Your Adult Child Rent
The best course of action is to be upfront and clear about your expectations of your child paying rent.
"A discussion must first take place outlining all the residential conditions of the stay," Clark said. "Spearheading a sit-down talk where the length of the stay is tackled, along with whether they will contribute to household bills, can bring other people to stay over, be responsible for their own meals and/or laundries and pay money or not would suffice." 
Clark said the discussion can help parents decide whether a formal rental agreement is necessary. If so, he said the contract must cover a fair rental fee that's at least equal to the costs you will incur as a result of your child moving back in. 
But Clark also said, "At the end of the day, everything is still compromisable at the parents' and the child's discretion."
More: 20 Things Your Kids Can Learn From Your Retirement
What If Your Child Cannot Afford To Pay Rent?
As Clark said, everything is compromisable between you and your child. If your child cannot afford to pay what you deem to be a fair amount for rent, then consider a compromise.
Make Your Money Work for You
One suggestion is to start out with a lower amount of rent, depending on your child's financial situation. As your child begins to get back on their feet, you can increase the amount. For example, you could agree that for the first three to six months, you would discount the rent by 50%, and then starting with the seventh month, you would increase the rent by 10% (or more) each month until your child is paying 100% of the rent.
Take a Look: Old-School Money Advice You Shouldn't Follow Anymore
Another suggestion is to have your child contribute in other ways to the household, such as doing odd jobs around the house, paying specific bills or buying groceries.
Whatever you decide — charging the full amount of rent, partial rent or accepting other contributions — Clark advised that parents should avoid relying on verbal agreements due to the potential for unclear boundaries and possible abuses.
Make Your Money Work for You
More From GOBankingRates
Make Your Money Work for You