Skipping Valentine's Day Gifts Due to Inflation? How To Save Money and Your Love Life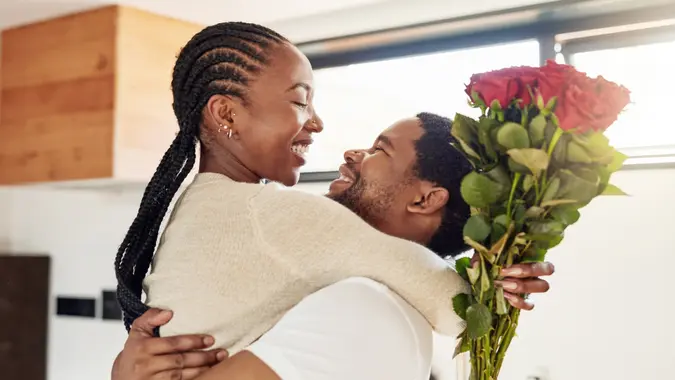 LumiNola / Getty Images
While inflation has decreased for six straight months, the average rate continues to present a significant burden to many Americans struggling to gain financial footing. Appropriately, January's consumer price index data will be released on Valentine's Day, Feb. 14, when couples around the country will celebrate their love by spending money on gifts and dates out.
See: $2,000 Quarter? Check Your Pockets Before You Use This 2004 Coin
Find: 3 Ways Smart People Save Money When Filing Their Taxes
Regardless of the headaches caused by inflation, prices will be peaking for purchases associated with Valentine's Day tomorrow. As the costs for many consumer goods — including flowers, chocolates, jewelry and restaurant meals — climb, many couples have decided to avoid the gift swap altogether.
According to a new survey by Yellow Octopus, 43% of couples have decided to skip giving presents on Valentine's Day due to inflation and searches for "Valentine's Day gifts" are down 56% this year. The study further found that 61% of respondents that were in a relationship — and said they weren't buying a Valentine's gift this year — also stated they would break up with their partner if they didn't receive one.
Make Your Money Work for You
Overall, 46% of those surveyed claimed they would break up with their partners if they did not get a gift on Valentine's Day, while only a slightly larger cohort, 47%, said they would if the gift was a bad one.
If you're typically the kind of person who will cave to the pressure of showering your significant other with romantic gifts, you won't be alone. Many Americans still plan on spending money to celebrate Valentine's Day tomorrow.
According to a separate study by Forbes Advisor, 59% of Americans plan on spending money on their valentine. However, in order to afford presents and dates for their partners over the past 12 months, 52% said they had to cut down on other spending, while 50% had to borrow funds from a friend or family member.
Additionally, 46% used a "buy now, pay later" service, 40% went into credit card debt and 37% applied for a personal loan. Further, 28% and 15% got an extra part-time job or found a better paying new job, respectively.
Of course, Americans can still be creative with how they show their affection without breaking the bank. As LendingTree's chief credit analyst, Matt Schulz, told CNBC: "The good news with Valentine's Day is that there are so many creative things you can do that don't cost you any money that can be a really big hit."
Make Your Money Work for You
Take Our Poll: What Are Your Financial Priorities in 2023?
More: Best Valentine's Day Deals From Target
Here are a few interesting ideas for Valentine's Day:
1. Go the inexpensive but meaningful route: You'll end up paying a steep sum for a dozen roses, but hopefully won't for a dozen beautiful tulips. If you know your partner's favorite things, you can never go wrong indulging them, even on a budget.
2. Postpone Your Valentine's Day Celebration: If you don't want to skip buying gifts, plan a celebration after the big day — when the pressure (and the prices) have crested and fallen.
3. Do It Yourself: Making a heartfelt gift is never a cop-out. Rather, it's a good way to show your feelings and save money at the same time. The same thinking applies when considering making a special dinner at home. It might be a bit unconventional to consider, but big spending and grand gestures can make a partner uncomfortable, especially a new one.
Make Your Money Work for You
More From GOBankingRates
Make Your Money Work for You