A Wedding for Less Than $10K? Here's How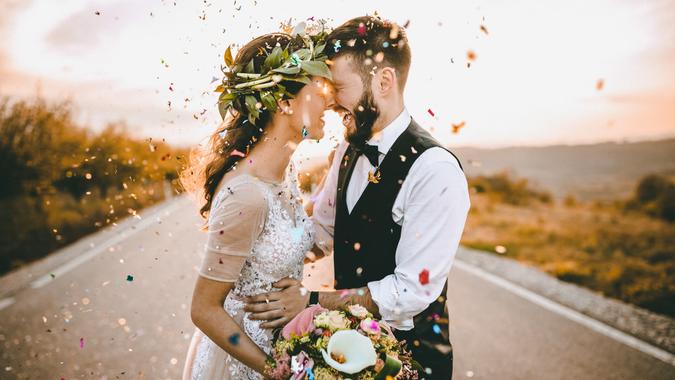 Pekic / Getty Images/iStockphoto
Many people expect their wedding day to be the happiest day of their lives. But to make that happen, many have chosen to go all out, opting for all the bells and whistles. And while the experience might be enjoyable in the moment, it can also lead to large amounts of debt that tie couples down for years or even decades. After all, the average cost of a wedding in 2020 was $19,000, according to The Knot. That was a drop from the much higher average of $28,000 in 2019, likely because of the pandemic.
Important: Are Cash Bars at Weddings a Big No-No?
Find Out: If Your Parents Help Pay for Your Wedding, How Much Say Do They Get With Plans?
The good news is that your big day doesn't have to cost this much. With some intentional planning, you can have the day you want at a four-figure cost. Does that mean making some sacrifices? It may, but if that allows you to avoid going deep into debt, it could be well worth it. And in some cases, all you really need is some thinking outside the box.
Make Your Money Work for You
We asked experts to give us their best tips to keep costs low. The cost-cutting tips will have the greatest impact, allowing you to keep the total bill under $10,000.
Good To Know: What To Add and Skip on Your Wedding Registry
Keep the Guest List Small
"Should we invite my manager from that job I left 10 years ago?"
If you say yes to these questions, you are inevitably increasing the cost of your wedding — and doing so for someone who is not a significant part of your life. Sure, you might be tempted to invite everyone you know to your special day. But when you are trying to keep costs under control, keeping the guest list small is one of the most impactful moves you can make.
As it happens, there is a micro wedding trend right now that might make a small guest list more palatable. "Use the current micro-wedding trend to your advantage," said Rena Sweeney, creative director at NOW Weddings Magazine. "Keep your guest list small, giving yourself more money per person to work with."
See: Do You Still Have To Buy a Gift for a Destination Wedding?
Have Your Wedding During the 'Off' Season
Everyone wants to have their wedding during the warmer months when the weather is nice. That is perfectly understandable, but just like everything else, you will pay a higher price if you have your wedding at one of the more in-demand times.
Brent Weiss, CFP professional at Facet Wealth, said prices can drop considerably if you have your wedding during the off-season. Even opting for an off-day can save you money. Dianne Spencer, financial wellness relationship manager at Regions Bank, agreed: "Consider having your wedding on an 'off' day of the week. It could save thousands of dollars in venue rental costs."
Thus, the solution here is to get quotes from venues on different days, and even different seasons. Opting for a less popular time of the week or time of the year could save you quite a bit.
Make Your Money Work for You
Find a BYOB Venue
Believe it or not, some venues may allow you to bring your own alcohol, and that can greatly reduce your costs. Jessica Bishop, editor/owner at The Budget Savvy Bride, explained why this is such an effective cost-cutting move. "Buying your own booze can save you significantly. Traditional markup can be 300% or more of what liquor actually costs, so you're better off buying in bulk from your favorite beverage supply outlet."
It might take some extra work, but with the high markup on alcohol, it's easy to see why this can save you so much money. Plus, you might even have more choice as far as what you are able to offer to your guests.
For the Wedding Events: How Much Is OK To Expect People To Pay For a Bachelor/ette Party?
Rethink Your Wedding Apparel
It's easy to spend a large amount of money on dresses and suits, but it's not necessary to spend quite so much. "For years, 'big bridal' has overcharged brides for gowns made of synthetic fabric, under the ruse of pomp," said Karen Cleveland, Toronto-based co-author of The New Wedding Book. "We can expect savvier shoppers, who refuse to pay four figures for polyester blends, and instead, opt for dresses of higher quality at a commensurate price tag — OR, buy cheap and cheerful and not overpay (like the famed $50 amazon wedding dress we saw this winter)."
In short, wedding dress hunters are getting savvier, and thinking outside the box when it comes to their wedding apparel. Instead of going for the expensive dress from "big bridal," consider one of the many alternatives.
More From GOBankingRates

Last updated: June 10, 2021