Who Makes the Money Decisions in a Relationship? 30% of Gen Z Women Say It's Not Them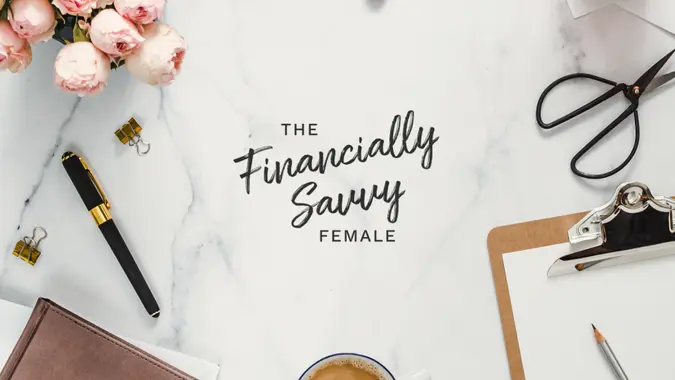 Fascinadora / iStock.com
Conventional wisdom says that modern women have more control over their money than any generation that came before — but that might be a false assumption. As it turns out, young women in America are much more likely than their older counterparts to take a passive role in their household finances.
A new GOBankingRates study of more than 1,000 American women found that Gen Zers ages 18-24 who are in relationships leave financial matters to their partners in greater percentages than women in every older age group.
Interesting Trends Emerged Among Women of Different Ages
When excluding women who are single or the only adult in the household, the study found that the largest plurality of Gen Z women in relationships — about 48% — make financial decisions together with their partners.
That's the highest percentage of any age group.
For younger millennial women ages 25-34, it's 43%, and then the percentage drops to the low 30s for older millennial women ages 35-44 and both younger Gen X women between 45 and 54 and older Gen Xers ages 55-64. Finally, about 39% of baby boomer women ages 65 and make money decisions with their partners. Note that these generation age markers are not exact to the age range that fits in the generations.
Make Your Money Work for You
While that's the highest percentage of the post-Gen Z generations, even the oldest women are still way behind the youngest.
Take Our Poll: Are You Concerned About the Safety of Your Money in Your Bank Accounts?
While Most Likely To Collaborate, Young Women Are Also Most Likely To Opt Out
In terms of their participation in family finances, Gen Z women are defined by duality.
While they make money decisions together with their partners more than any other group, they're also most likely to leave financial decisions entirely in the other person's hands.
But interestingly, that might change as they age.
The study revealed a distinct pattern of women growing less likely to forfeit control the older they get.
Here's how the percentage of women who leave money matters to their significant others breaks down by age:
Gen Z (18-24): 30%
Younger millennials (25-34): 21%
Older millennials (35-44): 12%
Younger Gen X (45-54): 10%
Older Gen X (55-64): 10%
Baby boomers (65+): 5%
The obvious question this data presents is whether there's some fundamental difference between these age groups or if women simply command more control as they age.
Make Your Money Work for You
The answer, of course, is much more complex.
Older women do this or younger women do that are unmakable statements. No matter their age, women are individuals who adapt and adjust to their own unique financial situations.
Today's Young Women Can Share Control Even When Their Partners Take the Lead
Sunica Du, fashion designer, illustrator and owner of Sunica Design, is a Gen Z woman who trusts most of her household finances to her partner.
"I've decided to leave the management of our household finances to my partner because he is an investment banker," Du said. "I trust his ability to make investment decisions and manage our money effectively, as he has demonstrated his capabilities in his career."
Of course, not everyone has the luxury of a live-in money pro — but in the modern era, they don't necessarily need one.
In the old days, the party who paid the bills, scoured the statements and transferred the money retained control. But Gen Z is the first generation to enter adulthood with tools that give both partners an overview of the family finances with nothing more than a password — even the 30% who trust the decisions to their squeezes aren't necessarily passive bystanders.
Make Your Money Work for You
"Millennials and Gen Z have grown up with technology that simplifies financial management and strictly guards account safety," Du said. "We can monitor and review financial decisions, which creates a check-and-balance system in our relationships. For example, if my partner wants to start an investment process with my account, he must gain my agreement, which fosters a mutual decision-making process."
Unlike Technology, the Need for Honesty and Communication Never Changes
The nature of financial transactions is in constant evolution — but human nature is not.
"This is not new, but be honest with your partner," said Rose Niang, director of financial planning at Edelman Financial Engines. "We all know that finances are the No. 1 reason people get divorced or split, so communicate and come up with solutions that fit you best as a couple."
In Niang's own household, they separate their finances into "his," "hers" and "ours" buckets.
"This allows us to be able to make independent decisions when it comes to minor financial situations without feeling like we need permission from the other, and make major financial decisions like buying a car, a house, retirement savings, kids college and emergency savings as a couple."
Make Your Money Work for You
They've also committed to transparency regarding any debt they take on independently, including credit cards.
"This works for us because I did not want to explain my hair, nails, clothes and lunch or brunch expenses," Niang said. "We always prioritize 'we' spending over 'I' spending."
More From GOBankingRates
Methodology: GOBankingRates surveyed 1,016 American women aged 18 and older from across the country on between February 17 and February 21, 2023, asking twenty different questions: (1) What is your primary financial goal?; (2) What is the biggest barrier to achieving your financial goal?; (3) If you are actively investing, what is your primary investment vehicle?; (4) If you are not actively investing, what's preventing you from investing?; (5) What's the biggest obstacle you've faced in your career path?; (6) How much student loan debt do you currently have?; (7) How much credit card debt do you currently have?; (8) What is your biggest obstacle to paying off your debts (credit card, student loan, medical, etc.)?; (9) What is your biggest source of financial worry/stress?; (10) What workplace benefit is most important to you?; (11) What is your worst money habit?; (12) How involved are you in household financial decisions compared to your partner?; (13) Which of the following financial professionals have you utilized? (Select all that apply)?; (14) Do you consider yourself financially secure/stable?; (15) What is your biggest financial regret?; (16) Do you consider yourself bad with money?; (17) If you are a parent, which cost are you most overwhelmed by?; (18) If you are a parent, what best describes your current work situation?; (19) How would you describe your relationship with money?; and (20) Do you consider yourself to be financially independent?. GOBankingRates used PureSpectrum's survey platform to conduct the poll.
Make Your Money Work for You
Make Your Money Work for You