5 Extreme Ways to Save Money in 2009
When Desperate Measures Call…
We're all feeling the pressure of the recession – some of us more than others. If you need to get crazy with cutting back your expenses and saving, here are 5 extreme ways to do this. Before you jump off the cliff, make sure you've exhausted our practical savings tips.
1) Boycott Technology
If you're reading this post, then chances are you're a technology junkie like the rest of us. Consider this:
Typical Costs for Technological Luxuries (Monthly):
•    Cable Television with HD Package & Premium Channels – $75
•    High-Speed Cable or DSL Internet – $75
•    Smart Phone Service with Unlimited Text Messaging – $100
•    Satellite Radio Service – $10
•    VOIP Phone Service – $20
•    Video Game and DVD Rental Subscription – $40
This totals roughly $320 per month and $3,840 annually that you could be saving! And that's still a relatively small list of luxuries. Let's say you were to put that money monthly into a savings account with 3% annual interest, compounded daily and paid out monthly for 5 years. You'd save $20,714!
Make Your Money Work for You
Sponsors of
While you're busy boycotting, you could benefit from your newly found time by reading some good books, taking a class, or losing those 15 lbs you keep saying you're going to lose.
2) Go on a High-Carb Diet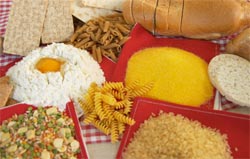 What?! A high-carb diet? Yes, it's true. The cheapest foods on the market tend to be high in carbohydrates. So, if you're looking to pinch a few pennies, consider filling out your diet with high-carb options, like pasta, rice, bread and potatoes.
Some good news for thrifty shoppers: the corn crop projections are higher than expected for 2009 (by 81 million bushels), according to DTN, resulting in a drop in corn prices. Corn is a high-carb food (74 grams per cup), but it's better for you than some other carb-filled choices.
If you're going to go this route to save money, be sure to watch your portions and complement your carbs with beans, which are a good source of protein for people on a budget.
Make Your Money Work for You
Sponsors of
3) Become a Savings Scavenger
So this one may not be the most extreme, but it does something that these others do not … it makes saving a game! The idea is to go out and look for change everywhere you go. Check the usual places – under couch cushions, behind the dryers at the Laundromat, next to vending machines, under the car seat. Pretty soon, it'll become habit, and you'll be spotting change in places you never thought to look. It's a fun way to get the whole family involved in saving.
There are other spins you can take on this, too… How about finding bottle caps from soft drink companies that offer prizes? Or, most cities have a recycling program that gives you cash for your recyclables. So start rummaging through rubbish bins and rescuing empty bottles and cans. You'll even be saving the environment while you're busy saving money!
Make Your Money Work for You
Sponsors of
4) Become a Freegan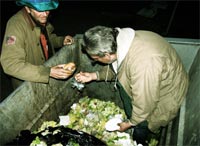 Along the same lines as scavenging for loose change, the Freegan lifestyle is growing in popularity. What is a Freegan? The term is a compound word of "free" and "vegan". According to the Freegan website, "Freegans are people who employ alternative strategies for living based on limited participation in the conventional economy and minimal consumption of resources." Basically, rather than spending money on new groceries, they "reclaim waste" – food and resources that others have thrown out. You'd be surprised at the volume of good, edible food you can find that has reached the limits of the grocer's shelf life.
Digging in dumpsters not for you? Check out Yahoo's Freecycle for free stuff people are giving away and find an excuse to clean out your garage!
5) Sell Your Car and Take Public Transportation
Besides housing and groceries, the typical American spends the most on their vehicles. The average car payment is somewhere around $400 per month, gas is about $120 and insurance, $80. Many households have to double that for a second vehicle. A monthly pass for the Los Angeles Metropolitan Transportation Authority is $70, which includes bus, rail – everything. Other metropolitan areas run around the same rate.
Total monthly expenditures minus the cost for your pass = $530
Try putting that into a savings account at 3% interest for 5 years and you'll save $34,307!