5 Ways To Effectively Ask for a Discount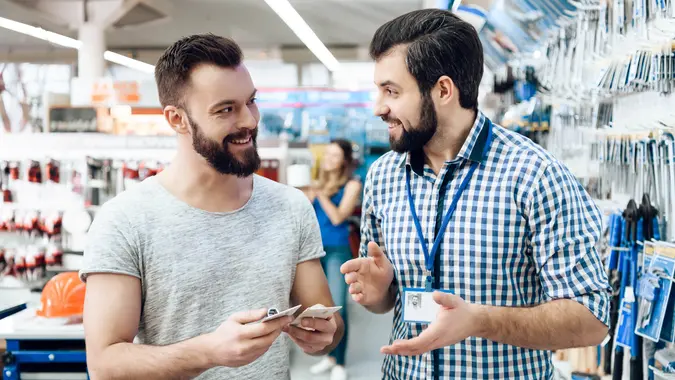 ©Shutterstock.com
There are some situations where it's easy to receive a discount off a purchase, like signing up for an e-newsletter and receiving a code for $10 off or visiting a clearance aisle to stock up on sale items. Other situations require the shopper to make this ask.
Find Out: 5 Most Overpriced Costco Items, According To Superfans
Related: 3 Signs You're Serious About Raising Your Credit Score
Asking for a discount or reduced rate on purchases such as furniture or reducing a cable bill can take some individuals out of their comfort zones. However, those who ask in a polite, respectful manner may be successful and put some extra money back in their wallets.
These tips can help shoppers ask for a discount.
Ask To Buy Floor Models
If you are interested in purchasing furniture, asking to buy the floor model may be one of the best ways to get a discount.
Julie Ramhold, consumer analyst at DealNews.com, said buying furniture straight off the floor usually comes with the caveat that the piece is being sold as is. This means you won't be able to return the piece of furniture, even if it turns out to have issues or cosmetic damage. 
Make Your Money Work for You
If you are comfortable knowing you will not be able to return the item, you can save some money on that purchase. Ramhold said shoppers who ask for the floor model may even be able to get the item sooner; ordering new furniture can take weeks.
Take Our Poll: Are You Planning To Buy or Sell a House This Year?
See Whether You Qualify for Energy-Efficient Rebates
It can be a bit harder to ask for a discount on utility bills, especially since natural gas and electric prices are continuing to increase. You may call your utility provider, explain your situation and inquire about hardship assistance programs to help lower your bills in the event of an unforeseen circumstance such as losing your job. 
You also may reach out to customer service and find out whether your energy-efficient appliances can earn you a discount. Ramhold recommends households using energy-efficient appliances ask whether they are eligible for any rebates. Keep in mind that energy-efficient rebate programs will vary state to state and often come with strict eligibility requirements.
Ask for Unpublished Rates
If you are planning to go on vacation, you will want to cut costs on everything from flights to lodging. Tim Hentschel, co-founder and CEO of HotelPlanner, recommends you call your preferred hotel booking engine or online travel agency directly. Speak to a reservation agent and ask for the unpublished rate.
Make Your Money Work for You
While all hotels are subject to the industry's rate parity protocol for published rates, Hentschel said some online travel agencies may be able to offer unpublished discount rates. You'll need to speak to a reservation agent over the phone to learn more, however, as these rates are available only in a private sales environment. 
Request a Price Match
Some retail stores allow shoppers to request a price match guarantee. If a price match is offered by a retailer, it will share more information on its website about how to receive a price match for in-store and online purchases. 
Target, for example, states on its website that items may qualify for price matching if they are eligible Target products and purchased in the past 14 days. If you are not shopping at Target, ask to see whether your retailer offers a similar guarantee program.
Quote the Current Offer for New Subscribers
If you are seeking a lower cable or internet bill, Ramhold recommends quoting the current offer the company has for new subscribers. The easiest way to find this information is by using a mailer or any other promotion the company is sharing on its website or social media accounts about introductory rates for new users. 
Make Your Money Work for You
While having a mailer does give you a specific offer to point to, the company might not be willing to give you the lower rate. If this is the case, Ramhold said, you can gently tell the customer service manager that your bill is a bit expensive and you're thinking about switching to another service provider. This might prompt the manager to negotiate. 
"Often, you may be able to lock in lower rates for a year or two as long as you're willing to sign up for service for this length of time and the provider is OK giving you a lower rate because they've locked you in for another two years," Ramhold said. "Remember to be polite and gracious, even if they can't help you, as the decision is usually not up to them."
More From GOBankingRates
Make Your Money Work for You