5 Common Roadblocks Americans Face When Trying To Save Money — and How To Get Past Them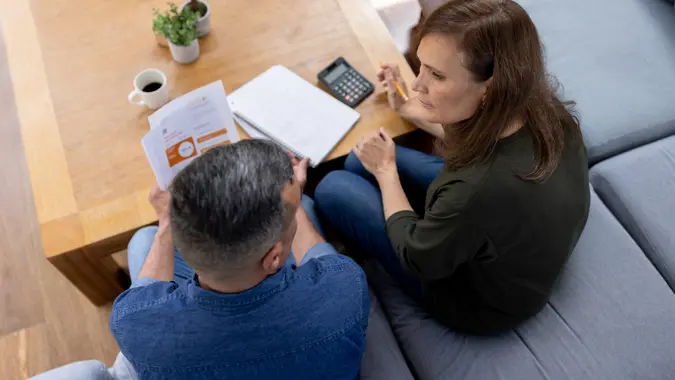 andresr / iStock.com
Everyone understands the importance of saving. It doesn't take a genius to see that you'll need to save to reach your financial goals, whether that's a car, a home, retirement or just saving for the proverbial rainy day — but it's much easier said than done.
If you find yourself struggling to save, you're not alone. According to a survey conducted by CNBC and Momentive, 58% of Americans say they are living paycheck to paycheck, and data from the Federal Reserve indicates that 37% of Americans would not be able to cover a $400 emergency expense with cash.
Clearly, millions of Americans are having a hard time saving money. So what's getting in the way? A survey conducted by GOBankingRates in early September 2023 identified five common roadblocks faced by would-be savers.
'I Don't Make Enough Money'
Not making enough was the most common roadblock at over 38% of respondents. It makes sense that saving money is harder for those who make less — but making more is no guarantee that you'll save more. In fact, the aforementioned CNBC survey showed that 32% of those making six figures still considered themselves to be living paycheck to paycheck.
Still, it's undeniable that your income is an important factor in your ability to save. Author and personal finance expert Grant Sabatier says that for those working a "9 to 5" job, you can increase your earnings by establishing your market value — that is, researching what salary your current role and experience should be receiving — and asking for a raise based on that. In addition, consider creating a side hustle as an additional source of income.
Make Your Money Work for You
"Every dollar you make side hustling can accelerate your compounding rate and grow your income. To choose a side hustle, jot down your skills and interests and look for opportunities where the two intersect. The best side hustles give you flexibility, have the potential to grow, and can generate passive income," Sabatier said.
'I Have Too Much Debt'
Over 11% of survey respondents indicated that debt was their biggest roadblock to saving. Debt can feel like an insurmountable barrier to saving money, especially when high-interest loans or credit card balances are involved. Depending on the debt, it could take you a long time to pay off — time you could be using to save instead. Sabatier recommends making it a priority to save something even when debt is your main focus.
"It's fully possible to save money while you pay off debt. Remember that no amount of savings is too small when you're starting out, even when you have to prioritize paying off high-interest debt. Every dollar you save has an impact. Start saving what you can and increase your savings rate as you make progress on your debt repayment," Sabatier said.
'I Have a Tendency to Impulse Shop'
Impulse shopping was the biggest culprit keeping about 11% of respondents from saving. With the ubiquity of online shopping, it's never been easier to spend money that you could instead be putting away towards your goals. Consumer savings expert Melissa Cid of MySavings.com suggests interrupting your impulse buying by setting up inconvenient barriers to your online spending.
Make Your Money Work for You
"Delete your credit card from every online shopping space, remove your address from any form fillers and never store passwords for stores you commonly shop at. The annoyance of physically opening your wallet and resetting forgotten passwords are extra steps at checkout that help curb the impulse purchase," Cid said.
Cid also recommends following the "24-hour rule" by always waiting a minimum of 24 hours to check out when you add something to your cart. This pause gives you time to think about the purchase — and maybe decide it's unnecessary. As a bonus, many online stores will send you a coupon or discount code for the item — so if you do end up buying it anyway, you'll still save.
'My Bills Are Too Expensive'
High monthly bills can certainly make it challenging to save money, and this was especially true for 22% of survey respondents. Many bills are simply unavoidable — utilities, housing, groceries and other basic needs aren't going away just because you need to save. Jay Zigmont, PhD, CFP and founder of Childfree Wealth, recommends taking a hard and honest look at your expenses to see what can be reduced or eliminated.
"Which bills are too expensive? The first step is to split your bills into needs vs. wants. Your wants have to [be eliminated] first. With your needs, it becomes a debate on if there is a way to make a change or not. For example, can you downsize your house and lower your rent or mortgage? For couples, can you make do with one car instead of two? The key is to make hard decisions about which bills must stay, and which must go," Zigmont said.
'I Don't Know the Best Way To Save Money'
A lot of people — almost 5% of respondents — just aren't sure where to start when it comes to saving money. Once you get to the point of having money to save, you have to figure out which investment strategy and what types of accounts will work best for you, and the sheer number of investment vehicles out there can be overwhelming. Zigmont points out that savers shouldn't let the perfect be the enemy of the good.
"Don't worry about getting it 'perfect.' The first thing to do is to get out of debt, as that gives you a tax-free, risk-free return. Once you are out of debt, focus on following the general rule of only investing in what you understand. Pick up the book 'The Simple Path to Wealth' [by JL Collins] and follow it. There is no 'best' or 'perfect' way to save money, as it varies by person," Zigmont said.
Methodology: GOBankingRates surveyed 1,037 Americans aged 18 and older from across the country between Sept. 5 and Sept. 7, 2023, asking five different questions: (1) How much money do you hope to save in the next year?; (2) What are you saving money for?; (3) How many savings accounts do you have?; (4) What is the primary method you use to save money?; and (5) What is your biggest roadblock/challenge in trying to save money?. GOBankingRates used PureSpectrum's survey platform to conduct the poll.
More From GOBankingRates