Could Apartment Hopping Save You With $1,295/Month Rent?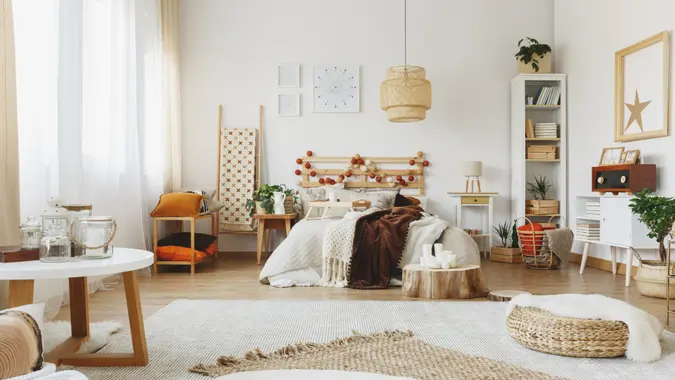 KatarzynaBialasiewicz / Getty Images/iStockphoto
If you've ever been on standby for a flight, you know how intense the experience can be. Having to get to the airport hours early, waiting to see if you'll get on a flight at a reasonable hour — or if you're going to be pushed back. Though standby can be quite cost efficient, there are a lot of variables that can alter your trip.
Rent 2023: These Cities Will Have The Most Expensive Apartments Next Year
Find: 3 Ways Smart People Save Money When Filing Their Taxes
Now that experience is translating into apartment rentals with a new offshoot of a popular app. Geared towards "digital nomads" (those who aren't tethered to a certain place due to a flexible job and few responsibilities), it's offering a flat $1,295 monthly rent in a number of locales. The only catch — you may have to move within 72 hours.
It's all part of the new "Standby" option of the Landing app. Landing is a membership-based model that lets renters pick fully furnished one-, two- and three-bedroom apartments in 375 cities for a timeline of their choosing (or stay indefinitely) with rent "priced at a 25% premium compared to market-rate apartments," per USA Today. The app's tagline: "Live without leases." 
Make Your Money Work for You
It's the brainchild of Bill Smith, who created the popular delivery service platform Shipt. He envisioned Landing becoming an option for fed-up renters to forgo contractual leases and the high costs of moving. Beyond an annual $199 membership fee, there's no lease to sign and no security deposit required.
Standby Offers Guaranteed Rent at $1,295 per Month
The Standby option takes it up a notch, however, by providing a reduced $1,295 flat rent rate for any of the properties in the Landing portfolio (besides those in New York and California). However, you may have to move within 72 hours if a standard Landing member wants your spot.
This process is called being "Bumped," per the app's official website, which noted: "If a standard member books your home at the normal rate, we will notify you to select a new home in our app. You'll have a minimum of three days' notice to pick your new home. We cover the cleaning fee if we ask you to move." Standby members also don't have to pay utilities because of this arrangement.
If you're a minimalist with few belongings (or a good storage unit), this can be the way to go. Each apartment is furnished, so there's no movers needed.
Make Your Money Work for You
Plus, the cost savings are substantial. According to USA Today, the median price for rent in the U.S. as of December 2022 was $1,712. In bigger metropolitan areas like Chicago, average rent costs rest at $2,224, per Rent Cafe. Even a weeklong stay at a hotel would be above the cost of one month of rent with Landing's "Standby" option (in most cases).
Take Our Poll: What Are Your Financial Priorities in 2023?
More: Airbnb To Let Apartment Tenants Rent Their Space if Building Is 'Friendly'
One person USA Today interviewed likened the experience to an adventure: If you like waking up in new destinations and exploring the country while having guaranteed lodging, Standby may be for you. Marketing manager Katie Landmark said of the experience, "I love traveling and being a remote worker, I wanted to infuse a bit more adventure into my days and my weekends. So I was looking at Airbnbs, hotels, subleases, but I kept getting stuck in the granular planning phase. Landing is so easy to use and it's so efficient. You sign up, choose your destination, show up, and you're on your way."
Make Your Money Work for You
More From GOBankingRates
Make Your Money Work for You