Dave Ramsey's 9 Ways To Save Your First $1,000 Fast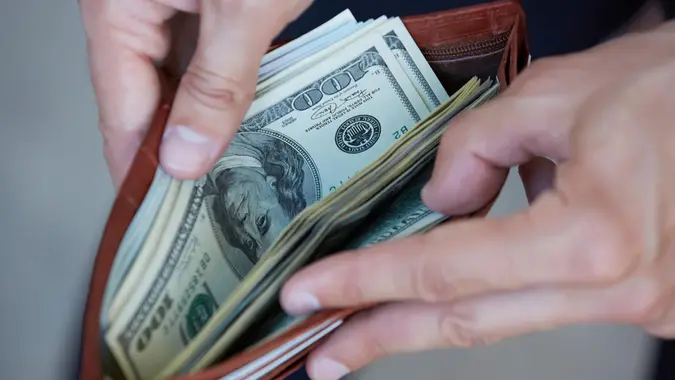 ©iStock.com
If you're just starting out saving — whether you finally have extra income over your bills, you're a young person working for the first time or you've gotten out of debt — you may wonder the best ways to save that first $1,000 quickly for a "starter" emergency fund.
Financial expert Dave Ramsey has a lot of ideas on the subject, and here are some of the most practical ways to save your first $1,000 quickly.
Cancel Subscriptions
These days, it's almost too easy to sign up for monthly subscriptions, whether they're streaming entertainment plans, online workout programs or apps that do anything from help you play music to organize you.
The problem is most of these subscriptions keep on charging you even if you no longer use them. If you've got several similar apps, you might want to consider downgrading until you've got your starter fund going. Either way, combing through your subscriptions with an eye toward getting rid of some likely will save you money quickly.
Bring Your Own Lunch
Eating out has always been pricier than making your own food, but it's even more so in these days of high inflation. According to the Bureau of Labor Statistics, people purchase lunch away from home more than breakfast or dinner. If you fall into this category for convenience, or when taking a lunch break at work, reconsider and pack your own lunch. You can save hundreds per month.
Make Your Money Work for You
Avoid Coffee Out
Another convenience we often don't think about how much we're spending on is coffee away from home. A cup of coffee at the commonly frequented Starbucks ranges from $2.55 for a short (8 ounces) to $3.25 for a venti (20 ounces) cup of coffee, according to the Krazy Coupon Lady.
Even at the smallest cup, you'd be spending an average of $76 per month on coffee. A pound of grounds or beans at any grocery store is much cheaper. A 12-ounce bag of Walmart's Great Value Medium Roast Creme Brulee ground coffee, for example, is just $3.97.
Re-Sell Old Items
Everyone has that section in their closet of clothes that don't fit anymore. What about old furniture, electronics, tools, car parts or toys? Chances are you could re-sell your items via online marketplaces such as ThredUp, PoshMark or Ebay, or have a good old-fashioned yard sale to bring in extra cash.
Shop at Cheaper Grocery Stores With Rewards Programs
If your current grocery store doesn't offer a rewards and loyalty program that comes with discounts and coupons, you can easily find one that does. Similarly, stores such as Aldi or Walmart are known for their everyday low prices; and, when you enroll for rewards, your prices can come significantly down.
Buy Generic
Most major grocery and other big box stores — such as Walmart, Target, Aldi and more — have their own generic store brand that is significantly cheaper than competing brand name products. You can save money quickly by replacing items that you regularly purchase for the less fancy packaging and flashy brand name.
Join a Carpool
Another victim of inflation has been the cost of gasoline, making transportation costs steeper than they have been in years. If you have the option to ride in a work carpool, or the volition to start one yourself, you could save hundreds of dollars in gas in just a few months.
Make Your Money Work for You
Pick Up a Side Hustle
We are still living in the gig economy, at a time when there are more side hustles than ever before — from driving for Uber, Lyft and DoorDash to picking up remote work online in one of hundreds of areas. Few of these gigs require a long-term commitment, and they can be excellent ways to bring in the extra cash you're hoping to save.
Work Extra or Overtime
If your job allows you to take on extra hours, especially if it doesn't mean a permanent change to your schedule, you could always request a few extra shifts, overtime on days that others don't want to take or the shifts of people trying to go on vacation. Ideally, you earn extra bucks and can take on as much as you need.
More From GOBankingRates