Don't Start Apartment Hunting During This Time of Year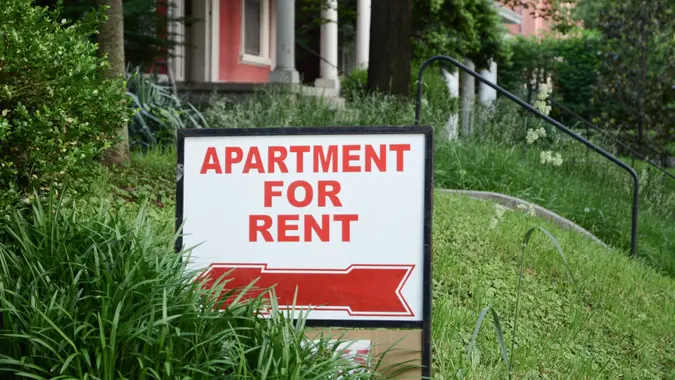 dcsliminky / Getty Images/iStockphoto
If you've ever embarked on the monumental task that is apartment hunting, you know there are definitely seasons when everything good either is taken or is way above your budget range. Finding a place you love takes time and research and can be stressful or downright disheartening when you're struggling to get a decent apartment.
The good news is that it's often a waiting game — you just need to know the right time in the rental market to strike the best deal.
Should you rent a house or apartment?
Don't Look During the Peak Season
The summer months are the worst time of year to rent. The demand for apartments is generally high and landlords are likely to take advantage of peak season by increasing their prices. According to the National Apartment Association, the worst time to sign a lease is between May through October. 
Many growing families might look to change places over the summer when kids are out of school, making the rental market more competitive. Looking for a place in September also isn't great as you could be paying $90 to $100 extra a month on a $3,000 unit.
Be Mindful of College Towns
In areas with universities or colleges, it's best to avoid late summer as there will be a surge in demand for apartments as students, faculty and staff look for housing. You'll find this often leads to higher competition and inflated prices.
Make Your Money Work for You
The influx of students also can make it so there's limited apartment availability, making it challenging to find decent places. You'll likely face a more stressful environment where apartments are quickly snapped up, or you'll have to settle for options you don't exactly love.
Don't Search Over the Holiday Season
Apartment hunting during major holidays like Thanksgiving, Christmas or New Year's can be difficult because many people are busy with holiday plans and not actively looking to move. This can limit your options and slow down the process, since landlords may not want to deal with the hassle of showing apartments or managing paperwork.
Search During Off-Peak Seasons
Rather than scour apartments looking for a great deal and coming up empty-handed, look for a rental during the off-peak seasons between the summer and late fall or between the late winter and early spring. There's often less demand, which gives you more options and leads to snagging better deals.
Because landlords and property managers will have fewer inquiries during off-peak seasons, it will be easier scheduling viewings and having more time to thoroughly evaluate apartments before making a decision.
Another upside? During off-peak seasons, you'll have less competition. This also means you'll have more leverage to negotiate terms and conditions like requesting maintenance or renovations before moving in, seeking lease terms that suit you or asking for other concessions like parking spaces or utility inclusions.
Don't Forget Location Matters
The best time of year to search for an apartment will vary depending on your location and specific needs. That's why it's crucial to do your research beforehand to secure the best deal. If you're looking for a place in New York City, for example, the competition for rentals peaks in the second and third weeks of July for most neighborhoods, including Manhattan and Brooklyn.
Make Your Money Work for You
Always Negotiate 
It's safe to say, no landlord wants a vacant apartment. Even if you're not actively seeking a more budget-friendly place, you can still use this to your advantage during off-peak seasons like winter.
Landlords will often be more receptive to meeting your requests — whether it's about reducing rent, repairs or other terms in the lease agreement. They might also offer incentives when there's low demand. These can range anywhere from waiving the security deposit to granting a complimentary month's rent or reducing the rent for the entire duration of your lease agreement.
Be Patient
Rushing your apartment search can make you end up settling for housing that doesn't meet your needs or preferences. Taking your time, on the other hand, will allow you to find the right fit. That's why doing your homework is essential for finding the right deal within your ideal price range. 
Being overly hasty in securing a place also can lead to regret as you're more likely to overlook important details about an apartment or its neighborhood. Whereas, taking your time researching an area will help you choose the safest and most desirable option. 
The bottom line: Knowing when to go apartment hunting can save you a lot of time, money and headaches; but, as with all good things, you have to be a little patient.
More From GOBankingRates