The Easiest Way I Saved $100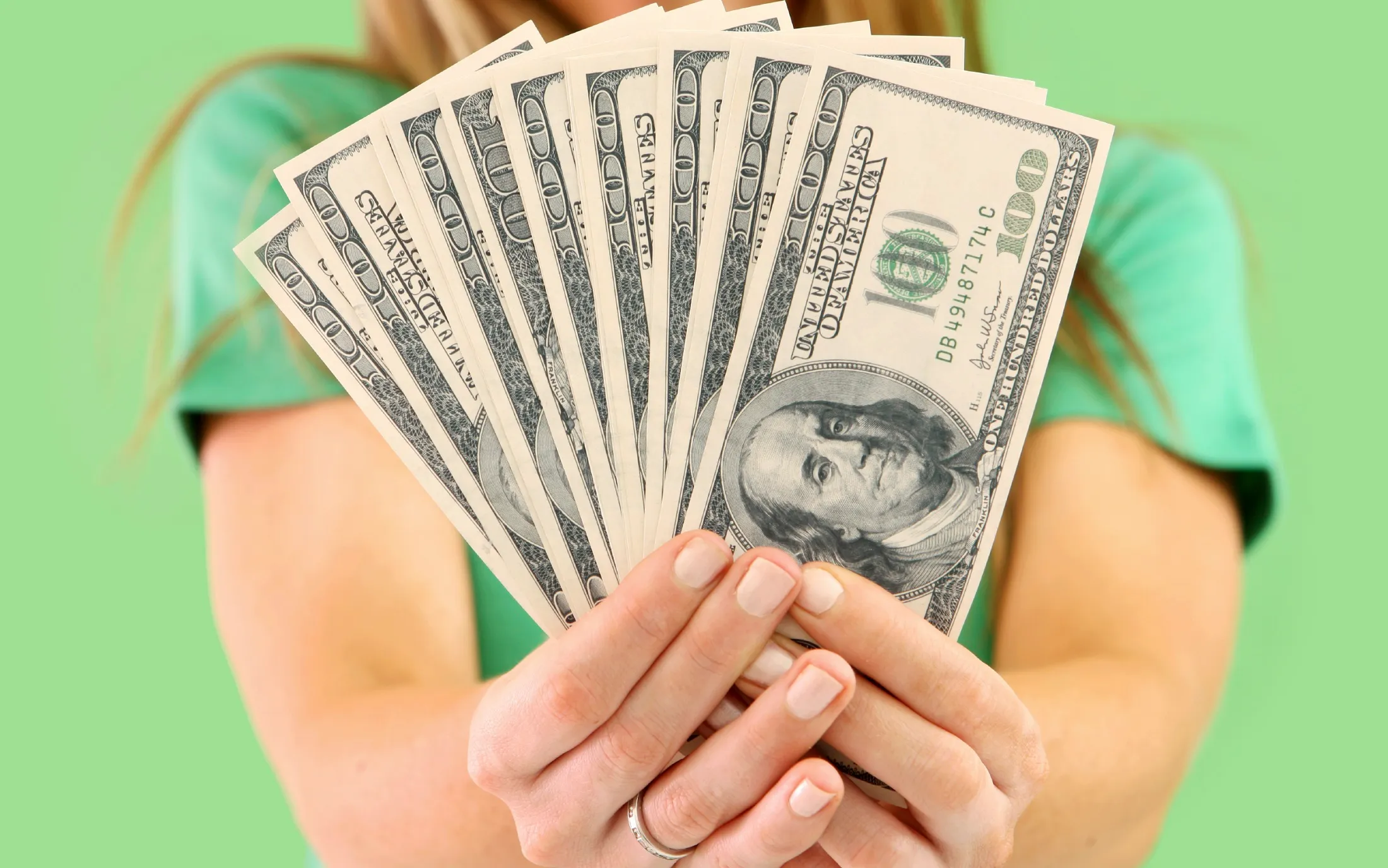 Balancing your budget and saving money can too often feel like a chore. The ongoing upkeep of bank accounts, pocketbooks and investments can sometimes seem like more trouble than it's worth. But there are certain actions you can take that can add up to a savings of $100 or more.
To help readers find these ways to save, GOBankingRates asked finance and money experts for the easiest way they saved $100. Here are 15 tips these experts shared that can help you grow your savings by barely lifting a finger.
Related: 5 Ways to Make a Better Plan for Your Money in 2016
1. Paying Off High-Interest Debt First
Debt is a costly expense, and paying it off can really save you more in the long-term. "Pay off your higher interest debt credit card before the others," advised Laurie Itkin, author of "Every Woman Should Know Her Options: Invest Your Way to Financial Empowerment."
She advised this over other debt management plans, like Dave Ramsey's Debt Snowball, that focus on paying off the lowest balance first. "[That] doesn't make financial sense," said Itkin. Lowering the balance that accrues interest the fastest will mean you will be paying less interest. This will earn you the most savings.
2. Saving Change
"Every day when I get home from work, I put all the $1 bills that are in my wallet into a jar that I keep in my bedroom," said Liat Tzoubari, director of marketing for residential search site Apartable. "On the last day of the month, I deposit all of the $1 bills I have saved into my savings account. I usually end up with over $100, and it feels so great to have saved that money without realizing, that it gives me motivation to keep on going into next month."
Even if you're not in the habit of using cash, you can still apply this principle using digital tools that save change for you. Apps like Acorns or Digit, and bank products like Wells Fargo's "Way2Save" or Bank of America's "Keep the Change," will round card purchases up to the nearest dollar — or more — saving the extra "change" for you automatically.
Make Your Money Work for You
3. Skipping Bank Fees
One of the biggest savings tips from money-saving and consumer expert Andrea Woroch is to stop paying bank fees. "Bank fees add up and you may be throwing away more money than you're saving." Some of the common checking account fees bank customers face are out-of-network ATM charges, overdraft fees and monthly maintenance fees. But there are plenty of checking account options that don't charge monthly fees and have other lower costs.
"Transferring your checking account to a local credit union will wipe away these useless fees," said Woroch. "For someone who uses an out-of-network ATM twice a month, overdrafts three times a year and is charged a monthly fee for an interest-based checking account, making the switch could save you approximately $380 annually."
4. Making Coffee at Home
"An easy way to save $100 is to make coffee at home," said Megan Carter, personal finance coach at Carter Financial Wellness. "At $5 a drink, 5 days a week, 4 weeks a month you can save $100 in one month," Carter said.
If you buy your own coffee and brew it at home, it will cost just under $0.25 per cup of coffee — that's a savings of over $4. Even better, you can opt for a free caffeine fix and get a cup from the break room at work.
5. Budgeting for Dining Out
"I used to spend well over $150 eating out a month, and it was just me," said Carter. She started getting disciplined about her restaurant budget, however, and used cash to more easily track her expenses. She was then able to cut her spending by two-thirds from $150 to $50, and that covers both her and her husband.
"The key is budgeting, using cash and meal planning," Carter said. "No more dinners out because I didn't plan appropriately."
Make Your Money Work for You
6. Making a Meal Plan
"So much extra money is spent on eating out because of the convenience," said Mike Boroughs, a certified public accountant and managing partner of Fortis Capital Management in Seattle. The easiest way he saves $100 or more is planning out his meals and buying ingredients for those meals at the grocery store.
"People hate thinking about what they are going to make for dinner more than they actually dislike cooking," Boroughs said. "If you have your meals planned out for the week and the ingredients bought, you will find yourself cooking from home much more frequently and likely save $100 every week or two."
7. Planning Meals Around Sales
Another tip for saving even more money on groceries is to buy what's on sale and plan your meals around sale items you've already stocked up on. Teri Gault, founder and CEO of The Grocery Game, said this is a great way to save on your food budget every month.
"On average, 80 percent of the items in a recipe won't be on sale this week," said Gault. "The only way to prepare food with all ingredients on sale is to stock up on sale items each week, then choose a recipe that uses what you have, and all at half price or better."
Read More: 51 Healthy Food Items That Cost Under $1
8. Clipping Coupons
"Look for coupons before you buy anything," said Woroch. "From prescription medicine to groceries to electronics to a new car to dental service. You can find coupons for just about anything these days."
Finding these coupons is as simple as typing the retailer or service plus the term "coupon" into a search engine, Woroch said. "I found a coupon for prescription meds that reduced my co-pay from $60 to $20 for an easy $40 savings." Woroch's favorite sources for coupons include Groupon for services, CouponSherpa to find offers by retailer, Target's Cartwheel app and Walmart's Savings Catcher app.
9. Stacking Coupons With Sales Prices
"Coupons are a big savings win, but they go even further when combined with other deals," said Gault. "For the best savings, hold on to your coupons until the item goes on sale." Gault said coupons are usually issued about nine weeks before they expire, and chances are good the item will go on sale during that long period. "That's when you make your move," she said.
"A good sale is half off, and coupon savings added to that are like frosting on the cake, bringing your savings to an average of 67 percent off with coupon and sale," Gault said.
Make Your Money Work for You
10. Doing Your Beauty Routine Yourself
Using coupons for a service can help cut costs, but doing it yourself at home can be even cheaper. Many beauty services like hair dying, pedicures, manicures and hair removal can be done at home with store-bought kits.
"Instead of getting your roots dyed at the salon every three weeks, go to the drugstore and buy root touch-up boxed color for $7 or $8," suggested Itkin. "[Then] get your salon color every six weeks." By skipping these touch-up sessions, you could save hundreds of dollars a year.
11. Buying a Modem Instead of Renting
Sometimes service providers will tack on fees they know most consumers will mindlessly pay, like the modem rental fee many internet service providers charge their customers. But Jim Wang, a personal finance writer for WalletHacks.com, said there's an easy way around this charge.
"I was paying a $10/mo rental fee for my cable modem, courtesy of Comcast," said Wang. "I found that I could buy a better cable modem for less than $80, one that was far more powerful than their antiquated device, and stop paying $120 a year in 'rent' to Comcast. On a two-year contract, I was able to save over $160 and get a better connection. When I finally quit Comcast, I was able to sell it on Craigslist for $40."
12. Cutting the Cord on Cable
"One of the easiest ways to save $100 every single month is to get rid of cable TV," said Chris, better known as Mr. Cable Cutter. "These days, people pay $125 a month or more just so they can get the five or so channels that they actually watch. It's ridiculous, and thanks to new options, it's no longer necessary."
Mr. Cable Cutter said that since he nixed his cable bills, he's been able to replace it with streaming services like Sling TV for just $20 a month. Doing this he still has access his favorite channels from ESPN to AMC, but at a fraction of the price he was paying for cable.
Make Your Money Work for You
13. Reducing Cell Phone Data
Woroch noted that a lot of consumers pay for a cell phone plan with more data than they use. She added that apps like Onavo Count and 3G Watchdog can be used to track how much data you're actually using in a typical month. "If you uncover excess data that's not being used, switch to a lower your plan," said Woroch. "By reducing data allotment, you can save approximately $240 per year on your mobile bill."
"[W]hen I was getting out of debt, I ditched the iPhone and went to a smartphone through Tracfone," said Debbi King, a personal finance coach for ABCs of Personal Finance. She saved even more when she downsized her cell plan and switch to a cheaper carrier. "My bill went from $120 per month to $200 per year — a savings of $1,240 per year," King said. She still had mobile access when needed, but relied mostly on WiFi hot spots to connect on the go.
14. Getting an Employee Discount
"[S]ee if your employer offers a discount on your cell phone service," said Dan Artrip, a certified financial planner with Ramsier Financial Services. "Most companies have arrangements like this in place and for most providers, you simply need to go to their website, enter your work e-mail address, and then verify that address through an e-mail. It's an easy way to save between $100 to $200 each year."
You can also check with your human resources department for other employee discounts. You'd be surprised at how often there are extra company perks to take advantage of to save you money.
15. Canceling Unused Memberships and Subscriptions
While you're reviewing monthly bills, watch out for those that you keep paying but never use. "Review your monthly bank statement or credit card bill to find any monthly services you're paying for that you aren't using — and these can include everything from [a] magazine subscription to an online news site fee to beauty box delivery," said Woroch.
For instance, rather than paying for an unused gym membership, try a pay-as-you-go pass or "bounce between gyms and specialty exercise studios by taking advantage of free introductory passes," suggested Woroch. "Considering the average monthly gym fees costs $58, you stand to save nearly $700 a year."