Experts Agree: This Is the Worst Savings Advice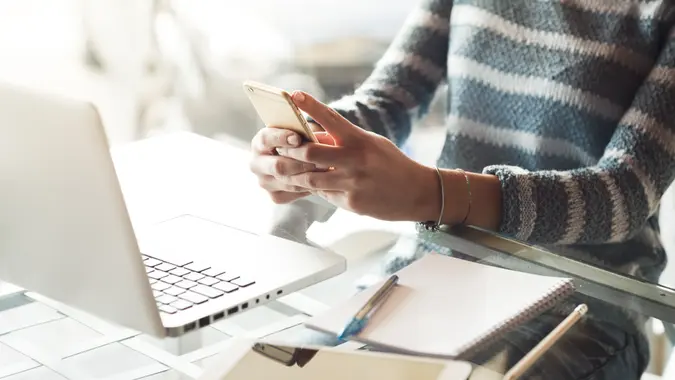 Stokkete / Shutterstock.com
Think you can guess which type of savings advice shouldn't be followed? When speaking with several financial experts, it was mutually agreed that the worst savings advice is to set aside just 10% of your gross income for retirement.
On the surface, this may not sound like bad guidance. Look a little closer, however, and you'll see this strategy can be problematic to your unique financial situation. 
Here's why the experts agree this is the worst savings advice.
Thinking 10% Is the Maximum You Should Save
When interviewed by GOBankingRates, Dr. Lakisha L. Simmons, Ph.D. and financial freedom coach at The Wealthy AchieveHer, said this advice is among the worst is because of what it means to the average American.
"The average person thinks this is the max they should be saving," Simmons said. "They don't realize if you are only saving 10%, you are spending 90% of everything that comes in."
This also might pose challenges should an emergency situation come up. Simmons said this is because your savings might not be adequate enough to cover the emergency expense. 
Not Ideal Advice for Late-in-Life Savers
On her weekly Money Girl Podcast, money expert Laura D. Adams often recommends saving at least 10% of your gross income for retirement. However, Adams told GOBankingRates this percentage will need to significantly increase if you get a late start to saving money.
Make Your Money Work for You
"You likely need to save much more, such as 15% to 20%, to build enough wealth for a comfortable retirement," said Adams. 
Increases Likelihood of Working Past Retirement Age
Following this advice, Simmons said, also means you'll likely be working past retirement age. 
"The more you can save and invest, the sooner you can retire," she said.
Try This: Think of Your Savings Rate as Your Pet
The biggest challenge that comes from using a general 10% savings rate, according to Jared Virgadamo, CFP at Manske Wealth Management, is how it makes us think our finances are healthy. We might think we did enough for our financial health because we followed what is often cited as expert advice. As a result, we may believe we no longer need to keep an eye on our money. 
Virgadamo recommends trying a different technique instead. Think of your savings rate as a pet.
"Other people's pets might look like yours, but yours is one of a kind," Virgadamo said. "Your unique savings rate should be tailored to you."
Similarly, your unique savings rate should be monitored. As Virgadamo said, you wouldn't hand off your pet to someone for a year and never check in on them.
To figure out how much you'll need to save for retirement, Adams recommends creating a workback savings goal. 
"This is based on the future income you want to determine your necessary nest egg and annual savings rate to achieve it," Adams said.
Jaime Catmull contributed to the reporting for this piece.
Make Your Money Work for You
More From GOBankingRates