Farnoosh Torabi, Host of 'So Money,' Wins Best Financial Podcast of 2015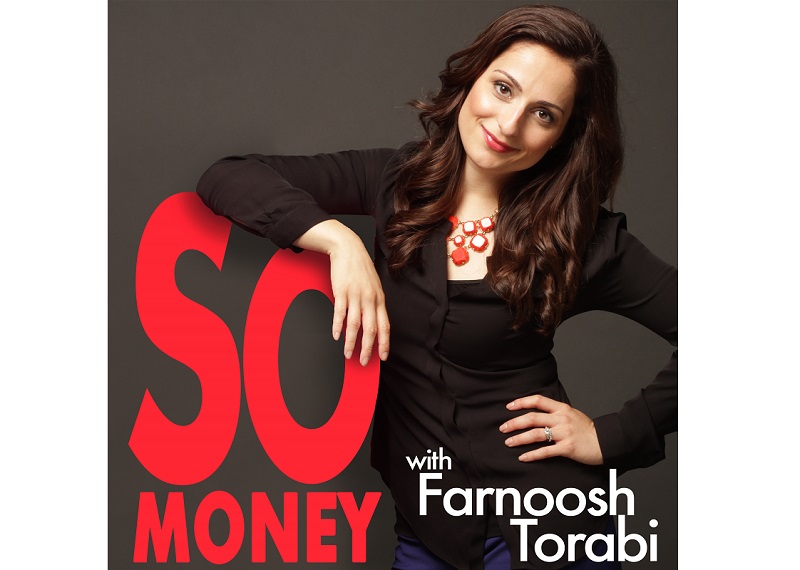 She's an award-winning author, TV host and acclaimed financial strategist, and now, with the votes tallied for GOBankingRates' "Money on the Air" competition, it's official: Farnoosh Torabi is the voice of the No. 1 financial podcast in the nation.
If you don't recognize her name, you've probably still seen her work. Torabi frequently appears on top media outlets nationwide, from The New York Times to CNN, offering her patently entertaining money tips. (Marie Claire fondly referred to it as "solid advice wrapped in 'Devil Wears Prada' attitude"). She's also the author of three books, including her latest, the Amazon No. 1 best-seller "When She Makes More: 10 Rules for Breadwinning Women."
This is all old news to her podcast listeners. Launched in January 2015, "So Money with Farnoosh Torabi" is a daily, 30-minute show that features interviews with finance's biggest names (Tony Robbins, Tim Ferriss and Robert Kiyosaki are a few recent guests). Like Torabi's other work, the podcast's calling card is its relatability; she delves into her subjects' failures, guilty purchases and essentials (Tony Robbins' is a private jet), always leaving the listener with actionable advice. It's a formula that works well: "So Money" has an average five-star rating on iTunes.
See the 14 podcasts that will answer every question you've ever had about money >>>
What's Next for 'So Money'?
"So Money" fans have a lot to look forward to in the coming year, Torabi told us, including "an even wider spectrum of guests who will openly share their financial insights and lessons learned."
"I've had the great privilege of interviewing massive entrepreneurs, financial luminaries and thought leaders," Torabi said. "Going forward, I'd love to expand my guest list to include athletes, entertainers, CEOs, political leaders and newsmakers. I also want to interview everyday people who are leading exemplary financial lives, the millionaires next door. Everyone has a unique financial path and I look forward to unveiling a wide variety of those stories so that my loyal listeners can continue learning, growing and reaching financial independence."
Those loyal listeners helped Torabi beat out 13 other radio shows and podcasts in this year's "Money on the Air" competition, earning a whopping 44 percent of the vote. In honor of her win, we went over some of the best advice she's given us recently and pulled together five fun facts about herself.
5 Fast Facts About Farnoosh Torabi
1. Why She Started Her Podcast
Uncomfortable topics aren't necessarily in every financial expert's wheelhouse; sometimes it's easier to stay away from the awkward money subjects and stick with what's "snackable." "Talking about money is too emotional. Too inappropriate. Too difficult," Torabi explained.
For others, at least. She's made her career on addressing the money topics her peers won't, and that goal remained at the forefront when launching her podcast.
"Money remains a taboo topic in our culture," Torabi told us. "We're far from financially fluent and many still resist having conversations about money with friends and family — more than politics, religion or death. … 'So Money' breaks all of those barriers and creates a comfortable environment — on a daily basis — where guests openly and intimately share candid stories about their financial journeys: their successes with money, failures and habits."
2. Her No. 1 Savings Tip
Like all her advice, it's simple, actionable and easily memorized: "Set it and forget it." Saving is a lot easier, Torabi told us, when it requires zero brain cells.
"Commit to a monthly percentage of your take-home pay that will be automatically transferred into its own account," Torabi advised. "I recommend at least 10 percent.  Do this before any other financial step. Set the transfer amount, a consistent transfer date and boom — done. In a year you'll be shocked how much you managed to save — and with little effort!"
Read: 13 Easy Ways to Save Money From Robert Kiyosaki, Clark Howard and More
3. What's in Her Wallet?
Torabi never leaves the house without insurance cards for herself and her son.
"In case of an emergency, we don't have to worry about the financial toll of getting immediate medical attention," she told us. "Sure, we can get reimbursed later — but who has the time or patience for dealing with medical billing departments?"
As a New Yorker, Torabi said she also has to keep cash with her at all times: "Being out and about in N.Y.C., you're bound to tip someone at some point during your day."
Keep reading: Look Inside the Wallets of Ric Edelman, Pat Flynn and More
4. Her Favorite App
"The best thing I signed up for is Skype," Torabi said. "It's thanks to Skype I can run my podcast from anywhere and speak to guests wherever they are. The sound quality is also excellent."
5. How She Explains Warren Buffett's Success
Forget any talk of Warren Buffett's "alpha"; Torabi told us the investor's X-factor is something else entirely.
"He's a go-giver," she explained. "He's incredibly philanthropic and I've discovered from countless interviews with some of the most successful people on the planet that being a giving person with your money, time, ideas yields abundance in your life. Warren, consistently ranked as one of the world's wealthiest individuals, has pledged to give away 99 percent of his fortune. That's outstanding."
Keep reading: 12 Money Experts Explain the Secret to Warren Buffett's Success