8 Frugal Habits of the Past To Save Money Today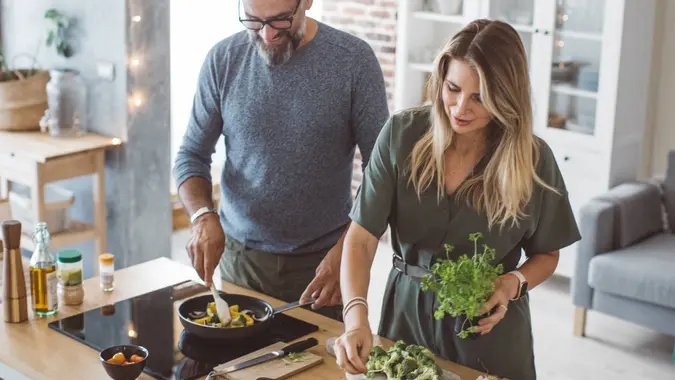 svetikd / Getty Images
If there's one thing our society has gotten better at over the centuries, it's spending money. We have an abundance of purchasable options — and thanks to mega retailers like Amazon, our options increase seemingly every day, if not more often. It's time to look back in time and heed the wisdom of our ancestors, both distant and near. What frugal habits did they embrace? How can they still help us save money today?
Let's explore some. You'll find that what so many of these frugal habits of yesteryear embrace is the concept of needs over wants. Frankly, people usually didn't have a choice but to make the most of what they had and to limit spending as tremendously as possible.
"Those who spent young adulthood in the 1930s through the 1970s — as well as the Great Recession of 2007-2008 — learned this well, and that spending on needs comes before spending on wants," said Tanya Peterson, VP at Achieve. "They understand that a new shirt for the weekend, new home décor and a flat-screen TV are not 'needs.' On the other hand, shelter — rent or mortgage payment — food, home utilities and medical care are needs."
When you value needs over wants, you'll be more resourceful and better able to practice these eight frugal habits that have been historically popular but are less common today — largely due to the rise of convenience-based values. Note, though, that what these habits save you in money, they may cost you in time.
Make Your Money Work for You
Oatmeal and Brown Sugar for Breakfast
Okay, so oatmeal hasn't exactly gone out of fashion, but it has gone from being the everyday breakfast to one of many, many choices. And often the alternatives are less healthy and more expensive.
"Eat oatmeal with a teaspoon of brown sugar or honey and skip sugary cereals," said Kristine Stevenson Seale, EA, owner at Advocate Financial Coaching. "Much cheaper and you probably already have sugar in the house."
Victory Gardens
During World Wars I and II, many people planted victory gardens to make up for what food rations didn't cover and to lessen pressure on the public food supply. These should be brought back, as they're great ways for you to save money on food — provided you have the outdoor space. You can even use your porch or window ledge for some produce!
"Planting a [victory] garden can still be a smart money-saving strategy," said Lindsey Chastain, founder and CEO at The Waddle and Cluck. "Growing your own produce, herbs and fruits cuts grocery bills significantly during the harvest season. Canning and preserving the bounty extends the savings. Start small by planting tomatoes, leafy greens, carrots, beans and other easy crops suited for your climate."
Cook From Scratch
Put your victory garden to use by doing like they did in the good old days: cooking from scratch.
"Grocery stores today are stuffed with packaged ingredients and meals, and this convenience costs more money," said Melissa Cid, consumer savings expert at MySavings.com. "It's cheaper to make mashed potatoes, soups, guacamole and desserts yourself than it is to buy these items prepackaged."
Make Your Money Work for You
DIY Household Cleaners 
Today, many consumers take the DIY approach to cleaning products because it can be less toxic than chemical products on retail shelves — and take less of a toll on the environment. But once upon a time, making your own cleaning solutions was standard practice and a great way to save money.
"Mixing DIY cleaners was standard before today's endless varieties of costly chemical cleaners," Chastain said. "All-purpose cleaners, window wash and more can be whipped up cheaply with pantry staples like vinegar, baking soda, lemon and castile soap. It helps avoid plastic waste, too."
Making Use of Leftover Scraps
Making the most of your leftovers is a frugal habit that goes back to the very olden days and shouldn't be tossed aside in our modern age.
"Leftover vegetables were incorporated into soups and casseroles rather than tossed in the compost — although having compost is great for victory gardens," Chastain said.
Use It and Reuse It
Eco-conscious consumers understand the importance of using and reusing products, but this practice was once a non-negotiable reality.
"Use it up, wear it out, make it do or do without," said Peterson. "This is old-school language for 'recycle, re-use, re-purpose.' They refer to [everyday] things: not throwing out a bottle of shampoo simply because you are tired of the fragrance; not having to buy a new platter for a holiday dinner just to stay on trend; realizing that boxes on hand will work to organize a linen closet [instead of] buying color-coordinated, fabric-lined baskets."
Make Your Money Work for You
Cash Only
Though it's pretty much impossible to go completely cashless nowadays, it's feasible to dial down your usage of credit cards, which come with steep interest fees that can quickly dig a hole in your finances.
"Credit cards are convenient and a tremendous asset in building a credit profile if used responsibly, but keep in mind that the first revolving-credit card did not come into existence until 1958," said Peterson. "It wasn't until the mid-to-late 1970s that Visa and Mastercard came on the scene. Before these times, if you couldn't afford to buy something outright, you simply could not buy it at that time.
"Today, if using credit cards, that translates to charging only what you will pay off in full and on time each billing cycle. And many people keep credit card use to a minimum or try a cash-only spending week or month every so often."
Saving Jars
"We've all been to grandma's house and seen the cookie tins that now house the sewing supplies," said Cid. "This frugal habit is still helpful today."
Save jars — especially glass ones that are sturdy and lidded — that you can later use for storage. Not only can this save you money, but it's also "a great way to keep items organized or even used as décor or small planter," Cid said. "Not only is this frugal habit great for your wallet, but it's also good for the environment."
More From GOBankingRates
Make Your Money Work for You