Frugal Living YouTuber Kate Kaden: 1 Simple Strategy for Saving More Money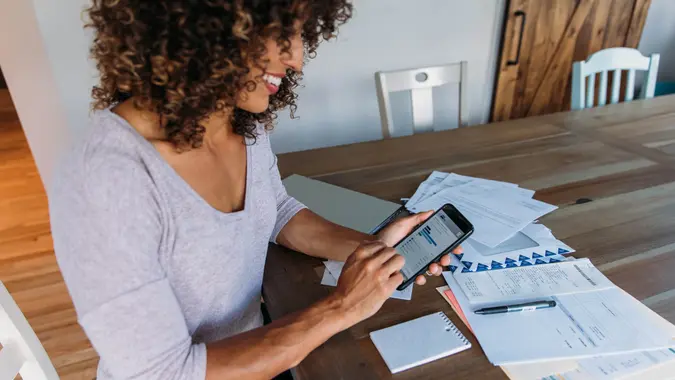 RichVintage / iStock.com
Saving money can be a challenge, especially when you have competing expenses each month. During her show, frugal living expert Kate Kaden shared her strategies for increasing savings. She reminds her viewers of the often-quoted saying, "Money flows where attention goes."   
Kaden encourages her viewers to join her in what she dubs an "intentional save" month. This approach is not exactly a no-spend month but it shares similar principles. It's about being mindful and directing attention toward savings to achieve tangible results. Here is what Kaden had to say about saving more money.
The Power of Collective Motivation
Reaching a goal is easier when you have a buddy. Kaden's strategy revolves around collective action. During this time of year, her channel traditionally focuses on intentional saving. The goal is to offer motivation and support, helping subscribers save for holidays, vacations, debt payoff, or any other personal goals. This group effort not only fosters a sense of unity but also keeps participants motivated and focused on their savings goals.
"We want to just be very mindful," said Kaden during an episode of her show. "We want to put our attention toward the savings so that we get some results and are in better shape before the holidays hit and before the end of the year hits. It's just a nice moment for all of us to get a grip, get it together, and reach some savings goals before we need it."
Make Your Money Work for You
A Simple Strategy for Saving More Money
Kaden stresses the importance of focusing on money goals. Drawing a parallel to weight loss, where regular weigh-ins lead to better results, she suggests that the same applies to savings. Keeping a close eye on finances, tracking spending, and setting clear goals are vital. This process of active engagement helps in steering attention toward savings and away from unnecessary spending.
"[A] big thing that I'm always saving for is to keep crushing the debt on this mortgage," said Kaden in her video. "Any time I can save up and make an extra principal payment toward my mortgage I'm there. I'm doing it. I'm putting it toward the mortgage. It takes super discipline but these kind of savings challenges really help me get a jump and really help me stay focused."
Key Takeaways
Kaden offered these tips for saving as much as you can:
Avoid Spending Money You Don't Have
This is a fundamental rule. Kaden advises against using credit for expenses that can't be immediately paid off, emphasizing the importance of living within one's means.
Track Every Expense
Employing the "Kate method" – Keep Focus, Adjust, Track, and Eliminate – Kaden underscores the necessity of tracking every expenditure. Awareness of income and outgoings is vital for effective budgeting.
Keep Your Eyes on the Prize
Staying focused on the saving goal, whether it's for a vacation, debt reduction, or any other objective, is key. She shares her personal goals, including saving for vacations and paying off her mortgage, as examples.
Make Your Money Work for You
Avoid Negative Labels
Kaden offers a bonus tip: avoid negative labels. She argues that saying things like "I'm bad at math" can be a hindrance to effective budgeting. She encourages her viewers to overcome such mental barriers, emphasizing that basic budgeting is accessible to everyone, with tools like calculators readily available.
The Bottom Line
Kaden's approach to saving is not just about cutting expenses; it's about a mindset shift and an active engagement with your financial situation. She invites her viewers to participate in a savings challenge, share their strategies, and support each other in this collective savings journey. Her method goes beyond simple frugality; it's about empowerment, community support, and intentional living.
Editor's note: This article was produced via automated technology and then fine-tuned and verified for accuracy by a member of GOBankingRates' editorial team.
More From GOBankingRates