How the Stress of Moving Messed With My Spending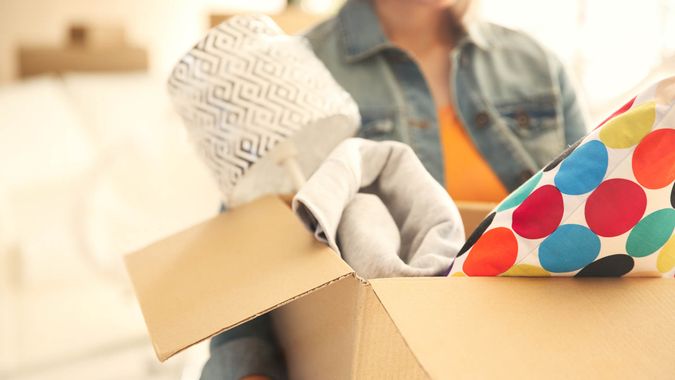 Africa Studio / shutterstock.com
Moving can be an incredible experience. In my family's case, moving from New Hampshire to North Carolina to be closer to loved ones feels like a dream come true. It's also the most stressful thing I've done in years.
There have been a thousand different details and expenses associated with the move. My husband will be working remotely, so we've had to figure out internet connections and look for houses with spaces we can turn into an office for him. I'm an ESL teacher, so I've been filling out applications for jobs, organizing student files and packing up my office at school. We've spent hundreds of dollars on repairs for our old house before putting it on the market. We had to fly down to North Carolina as a family to house hunt. We've paid realtors' fees, closing expenses, moving truck costs, utility fees to turn on services and bought groceries to fill up our new fridge in a new house. It's a lot.
Make Your Money Work for You
Read More: Reduce Stress With These 30 Free Wellness Trends
In fact, my mom came up to help me pack during the last week of our move, and even she, a paragon of restraint, couldn't help commenting, "You're really out of it these days." Maybe it was because I'd taken the fourth wrong turn in a row on my way to my son's birthday venue while using turn-by-turn GPS.
We're usually careful and diligent with our expenditures, but these past few months, the family CFO (that'd be me) has been completely distracted. My brain is so fried that I'm blowing money on things that aren't strictly related to moving, often for the sake of convenience. I let my kids eat school lunch for the last month of school because I couldn't handle packing lunches. While my boys and I were at Home Depot for the umpteenth time a few weeks ago, and I hadn't thought to bring any snacks in the car, I decided fast food lunch for the third day in a row sounded a lot better than driving home and making sandwiches. For my son's 8th birthday, instead of hosting a party at the house as I usually do, I bought an expensive package at a trampoline park, because they did everything: food, balloons and take-home souvenirs. And, when we moved into our new house last week, I immediately hired a yard guy to cut our grass because it was way too hot and we were too tired from unpacking to think about doing it ourselves.
What's more, I overdrew my bank account because I wasn't paying attention to when our massive credit card bill full of moving expenses (which we pay off every month) would be taken out.
Read: A Moving Broker Scammed Me Out of $900
In a few months, once the craziness dies down, I suspect we'll be much better about sticking to our budget, but for now, we're hemorrhaging money and not saving a dime. This whole experience has made me think about people who have to move a lot, like families in the military or people who have precarious financial positions. I can't imagine how stressful and crazy their lives must feel every time they move, and how much money they spend just because life feels so hard.
It's also made me aware that being careful with spending takes a lot of concentration. It takes planning and forethought to meal plan before you go to the grocery store. It takes a huge amount of self-discipline to make dinner when you'd rather call for takeout. My family has been paying attention to our finances for over ten years, but even with a decade of good financial habits in place, we've spent way more than normal.
Make Your Money Work for You
More on Money Stressors: The No. 1 Cause of Financial Stress in Every State
It's a lesson to me that when I'm under a lot of stress or really distracted by a big event in my life, I need to put strategies in place to help me cope. I should buy a bunch of frozen pizzas to eat for dinner when we're too tired to cook. I should take friends up on their offer to watch my kids so I can go to the store alone. I need to keep more money than usual in our checking account so I don't accidentally overdraw it. I also need to remind myself that it's temporary and things will get better soon.
It makes me extremely glad that this is one of the last times in my life I'm moving. "I don't care what happens, we're staying put," I've said to my husband, while looking up the number for our new Chinese takeout spot.
Related: Are Moving Expenses Tax Deductible?
More From Our Smart Money Squad:
We make money easy. Get weekly email updates, including expert advice to help you Live Richer™.