Here's How To Maximize Your Online Couponing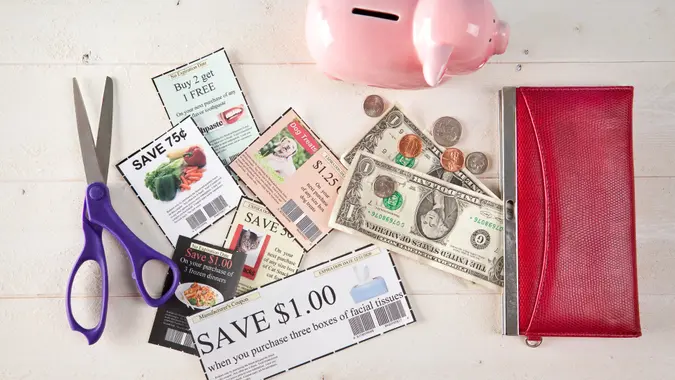 sdominick / Getty Images/iStockphoto
Using coupons has long been the easiest way for consumers to save money, but in recent years, with the boom of digital shopping, the art of the coupon has become a lot more complicated. 
Check Out: The 8 Best Deals From Costco's September Coupon Book
See: 19 Money-Saving Secrets Target Doesn't Want You To Know
To help anyone new to couponing, as well as those who want to take couponing to the next level, GOBankingRates spoke to budgeting experts to pull together the best ways to get in on the action — and the savings. 
Here's a 10-step guide to maximizing your online coupon game.
Do Your Homework
"If you're going to take on couponing as a serious endeavor, the most important thing to do first is research," said Julie Ramhold, a senior writer at DealNews. "Not only do you need to look into all the various apps that are available, but also research your favorite stores to see what their couponing policies are. For example, warehouse stores like Costco and Sam's Club won't allow coupons generally — instead you'll have to rely on them for their own saving events. Meanwhile, some stores allow coupon stacking so that you can use their coupons as well as manufacturer coupons to maximize your savings. Before you decide to take on this often time-consuming practice, it's best to know what you're getting into."
Make Your Money Work for You
Related: 15 Times You Should Splurge, Settle or Skip When Shopping

Automate Coupons
"Download a cash back plug-in to your browser like Cently which automatically searches for, tests and applies any available deals and the code with the biggest discount to your online cart," said budgeting expert Andrea Woroch. "This takes the work and hassle out of opening multiple browsers to search for codes that end up being expired or not applying to your order."
Read: Costly Mistakes People Make While Grocery Shopping
Buying: Best and Worst Things to Buy Generic
Join Loyalty Programs
"Often retailers want to reward loyal customers as well as entice others to become loyal," Ramhold said. "If you have a favorite retailer, whether online, in-store, or both, see if they have a loyalty program. Worst case scenario, you're subjecting yourself to some extra emails, but more often than not you'll be privy to coupons and offers that aren't available to the general public."  
Budget: 20 Ways to Pay Less at Costco
Get Social
"Following brands on social media can help unlock exclusive coupon savings," Woroch said. "For instance, I recently scored a 5% off coupon at a boutique store for following their account on Instagram. I've also scored discounts at various restaurants by following the dining establishment on Facebook or Instagram. This strategy also ensures you stay in the know when the newest sales and deals get released."
Make Your Money Work for You
Find Out: How Much Does a Costco Membership Really Save You?
Text For Savings
"Some stores, like Target, will provide coupons when you text a special code while others provide coupons when you sign up for text alerts," Woroch said. "I recently got a 15% off coupon for Revolve (an online clothing site) by registering my phone to receive text alerts from the brand. Keep in mind, you can cancel at any time if you don't want to get bombarded by sales notifications."
Stack Coupons When Able
"Some retailers let you use more than one coupon on the same purchase which is a great way to maximize savings," Woroch said. "For example, you can often use a manufacturer coupon with a store coupon at retailers like Target and grocery retailers to get more money off your purchase. Retailers like GAP, Old Navy, and Kohls allow you to use multiple coupons per transaction. And stores like CVS and Dollar General let you use one manufacturer coupon with a store coupon on the same item. On the flip side, stores like Dick's Sporting Goods and DSW do not allow for more than one coupon per order."
Make Your Money Work for You
Discover: 30 Things You Should Never Buy Without a Coupon
Learn: 50 Purchases Buyers Almost Always Regret
Match Coupons With Sales
"The ultimate strategy to maximize coupon savings is to match coupons with store sales," Woroch said. "You can achieve this by clipping coupons from the Sunday Circular or printing manufacturer coupons online (CouponCabin offers printable grocery coupons) and then review your local grocery store ads (Flipp makes that easy!) to see where you can get the most out of those coupons by pairing them with sales. You can achieve this at big box stores and drugstores like CVS too by seeing what's on sale this week."
Don't Buy Items Just Because There's a Coupon
"Here's the thing: manufacturers and stores know that coupons that offer even a small amount of savings will entice some shoppers into buying items they wouldn't normally buy," Ramhold said. "And if there's something you're interested in trying and there's a coupon for it, great! Go ahead and give it a try; but if you see something with a coupon that's really great and you wouldn't otherwise purchase it, don't bother. You're spending money you wouldn't have otherwise, and if you aren't really interested in the product, it's likely going to just be a waste overall. Instead, stick to coupons for items that you're actually curious about."
Pay Attention to Delivery Services
"If you've been using delivery services like Instacart or Shipt lately, the important thing is to pay attention to offers these services may have," Ramhold said. "For instance, maybe you can save $1 when you purchase three packs of ready-to-bake cookie dough (if you're already planning to stock up on these, it's an easy decision to make); however, be cautious about overspending. If you aren't intending to stock up on an item and doing so will only save you $1 or $2, then you're still spending more than you originally intended."
Plan Ahead
"Some sites may have an early look at upcoming weekly ads, which means you can make plans without having to wait for the ad to be released and can even plan to shop early while traffic is still low and others are perusing the ad to find the best deals" Ramhold said. "For instance, sites like Southern Savers often have the Publix ad highlights on Tuesday nights (the weekly ad releases every Wednesday) so you can get a jump on your planning. And even Aldi has its weekly ads onsite, but it will highlight its special 'Aldi Finds' for the upcoming week so you can plan far in advance what you'll be shopping for the next week."
More From GOBankingRates
Last updated: Sept. 23, 2021
Make Your Money Work for You