I Saved Money by Reviewing My Account Statements: 6 Red Flags To Look For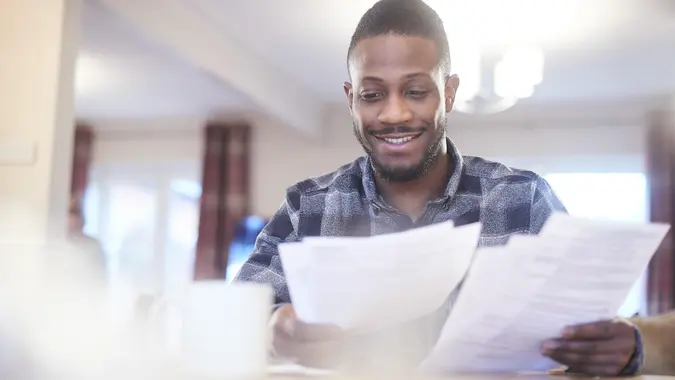 MartinPrescott / Getty Images
Sometimes, life can get busy, and letting your finances slide happens by accident. You don't always have time to review all of your financial accounts. You also may not be interested in constantly looking at numbers. While you're not blowing your money frivolously, you could still be surprised by how much is leaving your account.
You may forget to check your account statements because you have many other things to deal with. However, it's important to note that getting your finances together is challenging if you don't know where your money's going. This is why it helps to review your various account statements. Here's a look at how you save money by reviewing your account statements often.
How Can You Save Money By Reviewing Your Account Statements?
"I didn't realize how much I was spending until I looked over all of my account statements," Steven Maxted told GOBankingRates regarding the surprising numbers he discovered after analyzing his various statements. "You forget about your regular bills on top of your other spending, so seeing all this money leaving can get frustrating." Maxted wasn't sure where his money was going, so he started reviewing his accounts.
The goal is to ensure everything's in order with your spending and savings by reviewing your credit cards, banking accounts and investment accounts. The reality is that the numbers don't lie. You may have also gotten busy with life and neglected your financial accounts.
Make Your Money Work for You
"Since I use a card for every purchase, it could be difficult to review all of my transactions, because I also have my car insurance coming out of there." Maxted has since turned on notifications for purchases with his accounts, so when something seems off, he immediately looks into it. He also has saved money by reviewing his different subscriptions, tracking his variable expenses and going over other purchases.
What Red Flags Should You Look Out For?
When reviewing your account statements, there are a few things that you should look out for.
Auto-Renew
The auto-renew subscriptions are a silent budget killer, because this area can be challenging to track. Most people have multiple apps and accounts that they have signed up for that they may have forgotten about.
One of the worst culprits here is the free trial that turns into an unwanted expense. This is why it's essential that you keep track of free trials and your subscriptions that are set to auto-renew.
Expensive Fees
Maxted noted that his car insurance is expensive, and he often feels the sting of this monthly payment. You could discover that you're spending too much money on a membership or expense, and you may even have the option to negotiate a lower rate. Reviewing your accounts could inspire you to try to get a better deal on that cell phone plan or your car insurance.
Accounts You No Longer Use
As our lifestyles and habits change, so do our consumption habits. Perhaps you've stopped watching Netflix as much or decided you're no longer on the dating market. You can look for accounts you don't use anymore when reviewing your banking accounts to see what you can eliminate.
Make Your Money Work for You
Memberships That You've Given Up
While it can be disheartening to realize that you haven't visited that yoga studio or the gym you signed up for when you were motivated, it's essential for your finances to be realistic with yourself. If you have a membership you've given up or find no use for any longer, it's time to cut it out. If you haven't gone in months, chances are that you're not suddenly going to start going.
Problem Spending Areas
When you look through your accounts, you may notice that you have some problem spending areas that you didn't realize existed. You could discover that you're dining out too often or purchasing shoes weekly. It's crucial that you review your account statement to spot any problem areas in your spending.
Late Fees
While reviewing your account statements, you may notice that you've been dinged with late fees in the past. This could mean it's time to automate your payments so that you don't have to worry about similar issues in the future.
How You Can Save Money On Subscriptions
As mentioned above, subscriptions can be a significant money drain — here's a deeper look. Suze Orman, a popular financial expert, believes you can save $1,000 annually by cutting out subscriptions. A few simple calculations will prove this to be true. For example, if you have a gym membership that you no longer use, charging you $100 per month, cutting this would save $1,200 annually. You could also have a few smaller subscriptions, like Spotify and a streaming service, that are adding up to $1,000 annually.
Make a List of Your Subscriptions
You must write down all of your subscriptions so you know how many you have and how much they're costing you.
Separate Them Into Must-Haves and No-Longer-Needs
You can then separate your accounts based on importance in your life. For example, you may need to pay for that cell phone service, but you could easily cut out one of your streaming channels. You also want to ensure that you're still getting value out of the premium products that you signed up for.
Considering Freezing a Few Subscriptions
Dave Ramsey suggests that you try to pause or freeze subscriptions for a set period of time to save some money. This could also be treated as a test run to see how different your life would be without Netflix or Amazon Prime in it. You may find that you've been paying for services that don't bring you much value.
Calculate Your Savings
The final step is to determine how much you're saving by not paying for these suspicions. By simply reviewing your account statements and making a few tweaks, you could be surprised by how much money you have to work with now.
Closing Thoughts
Personal finance isn't about cutting out all joy from your life. It's about optimizing your spending so that you can add more joy without compromising your future. This is why it's essential that you look over your credit card and bank account statements often to ensure that everything's on track.
More From GOBankingRates