6 Bills Americans Worry About Most in 2023 — and How To Lower Them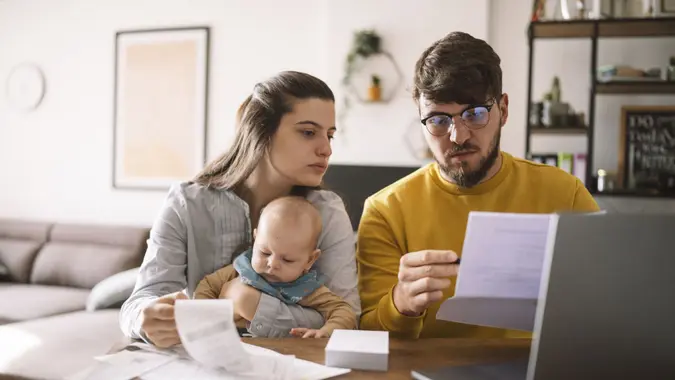 ArtistGNDphotography / Getty Images
Although last year's skyrocketing inflation rate has eased in recent months, high prices remain a concern for Americans. The vast majority of U.S. consumers still see inflation as a financial threat in the new year, according to a new survey from Doxo, a web and mobile bill pay service.
See: How 2023 Recession Will Differ From 2008 and How You Should Prepare Differently
Find: 3 Ways Smart People Save Money When Filing Their Taxes
Explore: 4 Reasons You Should Cancel Amazon Prime
Released on Thursday, Jan. 19, the Doxo Insights Report 2023 survey found that nearly three-quarters of consumers are worried about how inflation will impact their ability to pay bills in the future.
"The average American household has been hit hard by inflation in recent months and these findings show just how much those cumulative effects are weighing on Americans heading into this new year," Liz Powell, director of Insights at Doxo, said in a statement. "While Americans are understandably prioritizing their most essential bills, like rent and car payments, the majority worry about being able to pay utilities, cable and internet, and their mobile phone bills in a timely manner."
Utilities top the list of household bills that consumers are most concerned about paying this year. Of the more than 70% of consumers who are concerned about paying bills in the future, 73% say they are most concerned about paying their utilities, according to the Doxo survey.
Make Your Money Work for You
Here's a look at the top 10 most common household bills that consumers are worried about paying in 2023:
Utilities (73% of survey respondents)
Auto insurance: 63%
Cable and internet: 63%
Mobile phone: 62%
Alarm and security: 51%
Health insurance: 50%
Life insurance: 44%
Dental insurance: 42%
Auto loan: 42%
Mortgage: 39%
Rent: 33%
In some cases, there's not much you can do to lower monthly bills. For example, rent prices typically can't be changed until the current lease runs out, unless you are able to renegotiate a lease before it expires. That's an unlikely scenario in the current environment, where the market favors landlords over tenants. Similarly, trying to renegotiate a mortgage in the current environment is risky because of much higher mortgage rates compared to the last few years.
But there are ways to save money elsewhere. Here's a look at ways to lower bills on six expenses consumers are most worried about in 2023:
Utilities
There are any number of ways to lower your monthly utility bills. One is to request an energy audit in which inspectors examine your home for air leaks, insufficient insulation, inefficient appliances and other problems and then suggest fixes, according to Fidelity. Other proactive steps include unplugging "vampire" appliances, such as coffee makers and cable/satellite boxes, that use energy even when they are idle; using less hot water; and not running appliances unless they are full.
Make Your Money Work for You
Cable TV
The simple solution here is to simply cancel your cable service. As a blog from American Family Insurance noted, you can get free local channels with a digital antenna and also pick up a la carte streaming services to watch your favorite shows for a fraction of the monthly price of cable.
Home and Auto Insurance
Bundling your home and auto insurance under a single provider and policy can save considerable money on both items, according to American Family Insurance. Another way to save on home insurance is by adding smart home security features to your house.
Health Insurance
If you and your spouse are both covered by employer-sponsored health insurance plans, compare the coverage both plans offer and then go with the least expensive option by joining your spouse's plan, or vice versa. If you are under age 26 and unmarried, you can consider joining a parent's plan, according to Experian.
Take Our Poll: How Big of a Sign-Up Bonus Would It Take for You To Change Banks?
Discover: 24 Things To Do When You Have More Bills Than Your Paycheck Can Cover
Make Your Money Work for You
Mobile Phone
If you have phone service through a major carrier such as Verizon or AT&T, you can save money by switching to a low-cost mobile virtual network operator like Mint Mobile, Consumer Cellular or Republic Wireless, CNBC reported. Another way to save money is to bundle your service with friends and family.
More From GOBankingRates
Make Your Money Work for You