With $1 Billion in Lottery Jackpots on the Line, Here's How to Take a Chance in the Age of COVID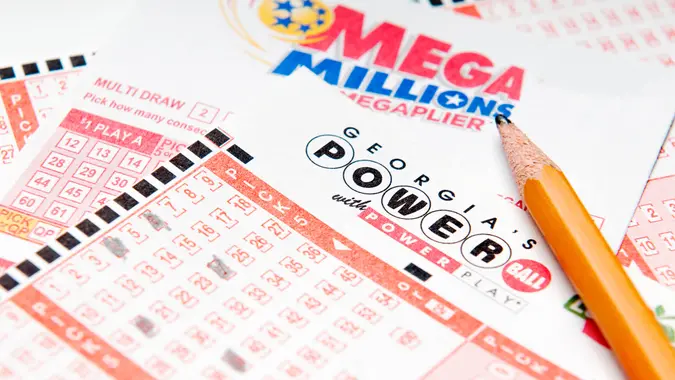 mphillips007 / Getty Images
Right now, Mega Millions and Powerball jackpots each total over $500 million for winners taking the annuity option. While not at record levels, both are significantly larger than usual.
Depending on where you live, you may be able to buy your ticket without leaving home. Some states allow this, but not all do, and the ability to make an online purchase is only available to residents of that state. The Illinois Lottery sells tickets online to folks in the Land of Lincoln, while Wisconsin residents are required to go to authorized lottery retailers.
If you live in a state that does not offer online sales, you could ask a trusted friend who lives in a state that does to buy the ticket for you. However, many people who are trustworthy with a few hundred dollars, or even to care for your child, are not so trustworthy when $500 million dollars are at stake.
See: These 22 States Love Playing the Lottery the Most
Find: 23 Lottery Winners Who Lost Millions
One socially distant option is a lottery vending machine, available in many states. While you would have to leave the house to buy a ticket, you could maintain a six-foot space more easily than you could buying the ticket face-to-face at a convenience store. Visit your state lottery's web site to see what is available where you live.
Make Your Money Work for You
Despite the big jackpots, neither the Mega Millions nor the Powerball is what would be considered to be a fair lottery, which is one where the expected prize is equal to the cost of a ticket. From a financial perspective, it makes no sense to play the lottery. But given that we are mired in difficult times, the fantasy of what to do with imagined winnings may be worth the $2 price of a ticket.
More From GOBankingRates:
Make Your Money Work for You