Percentage of Americans Unable To Cover a $400 Emergency Expense Shoots Back Up to Pre-Pandemic Levels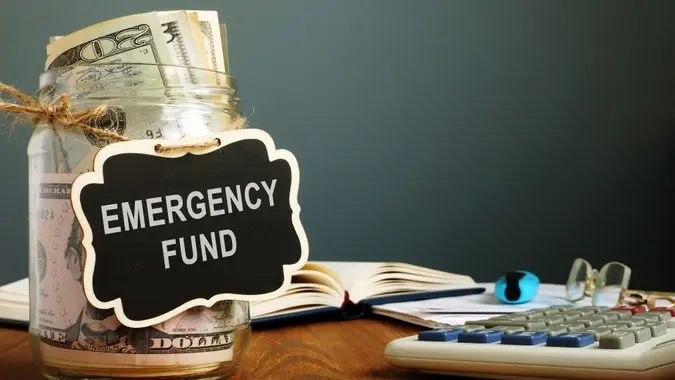 designer491 / Getty Images/iStockphoto
With inflation and consumer goods prices still stubbornly high, saving money is more difficult than ever. In these economically challenging times, putting aside funds for an unexpected financial emergency is even more daunting for a growing number of Americans.  
According to the Fed's 2022 Economic Well-Being of U.S. Households survey released last Monday, 37% of Americans lack enough money to cover a $400 emergency expense, up 5% from 32% in 2021 and back to 2019 levels.  
So, nearly one in four consumers would have to use credit, turn to family, sell assets or get a loan in order to cover any major unexpected cost. When asked about non-emergency expenses, 18% of Americans said the largest expense they could cover using only their savings was under $100.
The report includes data gathered from the Survey of Household Economics and Decisionmaking (SHED), which has been conducted since 2013 and includes answers from over 11,000 adult respondents. The SHED collects data on how people feel about their family's finances to help understand the effects of broader economic trends over time.
Both the Fed report and a recent survey by SecureSave, the financial technology platform co-created by Suze Orman to help individuals build employee benefit emergency savings, have inflation as the biggest factor affecting Americans' finances, but the SecureSave study highlights a drastic decline in personal savings when compared to the Fed survey.
The SecureSave study found a shocking 67% of Americans don't have enough money saved to cover that same hypothetical unexpected $400 expense. Like the Fed study, a good number of SecureSave survey respondents (54%) found their savings have decreased in 2022.
Make Your Money Work for You
"This data is a huge red flag for our country's economy: the overwhelming majority of American households are dangerously unprepared," said Orman in a press release.
According to the Federal Reserve study, for those not able to cover a $400 emergency expense, 16% said they would use credit cards to pay off the expense over time and 9% stated they would borrow the funds from a friend or family member.
Other answers included selling something (6%), getting a bank loan or line of credit (2%) and taking out a payday loan, deposit advance or overdraft (2%). 13% claimed they would simply not be able to pay off the emergency expense at all.
The trouble with using credit cards, of course, is that you might end up paying more for an emergency expense than you would of if you had paid cash to begin with. The same goes for personal bank loans and using lines of credit and overdrafts.
Payday loans should be out of the question unless you are in dire straits. If you're not diligent about paying it back, a payday loan could have you paying interest forever. Depending on the comfort level you have with a friend or family member, borrowing from them might potentially be the best method for getting quick emergency money when you're in an unexpected bind.
As far as starting or replenishing a rainy day or an emergency expense fund, go with what the experts say and try to save where you can. "Your goal should be to have one year of living costs set aside in a savings account at a federally insured bank or credit union," states Orman.
Make Your Money Work for You
AARP suggests creating two funds, a rainy day fund of up to $2,500 for small financial expenses like an unexpected car repair and a bigger emergency savings of over $10,000 for such things as losing a job or a major medical emergency.
Take Our Poll: Who Has Given You the Best Money Advice You Have Ever Received?

But with so many Americans living paycheck to paycheck and wages falling far behind inflation, finding the self-discipline and motivation needed to sock away anything significant is difficult when paying basic expenses is a struggle.
There's no denying how tough it is to save right now, but it's also necessary. Start small and save what you can so you're eventually on the right side of statistics, as someone who can afford $400 emergency expense should one inopportunely arise.
More From GOBankingRates