6 Reasons January Is the Best Month To Save Money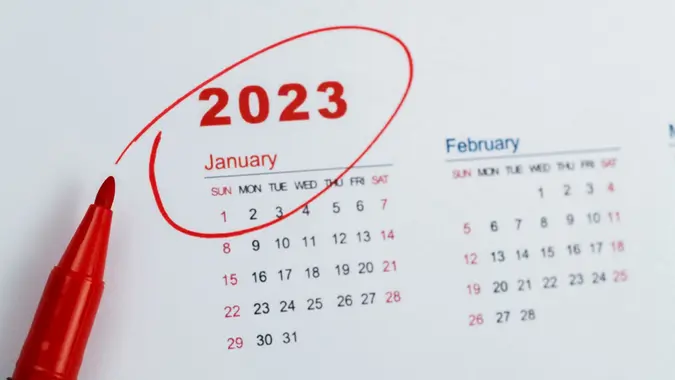 New Year's resolutions are hard to keep because they require 12-month commitments. But if you can't devote yourself to a full year of financial piety, you can at least commit to a season — and the best way to spend your winter saving money is by getting off to a good start in January. 
Discover: 10 Things To Stop Buying in 2023
Learn: 3 Easy Tips To Turn Your Credit Woes Into Wows
The first month of the year closes the book on the frantic and expensive holiday rush and offers an opportunity to turn over a new financial leaf. With December's ugly credit card bills coming due, you'll probably spend less money in January out of necessity alone — but you can do better than just compensating for last month's shopping spree. 
Here's a look at why January just might be the best month of the year to save more money and spend less of it.
Your Boss Expects You to Ask for a Raise — Don't Disappoint
As far back as 2011, publications like CNBC reported on data showing that employers are most likely to hand out raises and promotions in January — and nothing has changed since. New years come with new business budgets, and early in the first month is the best time to ask your boss to pay you what you're worth.
Make Your Money Work for You
This year will present an especially good opportunity to increase your income because employers are expecting workers to seek help compensating for last year's rapidly rising prices — Apartment Therapy calls it an "inflation raise." The sooner you ask, the better. Don't wait until "there's no room in the budget" is a viable excuse for your boss to say no. 
Take Our Poll: How Long Do You Think It Will Take You To Pay Off Your Credit Card Debt?
Out-of-Season Summer Merch Is Dirt Cheap
January is the dead of winter, which means summer gear is out of season. That's good news for anyone who knows they'll need a new bathing suit, sunglasses, suntan lotion, sandals, a bike or anything else that screams outdoor fun in the sun later in the year.
Stores mark down out-of-season inventory to make way for the new stuff coming in spring — and it's always a good idea to shop for things when demand for them is lowest.
Make Your Money Work for You
January Is Famous for Item-Specific Discounts
January is a good month to buy a handful of specific items that have nothing to do with the winter/summer supply-and-demand dynamic. According to DealNews.com, January is the best time to buy if you're in the market for any of the following items:
Holiday decor, lights, wrapping paper and unsold holiday-themed gifts
Small kitchen appliances
Gym memberships
Fitness equipment
Linens and other soft home goods (January is famous for white sales)
Laptops
TVs
Flowers
Many Services Are Cheaper, Too
It's not just stuff. Demand for services ebbs and flows with the seasons, just like it does with merchandise. According to Homelight, winter is the home remodeling offseason when prices are lowest. In fact, demand for all kinds of services falls in the winter, which makes January the right time to hire professionals for things like moving, gutter cleaning, painting, tree removal and electrical work.
You Can Always Add More Layers
Since January is a time of financial belt-tightening, you'll probably be spending more time at home this month. That means spending more money to keep your house warm. But, for those who play it smart, the expensive month of January provides unique opportunities to save on utility bills. 
Make Your Money Work for You
For people who run hot, high energy bills are a fact of life during the summer swelter — after all, you can take off only so much clothing. But January lets you battle your utility bills by adding layers instead of cranking the heat, heating only the room you're in with a space heater and lowering the thermostat at bedtime when you've got the benefit of blankets.
No-Spend January
Most monthly no-spend challenges are doomed to fail because most months involve holidays or seasonal activities that cost money. One of the rare exceptions is January, when no reasonable person could expect you to travel anywhere, host anything or make any purchases.
Everyone is in the same post-holiday spending boat, which removes a lot of the temptation and social expectation to spend. There is no shortage of January no-spend challenges to get your resolutions off to a good start and set the tone for a frugal and financially secure year. Pick one, log out of Amazon and watch the savings pile up.
More From GOBankingRates
Make Your Money Work for You