Receive $840 Rebate To Replace Your Gas Stove — Will It Soon Be Required by Law?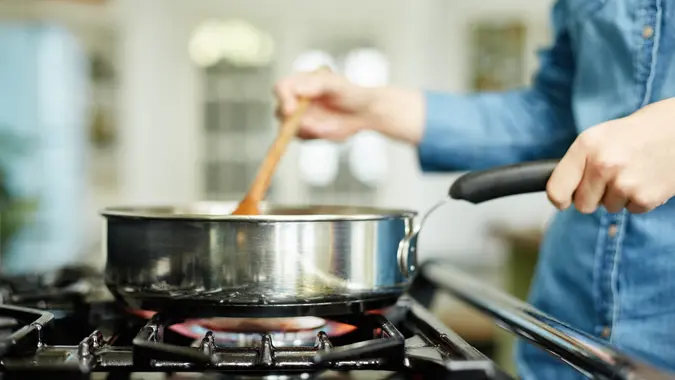 Neustockimages / iStock.com
Gas stoves are a staple in many American homes, but they're bad for the planet and, as it turns out, potentially bad for one's health. Under the Inflation Reduction Act, Americans could save $840 on a new electric or induction stove, and up to an additional $500 if they are switching from gas or propane. The savings are a nice perk, but could the switch from a gas stove become mandatory?
See: 3 Ways to Create Your Own Stimulus Money
Find: How To Get Free Gift Cards From Your Everyday Purchases
Explore: Egg Prices Reach $7.37, Yet Are Still Cheaper Than Other Proteins
Richard Trumka Jr., a U.S. Consumer Product Safety commissioner, said in an interview with Bloomberg that gas stoves posed a "hidden hazard" and indicated that the agency could ban them if it wanted to — but Trumka was a bit softer in his remarks to CNN, noting that the ban, if enacted, would only apply to new stove purchases.
"We are not looking to go into anyone's homes and take away items that are already there. We don't do that," Trumka told CNN. "If and when we get to regulation on the topic, it's always forward looking. You know, it applies to new products. Consumers always have the choice of what to keep in their homes and we want to make sure they do that with full information."
Make Your Money Work for You
Trumka also tweeted on the subject:
"To be clear, CPSC isn't coming for anyone's gas stoves. Regulations apply to new products," his post read in part.
No ban on new gas stove purchases has yet been enacted, but it sounds like one could be coming later in 2023.
"Agency staff plans to start gathering data and perspectives from the public on potential hazards associated with gas stoves, and proposed solutions to those hazards later this year," the CPSC said in a statement released on Jan. 10. "Commission staff also continues to work with voluntary standards organizations to examine gas stove emissions and address potential hazards."
$2,000 Quarter? Check Your Pockets Before You Use This 2004 Coin
Tax Update: IRS Delays $600 Reporting Threshold for Venmo, PayPal and More
Make Your Money Work for You
President Joe Biden has spoken up against the possible ban via his press secretary.
"The president does not support banning gas stoves," White House press secretary Karine Jean-Pierre said Wednesday, when asked about the U.S. Consumer Product Safety Commission's statement.
More From GOBankingRates
Make Your Money Work for You