Savings Goals 2023: How Boomers Stack Up vs. Everyone Else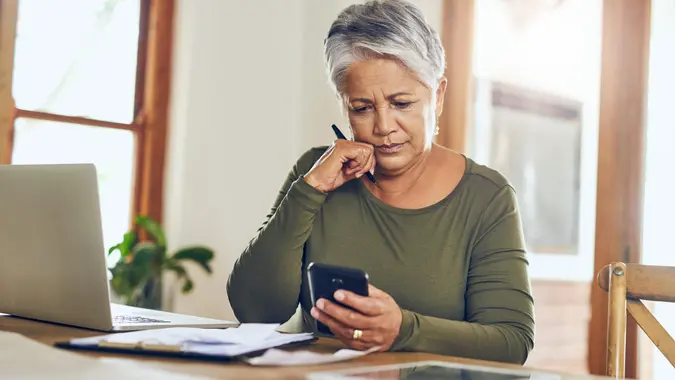 PeopleImages / Getty Images
In early September 2023, GOBankingRates conducted a survey of 1,037 adult Americans regarding their savings habits. Results were analyzed collectively and by age and sex. One of the interesting results from the survey was how the savings patterns and strategies of baby boomers tended to vary when compared with younger generations.
Here are the specifics of how boomer responses differed from others in the survey, along with an analysis as to what those differences may mean.
How Much Do Boomers Plan To Save vs. Other Age Groups?
Responses to the survey were broken down into six age groups: 18 to 24, 25 to 34, 35 to 44, 45 to 54, 55 to 64, and 65 and over. Boomers are typically categorized as being between ages 59 and 77 currently, so they straddle two of these age groups.
The oldest age group, 65 and over, indicated a significantly lower level of anticipated savings over the upcoming year. Just 4.1% of respondents in this category indicated they planned to save more than $20,000 in the next year, by far the lowest percentage of any other age group. A whopping 14.86% of those aged 18 to 24, for example, indicated they planned to save that lofty amount. Only 4.92% of those 65 and older said they planned to save $10,000 to $15,000, vs. 10.81% of 18-to-24-year-olds, 15.52% of 25-to-34-year-olds, and 11.65% of 35-to-44-year-olds.
What Might Be the Reasons for the Differences?
In a true random sampling, it would seem odd for one group of respondents to indicate they plan to save three times or more as much as another. But given that boomers are very close to or already in retirement, the idea makes more sense.
Make Your Money Work for You
Many boomers have likely already reached their savings goals, or at least have them in sight. The compound interest on the savings they've already accumulated may be all they need to shore up their nest eggs for their golden years. Another reason might be that they no longer have a significant source of regular income, making it harder to save than those who are still in the workforce.
Is It OK for Boomers To Be Less-Focused on Savings Goals?
While it might make sense that boomers don't plan on saving as much as those in younger age groups, in some cases, it may still be the wrong call. For example, boomers who plan on living the same lifestyle they had during their working years might still need to save more money even as they approach or enter retirement. Others may have to continue to save simply based on longevity, as retirement nowadays can last 30 or more years.
However, in other cases, additional savings may not be needed. If a boomer's combination of Social Security, pension/401(k) or private investment income is more than enough to fund their lifestyle, it may be fine to reduce or even eliminate the savings component from their budget. The bottom line is that boomer saving levels can only be evaluated on a case-by-case basis.
What Are the Risks for Boomers?
The risk for boomers not saving enough is the same in concept as for all age groups: not having enough money to fund a retirement that could last 30 years or more. But the actual risk is higher for boomers, as in most cases they no longer have a consistent and/or rising source of income to fund their nest eggs.
Make Your Money Work for You
While most Americans dream of hanging up their work boots and riding off into the sunset without having to worry about drawing an income, without saving and investing ahead of time, that road might be bumpier for some than others. While some boomers are certainly prepared with well-funded nest eggs that will last for the rest of their lives, others might think twice before automatically assuming that they're OK reducing or even stopping their savings program once they're at or near retirement.
Final Thoughts
Although boomers in the survey indicated they are less likely to save $20,000 or more than their younger counterparts, this doesn't mean they have abandoned saving completely. In fact, 18.85% of those 65 and older noted they intended to save $2,501 to $5,000 in the next year, while 16.39% said they would save between $5,001 and $10,000.
This is in line with, and in some cases exceeds, the responses of the younger generations. So, while boomers may not be shoveling money into their savings accounts quite as quickly, for the most part, they are not completely abandoning the idea of socking away money.
More From GOBankingRates