10 Signs You're Living Beyond Your Means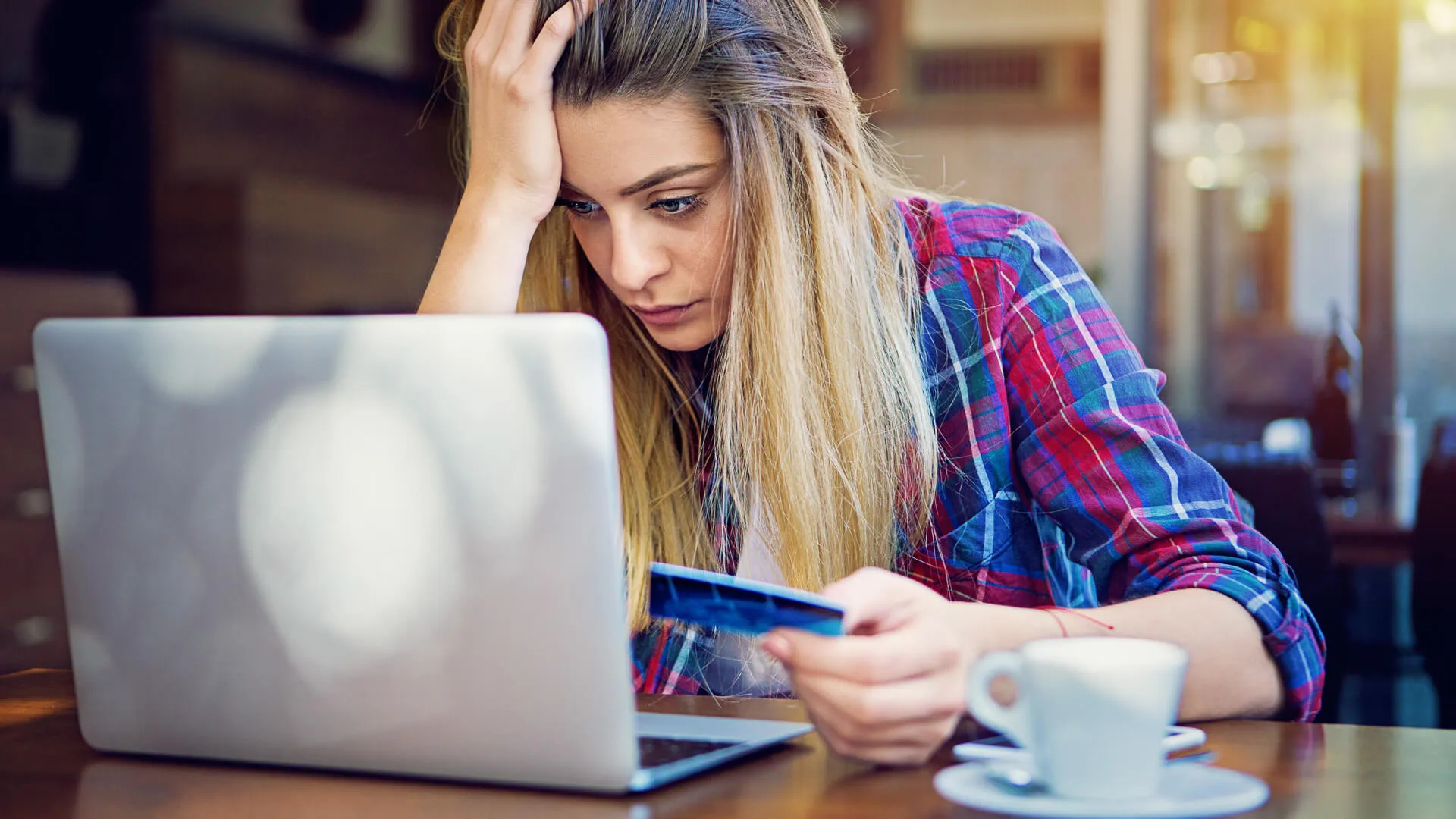 Sign No. 1: Your Card Has Been Declined
If you've ever found yourself in this embarrassing situation at the cash register, it's a clear sign you're living beyond your means, said Taunya Woods Richardson, founding partner of the Canadian money management and coaching firm Epifany Financial Group. It might also be a sign you're living paycheck to paycheck.
Click through to find out if you're living paycheck to paycheck.
Steps to Take Next
Woods Richardson said people in this predicament should set a fixed weekly allowance for all discretionary spending.
"Withdraw that amount from the bank, and place it in your wallet," she said. "Use your cash allowance — do not use debit or credit cards — to make all discretionary purchases. You will never overspend again, and you will find your decision process may change, too."
Make Your Money Work for You
Sign No. 2: You Come Up Short Each Month
If "you come up short each month on your bills and scramble to find money, maybe even asking others to help," you need to get out of the paycheck-to-paycheck cycle, said Phil Risher, founder of the site Young Adult Survival Guide.
Steps to Take Next
Risher recommends getting organized by establishing a bill schedule and payment calendar. Develop a budget that draws a line between wants and needs, and prioritizes financial goals such as debt repayment and savings while leaving enough money to cover your fixed expenses.
Sign No. 3: You're Constantly Worried About Small Expenses
If you freak out when your partner buys brand-name OJ instead of store-brand juice, it's likely a sign that you know, at least subconsciously, that you're living beyond your means, said financial planner Frank Ramey III, author of "The Building Blocks of Personal Finance."
Steps to Take Next
Focus your financial energy on tackling major expenses first if you're trying to balance your budget.
"While it makes sense to be 'penny-wise,' you also have to make sure you're not being 'pound-foolish,'" said Ramey. "An expensive car payment will do more to decrease your lifetime wealth than spending an extra $2 a month on better-tasting orange juice."
Sign No. 4: You Don't Have Any Retirement Savings
The 2017 GOBankingRates Retirement Savings survey found 34 percent of respondents had nothing saved for retirement, and 21 percent had less than $10,000 put aside. If you're one of these people, you might be spending money on things you don't need — and can't really afford — instead of saving it for retirement.
"It's easy to forget or ignore the fact that someday, you may not be able to work," Ramey said.
Make Your Money Work for You
Steps to Take Next
"Every month you should be socking away enough cash in order to live the life you want to if you stop working at the age of 70 and live to 90," Ramey said. "Ignoring inflation, if you need $50,000 a year now to support your current lifestyle, then to maintain that life over those 20 retirement years, you'll need to have at least $1 million in the bank when you retire."
Sign No. 5: You Avoid Opening Bills
Delinquent payments can lead to lawsuits and wage garnishment. So, facing the financial facts is essential to getting your spending under control, according to debt-resolution attorney Leslie H. Tayne.
"Debt denial is a serious financial problem and is often synonymous with living beyond means," she said. "Leaving bills unopened will not make them go away."
Steps to Take Next
Get a firm handle on how much you owe and exactly how much you have in the bank. Then, share your scenario honestly, Tayne said.
"Start by overcoming financial procrastination and calling your creditors," she said. "Creditors are usually very willing to work with you and help you resolve your debt issues. Make them aware of your situation and come to a payment agreement that works within your budget."
Sign No. 6: You Have a Subpar Credit Score
FICO credit scores created by Fair Isaac Corp. range from 300 to 850. A credit score of 700 or above is something everyone should aim for, according to Natasha-Rachel Smith, consumer affairs editor at TopCashback.
"The higher the credit score, the more likely you are viewed as a responsible borrower and will receive a loan or credit for future debts," Smith said.
Steps to Take Next
There are several ways to increase your credit score. Start by requesting copies of your credit reports and working to correct any errors you discover. Wiping out small balances and paying bills on time — or even early — also can boost your number.
Sign No. 7: You Don't Have a Balanced Budget
If your living expenses and debt repayment responsibilities exceed your income, something's got to give, Smith said.
"A great rule of thumb for budgeting is adopting the 50-20-30 rule," she said. "Spend only up to 50 percent of your after-tax income on essentials, such as housing; 20 percent on financial priorities, such as debt repayments and savings; and 30 percent on lifestyle choices, such as vacations."
Steps to Take Next
If your expenses seriously outpace your income, you might need to cut major costs by looking for a less-expensive place to live, taking on a roommate or trading in your ride in for a cheaper option.
"Cut cost everywhere you can, from canceling unused subscriptions to looking for a cheaper car insurance premium," Smith said. "Cutting cost can add up and help you contribute more towards your savings."
Sign No. 8: You Carry Credit Card Balances
Consistently carrying credit card balances can have serious consequences for your current and future financial security, according to Carla Dearing, CEO of Sum180, an online financial wellness service.
"If you cannot pay off your credit cards monthly, you are, clearly, living beyond your means. It's dangerously easy to fall into credit card debt," she said. "For some of us, it starts with a single indulgence that can't be paid off in a given month. For others, using credit cards to spend more than they have in a given month has simply become a habit."
Steps to Take Next
Dearing suggests calling your credit card companies to request lower interest rates. Consider consolidating high-interest debt by moving debt to zero-interest cards with low balance transfer costs or even taking out a home equity line of credit to pay down debt. And devote as much as half of your savings toward debt repayment.
"Credit card debt is a particularly expensive type of debt. Interest on credit card debt is usually many times more than that of other kinds of debt. The interest you pay is also many times more than what you could make if you put your money in a savings or investment account," Dearing said. "So, every penny you pay down on your credit card saves you a lot of money in the long run."
Sign No. 9: 'FOMO' Spurs Your Spending
FOMO — fear of missing out — shouldn't drive decisions, said Justin Howell, co-founder and CEO of Rize, a web app designed to help users save money.
"We all have those friends that invite us out almost every other day, which can be super stressful, especially when they spend money like it grows on trees," he said. "Perhaps they make a lot more money, or they come from money, or maybe they just have different priorities. Whatever the reason, you desperately want to say yes, but you know you'll regret it."
Steps to Take Next
Save money specifically for outings and adventures, or plan something that fits your budget, Howell said. And there's always the option of simply saying "no."
"Say 'no' enough times and that friend may stop inviting you, but if they can't compromise and do things that are more budget-friendly, then maybe they're not such a great friend after all," Howell said.
Sign No. 10: You Don't Have an Emergency Fund
Without an emergency fund, a fender bender or unexpected home repair could put you in credit card debt, Howell warned.
"If you couldn't survive financially without your job's income for at least six months, that's a problem," he said.
Steps to Take Next
Howell said stocking an emergency fund is the most popular savings goal for Rize users.
"If there's no money to put into an emergency fund, try making some supplemental income or cutting back on some other expenses — like going out with your friends every weekend," he said.

BEFORE YOU GO
See Today's Best
Banking Offers