Are You Spending $200 a Month on 'Free' Games? Millions of Americans Do – Without Knowing It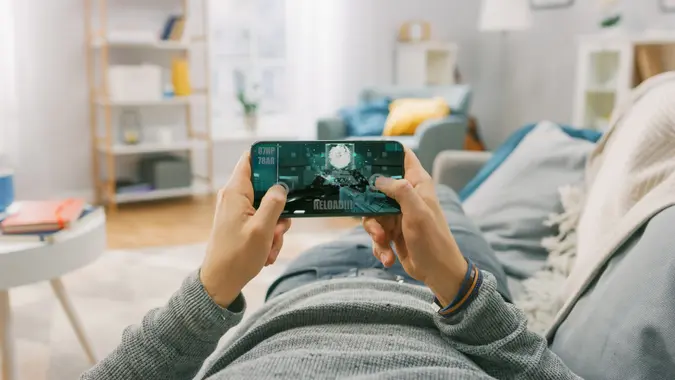 gorodenkoff / Getty Images/iStockphoto
Games like Fortnite, the Candy Crush Saga and Counter-Strike are free to play for everyone who downloads these games. But premium subscriptions and other in-app upgrades are tempting some gamers to spend over $200 per month, Money reported.
Counter-Strike: Global Offensive, a first-person shooter available to play for free online, is played by more than 5 million people every month and made an average of $3.2 million per day in March. Money says the popular battle royale-style game Fortnite made over $20 billion in its first four years through cosmetics alone. Candy Crush saw $1 billion in revenue in 2022 from purchasing extra lives and power boosts.
These numbers are impressive, but only a small fraction of players spend money on in-game purchases.
The 2021 study "No Such Thing As a Free App" by Imam Salehudin, an assistant professor of economics at the University of Indonesia, and his research partner Frank Alpert, an associate professor of marketing at the University of Queensland, shows that only about 5% of users spend money on in-app purchases. About 70% of all "freemium" app revenue comes from the top 10% of spenders, Salehudin says. But Money noted that those who do spend money, spend a lot of it. The study found that the average Pokémon Go user spent $267 in July of 2016, the month it was released.
Salehudin says that the biggest spenders tend to be the ones who can't control their spending — especially children.
Make Your Money Work for You
Nara Ward, a mother to two young children in Barbados, told BBC News that keeping track of her kids' spending when playing games is a full-time job. When her 12-year-old son started playing Roblox, a game with a largely young fanbase, he spent $200 in Apple credit in a few days.
Take Our Poll: Who Has Given You the Best Money Advice You Have Ever Received?

And the revenue for these gaming companies is only expected to grow. BBC reported that the global in-game purchase market is expected to increase from $67.94 billion in 2022 to $76.66 billion in 2023.
More From GOBankingRates