Suze Orman: Cutting Out Unnecessary Subscription Services Can Save $1,000 a Year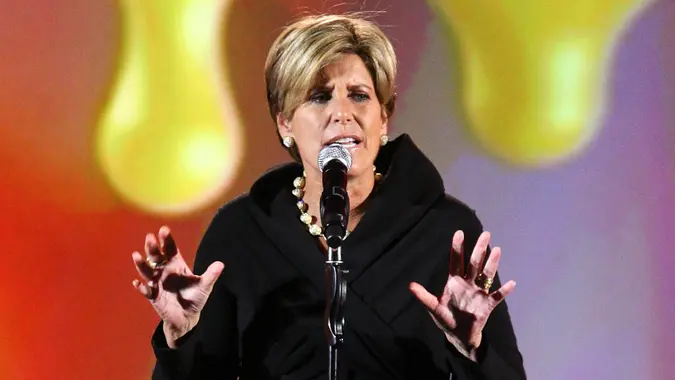 Stephen Lovekin / Getty Images
Saving an extra $1,000 a year may be as simple as making a list of your subscriptions and organizing it by what you need now and what you no longer need.
In September, personal finance expert Suze Orman shared a blog post outlining her September Challenge to readers looking to save money. According to Orman, you likely can save $1,000 a year if you cut out or scale back on unnecessary subscription services. Think streaming platforms and music services or subscription boxes you rarely use that aren't worth the money.
Here's how to slash your subscription expenses and save $1,000 (or more) using the two-step process in Orman's challenge.
Make a Master List of Your Subscriptions
The master list of all your subscriptions is probably longer than you realize. Orman wrote in her blog post that Americans live in a subscription economy. Your list of subscriptions is likely not limited to streaming services like Netflix. You also might have subscriptions to Amazon Prime, streaming music platforms like Spotify, pet companies like BarkBox, meal prep such as Blue Apron or personal styling via Stitch Fix. 
Create a master list of your subscriptions and review your auto-renewal subscriptions, Orman recommended. For some people, this may show up every month on your credit card statement. Others may pay annually and see an auto-renewal once a year. 
Make Your Money Work for You
If possible, Orman recommended, look at the yearly annual review statement associated with your credit card account. You should be able to see all of the renewals associated with that card. If you use PayPal, Orman said, you can see the current roster of auto-renewals after logging into your account.
Organize Subscriptions Into Must-Haves and No-Longer-Needs
Now that you know which subscriptions you pay for on a monthly or annual basis, it's time to determine which ones you can keep and cut. If you know which subscriptions you want to cut, unsubscribe as soon as possible. 
Try to avoid caving back in once you unsubscribe. Orman said many subscription services will try to offer you less expensive deals to keep you as a customer. The truth is these "deals" are often not quite good. Orman uses the example of a subscription service you previously paid $30 a month for offering you a $10 monthly subscription to remain a customer. You still would be paying $120 a year, which might not be a good deal.
For the subscriptions you intend to keep, Orman recommends reviewing any more economical offers associated with your account. If you want to keep Netflix, for example, you might switch to a subscription tier with commercials. These are often less expensive than their ad-free counterparts. 
Orman's final pro tip is to turn off your auto-renewal on the subscriptions you plan to keep. Doing so will mean you'll receive notifications about renewing the subscription and allows you to start negotiating a better deal with the service.
More From GOBankingRates
Make Your Money Work for You