8 Things You Must Do Every Time You Save $500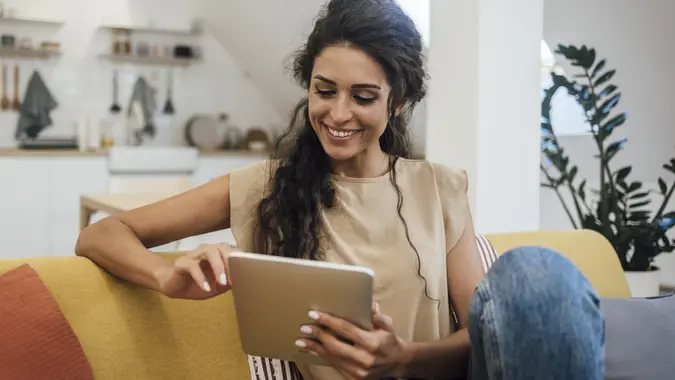 MixMedia / iStock.com
It feels good to save money, to see those numbers climbing higher and higher in your savings account without necessarily being earmarked for anything in particular.
But money sitting in a savings account is not the best way to build wealth or contribute to a healthy financial future. Instead, experts recommend the following 8 things to do each time you save an additional $500.
Adopt a Pay/Invest/Borrow Strategy
Noah Gomez, a financial consultant and founder at Thick Credit, recommended a pay/invest/borrow strategy.
"With $500 in savings, you can make an additional payment on outstanding debt (if any), invest a portion in stocks or your retirement fund, and place the remaining portion in a certificate of deposit (CD) that you can use as collateral to quickly take out a low-rate emergency loan."
Put the First $500 Toward an Emergency Fund
"If it's the first $500 you've ever saved, you should put it into a checking or savings account and keep doing that until you've saved enough for an emergency fund of 6 months living expenses," according to Joe Pelusi, a financial advisor with Green Investment Strategies.
"Aspiration has some good savings accounts where your money earns a relatively high rate of interest (up to 3% in their savings account) and isn't loaned out to fossil fuel companies causing the climate crisis."
Open a High-Interest Savings Account
If you want to build up that emergency fund quickly, Corey Noyes, a financial advisor and the owner of Balanced Capital said that right now, when interest rates are in the 5% range, is the time to put your extra $500 dollars into these types of accounts.
Make Your Money Work for You
"The rates are significantly better than most banks, and they are easy to set up," Noyes said. "That is where your savings deposits should be going, until you have built up between 3 and 6 months of expenses for an emergency fund."
Once you have a good emergency fund, the question becomes more personal, Noyes said. "What are you saving for? Vacation? A house? Retirement? Decide what is important to you, and then open the correct type of account."
Invest Each $500 Thereafter in a Green Fund
Once you have your emergency fund built, Pelusi urged that you should invest each additional $500 in green funds that also don't contribute to the climate crisis.
"You want an investment with a track record of strong performance and global diversification. If you're investing in $500 increments, you also need a low required minimum investment. And you want an investment that minimizes the risks and maximizes the opportunities provided by the climate crisis."
He recommended The Amana Growth Fund (AMAGX). "That fund has averaged 10.88% annualized over the 3 years it has been run by its current fund manager," he added, "beating its index handily and ranking in the top 4th percentile in its category."
If you're able to save $500 per month, invest it in AMAGX each month and keep it invested over the long haul, and the fund earns its historical average, over the next 20 years your money would grow to $402,489, Pelusi explained.
Make Your Money Work for You
"That's a good investment. And the fund has earned the highest possible sustainability rating, and a low-carbon designation, from Morningstar, so it's also good for the planet."
Pay Down High-Interest Debt
If you have any high-interest debt, such as credit card balances, it is wise to use the extra $500 to reduce or eliminate this debt, according to Douglas Goldstein, CFP(r), GFP(r) Founder of Profile Investment Services, Ltd.
"This will save you money on interest payments in the long run."
Contribute to Retirement Accounts
It's also never too early to save for retirement. Goldstein suggested that if you haven't already done so, "consider opening or increasing contributions to retirement accounts, such as an employer-sponsored 401(k) or an Individual Retirement Account (IRA). Redirecting the extra $500 towards retirement savings can have a significant impact over time."
Update Insurance
Another good use of $500 is to use it to review and updated your insurance policies, said Alec Kellzi, a CPA at IRS Extension Online.
"Ensure you have adequate coverage for health, auto, home, and life insurance. You may discover opportunities to optimize your coverage, reduce premiums, or add policies that better protect you and your family from unexpected financial setbacks."
Start a Side Business
Extra money can also come in handy if you've been considering entrepreneurship, Kellzi said. You might want to allocate a portion of each $500 increment to kickstart a side business or invest in an existing one, Kellzi suggested.
"Starting a business can diversify your income sources and potentially lead to financial independence. Be sure to research and plan your venture thoroughly to increase the likelihood of success."
More From GOBankingRates