Two Emergency Funds? Why Suze Orman Says It's Essential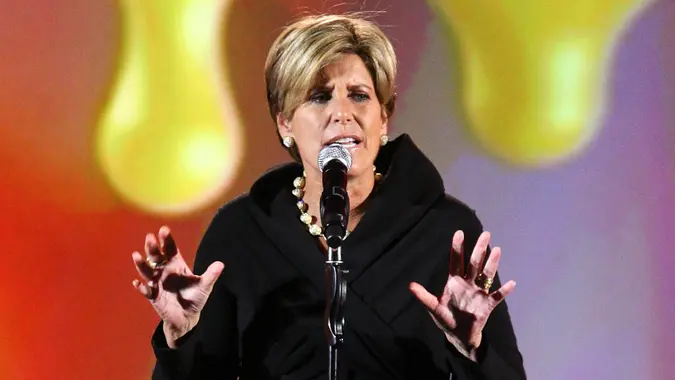 Stephen Lovekin / Getty Images
Do you already have a robust emergency fund? Good! Money expert Suze Orman recommends saving to create a second emergency fund.
In an interview with MarketWatch Picks, Orman said it's essential for people to have two separate emergency funds. One fund should be for known expenses and the second fund for unknown expenses. Let's learn more about the differences between known and unknown expenses and how you can start saving money for two emergency funds.
Known and Unknown Expenses: What's the Difference?
An emergency fund for known expenses is a certain amount of funds set aside for living expenses. While the typical framework for an emergency fund is to set aside between three to six months' worth of savings, Orman recommends saving eight to 12 months of essential expenses in an emergency fund for known expenses. Orman told MarketWatch Picks it takes between eight months, or even up to 12 months, to get a new job during a crisis. 
Make Your Money Work for You
"How are you going to pay expenses that you already know you're going to have to pay? They're planned. They're your rent, your phone bills, insurance premiums and debt payments that hopefully you're in a situation where if you got sick and laid off, you'd be able to pay them for eight to 12 months," Orman said.
An emergency fund for unknown expenses is a fund specifically designed for unexpected emergencies like an unplanned home or car repair. 
Those without a second emergency fund for unknown expenses may put the bill they're unable to pay for on a credit card. As interest rates get higher, some cardholders may find they only make the minimum payment each month on their statement. From here, it's a slippery slope into accumulating credit card debt.
How To Build Two Emergency Funds
If you already felt intimidated by building one emergency fund — and beefing up the savings to eight to 12 months' worth of funding — chances are you might feel even more nervous about the prospect of starting a second fund. 
Make Your Money Work for You
Per Orman's recommendation, you can get your start with small moves. Focus on working on the emergency fund for unknown expenses first. If you have any credit card debt, prioritize paying it off and putting this money toward this account. 
When building up savings for the second emergency fund, this fund doesn't need to have the same amount of savings as the fund for known expenses. If you have an extra $100 or $200, Orman said you can start tucking it away for this fund.
"Your car breaks down, your refrigerator breaks. It's the little $200, $300, $400 dollar events that happen that you've got to solve today and need the money for," Orman said.
More From GOBankingRates