6 Ways You Could Be Saving Money on Twitter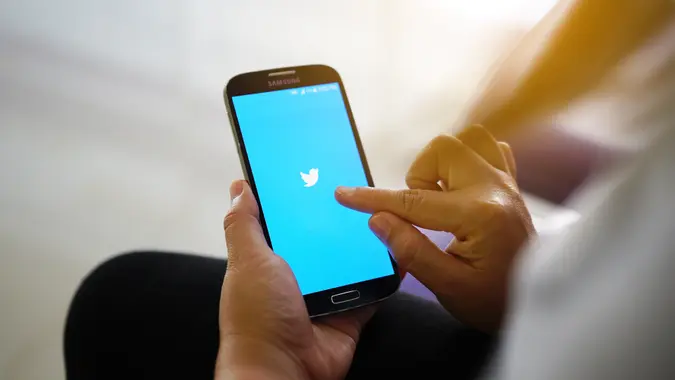 nopporn / Shutterstock.com
Twitter, like social media as a whole, has become a ubiquitous part of everyday life. It holds a unique distinction, though, with its short-form, text-based format that results in it moving at a faster pace than Facebook, TikTok or Instagram.
Obviously, businesses, retailers, and brands are aware of this, and use the micro-blogging platform to their advantage, often by pushing some seriously good money-saving deals. If you're already a Twitter user, or are curious to get started, there are ways you can use the social media titan as a means to save money. Take a look.
Follow Your Favorite Retailers
The first way you'll want to look for deals is by following brands and retailers of interest. It's not exactly predictable, but these accounts will occasionally tweet out deals, coupon codes and other bargains exclusive to social media. Given the speed at which Twitter typically moves, the window for savings like this doesn't often stay open for long. 
Alternately, you can tweet at brands directly, which can translate to some possibilities for saving. If you're looking for a particular high-dollar appliance or similar items, tweet the manufacturer or distributor and ask if there are discounts available, and wait to see what they may have to offer.
Follow Coupon Accounts
Similarly, there are Twitter accounts out there dedicated solely to posting and promoting consumer savings wherever possible. Some retailers have their own bargain-bin Twitter accounts, like @AmazonDeals. As far as brick-and-mortar retailers, @RetailMeNot offers up the same type of deals on Twitter as it does on its own app. 
If you're feeling a little more adventurous on your money-saving quest, check out accounts like @DealNews, @JustFreeStuff and @FswsFree for outside-the-box deals, like free samples given out in exchange for feedback.
Make Your Money Work for You
Search Hashtags
As different retailers, distributors and brands are all vying for the consumer's attention (and, ultimately, their money), hashtags can become a valuable resource while bargain-hunting. Basically, a hashtag is a word or phrase joined together with a hash sign (#) at the beginning, which then connects that to every other use of that hashtag on the platform.
That means that hashtags like #discount, #coupon and #voucher are all worth searching on a regular basis, as well as more specific terms like #freebiefriday or #winwednesday. These searches can be combined with non-hashtags to help narrow your search to something you're actually in the market for. So you could search for "#discount oven" and have some slightly more streamlined search results. 
Don't hesitate to try other savings-related words and phrases as hashtags, and keep experimenting until you find a process that works for you. Due to the volume of users, you'll want to keep in mind that a lot of the search results won't have anything to do with saving money.
Get Seasonal 
Like most things, savings tend to be cyclical. Any experienced bargain hunter already knows to dial up their search habits around Labor Day, and keep them up until the end of the year, which includes Black Friday, Cyber Monday and the day after Christmas. This goes for Twitter bargain hunters, as well. 
As shoppers begin to buy more aggressively as the year comes closer to an end, retailers are looking to push out any and all old inventory to make room for the next year's line of new and improved products. A lot of these potential savings opportunites end up being hyped on social media. This is a chance to use all aspects of this list. Following bargain accounts, retailers, searching hashtags, and weeding through the barrage of non-coupon posts will all come into play here.
Make Your Money Work for You
Look Beyond Retail
While saving on the everyday items you need has an obvious appeal, savings aren't limited to retail items. Accounts like @ScholAmerica tweet information about scholarships, grants and other types of financial aid available, and @529forcollege posts tips about saving for college.
Just about anything you're looking to save money on will likely have at least one active Twitter account dedicated to it. By being diligent and searching for accounts, hashtags and keywords, you should be able to find some money-saving options.
Be Keen, but Cautious
Granted, this being the internet, there will be no shortage of scams and empty promises out there. No matter what you're looking for, remain vigilant and remember the old saying, "If it sounds too good to be true, it probably is." 
While there are plenty of opportunities for sales, coupons and free samples, airlines aren't going to give away tickets and furniture stores aren't giving way entire living room sets in exchange for tagging a few friends. Given that the volume of content itself can be overwhelming, it might be easy to overlook an obvious red flag in a scam. Keeping all your bargain hunting as part of a separate list from your main feed can help make separating the wheat from the digital chaff a little easier to handle. 
Most importantly, don't give out any sensitive information, like credit card numbers, to any outlet or entity that seems suspicious. Sites like URLVoid can help you determine if a particular site is a scam as well, so keep your guard up before handing over that credit card information.
Make Your Money Work for You
More From GOBankingRates