Here Are the Most Expensive Countries to Live in 2018
If you thought the U.S. was a pricey place to live, think again.
Just because a country has a cheaper overall cost of living than the U.S. doesn't make it an inexpensive place to live. In fact, only four countries in the world are more expensive to live in than New York City. Add in factors such as lower wages, higher taxes and a smaller local purchasing power for your dollar, and even those with a lower cost of living can start looking pricey.
A recent GOBankingRates study found the 50 most expensive countries to live in around the world and discovered some interesting results.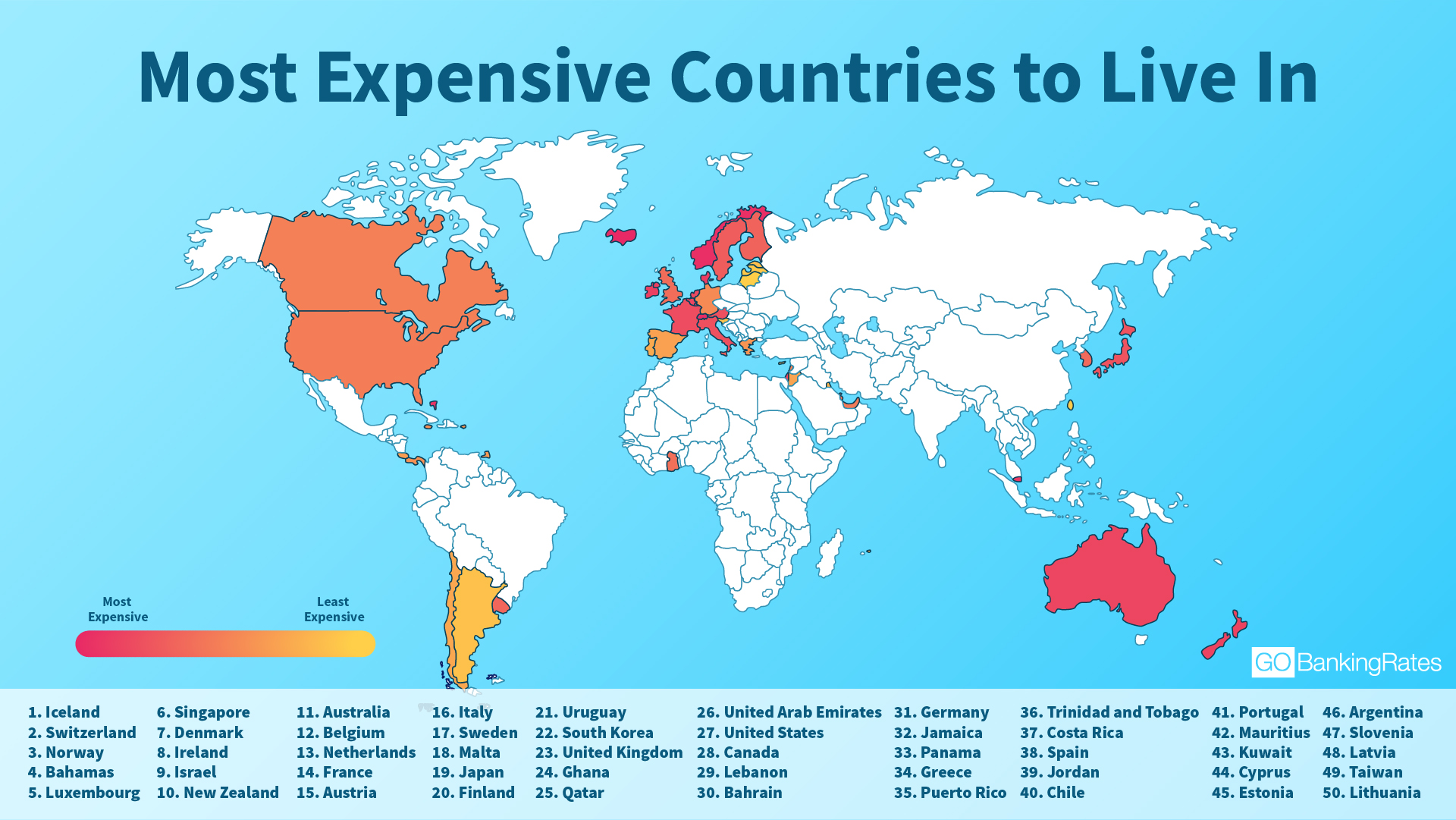 New Yorkers Pay Some of the Highest Food Prices in the World
Of all the countries, only Switzerland, Norway and Iceland pay more for groceries than residents of NYC. Swiss citizens, who live in one of the world's best tax havens, pay the most, with groceries costing 33 percent more than in the Big Apple. The U.S. as a whole ranks 15th on the list of most expensive food prices, with citizens paying 26 percent less overall than New York City residents.
You'll Pay More to Dine Out in These Six Countries
Everyone knows that dining out in the Big Apple isn't necessarily cheap, but it's by no means the most expensive place on earth. The Nordic countries have the highest cost of living overall, and restaurant pricing is no exception. Iceland and Switzerland top the list — you'll pay more than 30 percent over what you would in NYC — and Norway costs 25 percent more for an evening out.
Denmark dining runs 13 percent higher, while Luxembourg and Bahamas are slightly over Manhattan prices with 7 and 2 percent increases. The U.S. is 21st on the list for dining out, with prices about 30 percent cheaper.
Here's Where Rent Costs the Most
Although Switzerland, Iceland and Norway have the highest costs of living, none of them have higher rents than NYC. Instead, Singapore tops the list with rents that are 28 percent lower. Expect to pay 35 percent lower rent in Qatar and 39 percent less in the UAE. Luxembourg has rents that are about 60 percent what they are in the Big Apple and a reputation for being one of the world's best tax havens. Although it's not one of the cheapest countries to live in, the U.S. doesn't even rank in the top 10 for highest rent, with prices 61 percent less expensive across the country than in New York City.
Check Out Where Your Shopping Dollar Goes Furthest
Who doesn't love a shopping trip in the Big Apple? But it doesn't even make the top 20 places where your shopping dollar wields the most local purchasing power. The U.S. as a whole tops the list with 28 percent more purchasing power than NYC, followed by Switzerland, Qatar, Germany and the UAE, all offering 25 percent or more.
The 50 Most Expensive Countries to Live
Here are the 50 most expensive countries to live, starting with the least expensive:
50. Lithuania
49. Taiwan
48. Latvia
47. Slovenia
46. Argentina
45. Estonia
44. Cyprus
43. Kuwait
42. Mauritius
41. Portugal
40. Chile
39. Jordan
38. Spain
37. Costa Rica
36. Trinidad and Tobago
35. Puerto Rico
34. Greece
33. Panama
32. Jamaica
31. Germany
30. Bahrain
29. Lebanon
28. Canada
27. United States
26. United Arab Emirates
25. Qatar
24. Ghana
23. United Kingdom
22. South Korea
21. Uruguay
20. Finland
19. Japan
18. Malta
17. Sweden
16. Italy
15. Austria
14. France
13. Netherlands
12. Belgium
11. Australia
10. New Zealand
9. Israel
8. Ireland
7. Denmark
6. Singapore
5. Luxembourg
4. Bahamas
3. Norway
2. Switzerland
1. Iceland
Click through to read about the cheapest countries to live in.
Methodology: GBR determined the 50 costliest countries (including Puerto Rico, a U.S. territory) by analyzing five different indices relative to NYC, meaning that for New York City, each index should be 100(%). If another city has, for example, a rent index of 120, it means that on average in that city rents are 20% more expensive than in NYC. If a city has a rent index of 70, rents average 30% less expensive than in NYC. Data was sourced from Numbeo on April 5, 2018, and all percentages are approximations.
1. Cost of Living Index: The relative indicator of consumer goods prices including groceries, restaurants, transportation and utilities. Does not include rent or mortgage expenses.
2. Rent Index: An estimate of apartment rental prices in the city compared to NYC
3. Grocery Index: An estimation of grocery prices in the city compared to New York City
4. Restaurant Index: Comparison of prices of meals and drinks in restaurants and bars compared to NYC
5. Local Purchasing Power: Shows relative purchasing power in buying goods and services in a given city for the average wage in that city. If domestic purchasing power is 40, this means that the inhabitants of that city with the average salary can afford to buy on average 60% less goods and services than New York City residents with an average salary.