10 Best Costco Items To Buy for Less Than $10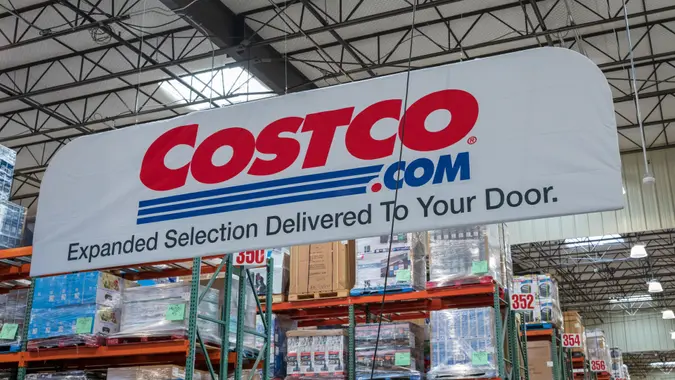 artran / Getty Images
As much as most shoppers love Costco, one of the common complaints is how much money you can spend in a single trip. Giant sizes plus irresistible deals add up quickly. But — even at Costco — you can actually find hundreds of items under $10 to help stretch your grocery budget.
Here are some of the best deals right now. Of course, you won't want to leave without a famous $4.99 rotisserie chicken (or two, if you're feeding a crowd).
Olde Thompson Kosher Flake Sea Salt, 5 lbs., $4.59 (Originally $5.99)
Great for preserving food, cooking, canning, or even making homemade pretzels, this 5-lb container of kosher sea salt will last a while, making it an incredible value for under $5.
Planters Dry Roasted Peanuts, 3.25 lbs, $6.59, originally $8.49
Peanuts make a great, healthy and protein-filled easy snack — as long as no one in your house is allergic. This giant, 3.25-lb tub costs less at Costco than at BJ's, where it is $7.99. Walmart has a smaller container, 2.2 lbs. for $6.48, so it's almost like you're getting close to a full pound free at Costco.
Honey Bunches of Oats with Almond Cereal, 50 oz., $7.39, originally $9.69
It's difficult these days to find cereal for less than $5 a box. At Costco, you can get a jumbo 50 oz. box, in two separate bags, for less than $10.
Palmolive Ultra Strength Liquid Dish Soap, 102 fl. oz., $8.19, originally $10.99
This price may bring you back to 2019 before household items fell victim to inflation. And, Palmolive costs even less than the Kirkland Signature brand thanks to this deal. The 90 oz. bottle of Kirkland's dish soap goes for $9.79. You may want to stock up on Palmolive at this price. Since it's such a large bottle, consider investing in a small squirt bottle from the dollar store to keep on your counter. Just refill it from the larger bottle as needed.
Make Your Money Work for You
Kirkland Signature Non-Drowsy AllerClear Antihistamine, 10 mg., 365 tablets ($8.69, originally $11.69)
Climate Central predicted a longer, more intense allergy season this year, and you may be feeling it right now. Fortunately, you can get a year's supply of AllerClear, or enough for the whole family this summer, for less than $10 at Costco. AllerClear compares to over-the-counter 24-hour Claritin, with loratadine as the active, histamine-fighting ingredient. This product is also FSA eligible.
Honey Maid Graham Crackers, $8.99, originally $11.99
Ready for s'mores around the campfire? You can feed all your campsite neighbors with four 14.4-oz. boxes of Honey Maid graham crackers, a s'mores essential.
32 Degree Youth Short Set, $8.99, originally $11.99
This adorable short set includes a long-sleeved top for sun protection and comfy shorts with an elastic waistband. Perfect for lounging or play after a dip in the pool, you may want to pick up a set in each design: Pink with multicolored diagonal stripes, purple tie-dyed, and blue with white stripes.  
Jessica Simpson Ladies' Flutter Sleeve Tee $9.99, originally $11.99
This fashionable flutter sleeve tee is so easy to wear with jeans, leggings, shorts, or even a skirt, that you'll want to stock up in every color. Choose from pink, black, green or blue, in sizes XS up to 3X.
Nutty & Fruity Chili Mango, $7.99, originally $9.99
Looking for the perfect road trip snack? This gourmet dried fruit packs a slight kick thanks to the chili flavoring. Plus, it's gluten free and non GMO, with no added colors — just real fruit.
Kirkland Signature Organic Lemonade, 192 oz. total, $5.99, originally $7.99
Having the kids home from school probably means you're going through a lot of beverages! Stock up on these 96 oz. bottles of organic lemonade to keep the crowd cool and hydrated.  
Make Your Money Work for You
If you're not yet a Costco member, you can sign up for 33% off this summer, plus get a free $30 digital Costco Shop Card with your Gold membership.
More From GOBankingRates