10 Best Store-Brand Alternatives to Popular Name-Brand Products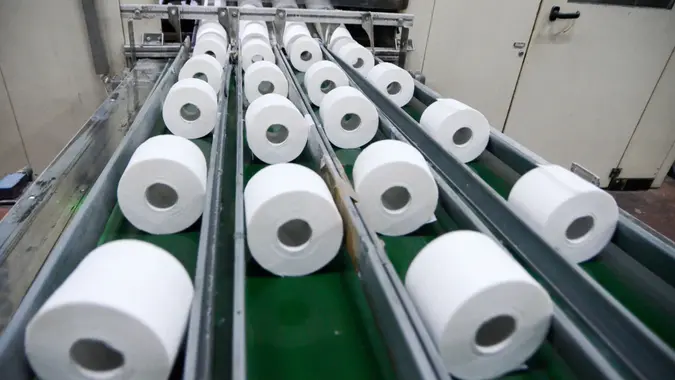 ©Shutterstock.com
Inflation is continuing to sky-rocket and the prices on already expensive goods like gasoline are breaking records. Then you've got the massive pile of American debt: The average U.S. household with debt owes $155,622 — that's $15 trillion combined — up 6.2% from 2021.
Many people are overwhelmed and perhaps frightened, especially with global factors such as wars and plagues impacting the economy.  
Advice: The Best and Worst Things To Buy Generic
Find: 16 Ways To Save Money on Food Now That Prices Are Rising
What can the average person do to get by? That's a complicated question with myriad answers, but one way to start battling the bills is to opt for generic over brand-name items. This doesn't have to mean sacrificing quality or, as it applies to food, great taste. We've compiled a list of desirable brand-name items and generic alternatives that are the smarter, cheaper buys. 
Make Your Money Work for You
Ziploc Bags 
"From freezer bags to snack bags and sandwich bags, there are many types of plastic storage bags," said Oliver David, founder at personal finance site Green in Black and White. "Ziploc is the common brand name we see in stores, (but) the generic version of these storage bags are just as good as the brand name — and in some cases can be better. They seal just the same to ensure freshness, and I find that some generic versions of these bags are actually more durable than Ziploc bags, which can sometimes be flimsy and tear easily."
David has found that Ziploc sandwich bags normally retail for about $5 per box, whereas generic versions can be as cheap as $2. For a long-lasting and far more eco-friendly option, consider buying reusable sandwich bags, which can last years.  
Cottonelle Toilet Paper 
It's interesting that we are willing to spend so much on a product that we literally flush down the toilet — alas, Americans love their toilet paper.
The Angel Soft brand alone rakes in well over a billion bucks a year. There's no shame in loving a plush touch, but generic toilet paper is just as good at getting the job done.
Make Your Money Work for You
A 24-mega roll pack of Cottonelle toilet paper goes for about $38 at Walmart, while a 24-mega roll pack of the retailer's private label Great Value goes for $22. 
Also See: 10 Walmart Items That Give You the Best Bang for Your Buck
LaCroix
"Instead of LaCroix, try Good & Gather sparkling water," said Julie Ramhold, consumer analyst at DealNews.com. "While LaCroix has a fair amount of flavors, Good & Gather is no slouch, with flavors like strawberry mango, pomegranate dragon fruit, raspberry hibiscus and ginger peach. Plus, you can buy some flavors in single bottles, which is a good way to try them without committing to an entire 8-pack."
Ramhold estimates that you'll also save an average of 80 cents per 8-pack, or 10 cents per can when you spring for Good & Gather.  
Nestle Toll House Chocolate Chips
"Rather than Nestle Toll House chocolate chips, try literally any other store brand," Ramhold said. "My personal favorite is Kirkland Signature; but, if you don't need 4.5 pounds of them, Good & Gather chocolate chips are delicious and found in the same size as Toll House." 
Make Your Money Work for You
If you shop at Good & Gather instead of Toll House, you'll save 70 cents per 12-ounce bag, or 5.8 cents per ounce.
Starbucks Hot Cocoa 
"Some people really love Starbucks hot cocoa mix because it's richer than something like Swiss Miss, but that richness comes at a heftier price," Ramhold said. "Opt for Good & Gather hot cocoa mix instead; both Starbucks and Good & Gather come in Double Chocolate flavors, and Good & Gather is just as rich and delicious, if not more so, than Starbucks."
Same divine chocolate taste for less: Ramhold says you can save $2.50 per 8-count box or 31 cents per packet, when opting for Good & Gather. 
Find: 21 Dollar Store Items That Give You the Best Bang for Your Buck
Coppertone Sunscreen 
Shielding your skin from the sun's harmful rays is a must, but at what cost? The 5.5-ounce twin pack of Coppertone Sport Sunscreen Spray SPF 30 is $11.97 at Walmart.
Kathryn McDavid — founder and CEO of Editor's Pick, a beauty and wellness e-commerce company — notes that Walmart's generic brand Equate is a stronger product at a lower price. A 2-count of 11 ounces of Equate Sport Sunscreen Spray SPF 50 goes for $6.98.
Girl Scout Samoas
"These are one of the most popular Girl Scout cookies available," Ramhold said, "and, while your purchase benefits troops, maybe it's not cookie season — or maybe you can't afford the truckload of Samoas to satisfy your cravings.
"Whatever the reason, head to your nearest Aldi store and pick up the Benton's Caramel Coconut Fudge Cookies instead. They taste exactly like the pricier version that's only available for three months out of the year and can be found year round."
Benton's Caramel Coconut Fudge Cookies also are cheaper than the Girl Scout alternative, offering savings of $2.45 per package, Ramhold said. 
See: Should You Buy Groceries at Walmart?
Horizon Organic Whole Milk
"Horizon Organic whole milk may appeal to consumers of all ages; but, if you're lucky enough to have a Publix nearby, you can skip the Horizon and its higher price tag and get Greenwise Organic whole milk for much less," Ramhold said. 
You can save $1.62 per 64-ounce carton — 2.5 cents per ounce.  
Duracell or Energizer Batteries 
"Kirkland Signature Batteries are an excellent choice for many applications for a good alternative to name-brand batteries," said Haris Bacic, co-founder and CEO of PriceListo. "These batteries, in my opinion, perform just as well as name-brand batteries. Furthermore, they are significantly less expensive than branded (batteries), allowing you to save a significant amount of money by purchasing a large quantity that will last for ages."  
S'well Water Bottles 
"S'well water bottles are popular reusable options and, while they can save on plastic water bottles, they still come with a higher price tag," Ramhold said. "Instead, hit up your local Target and look for a Room Essentials stainless steel bottle." 
Buying Target's Room Essentials in lieu of S'well can save you as much as $29.
More From GOBankingRates
Make Your Money Work for You