10 Most Outrageous Things for Sale in the Goop Catalog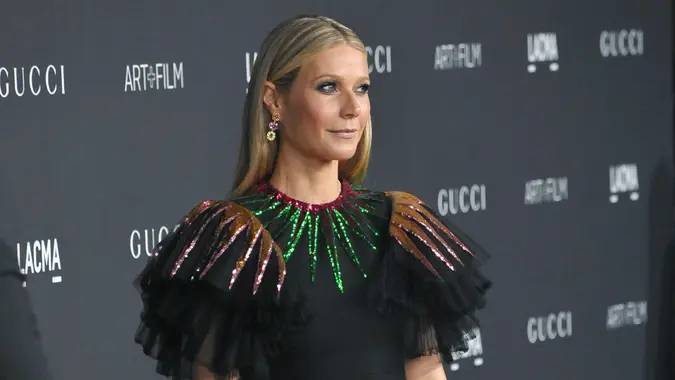 Featureflash Photo Agency / Shutterstock.com
Gwyneth Paltrow's Goop lifestyle brand is known for being a little out of the ordinary, and their gift guide is no exception. Past Goop gift guides have included everything from a $2,000 Ouija board to a $370 matcha starter kit.
This year has plenty of gems as well. Let's take a look at some of the most outlandish items in Goop's 2022 gift guides.
HigherDOSE 2-Person Full-Spectrum Infrared Sauna
Price: $8,099
Are you ready to take the next step in your romantic relationship and purchase an infrared sauna together? Picture yourself in this almost 6.5-foot tall personal sauna with a variety of LED lights said to give you glowy skin. It also has Bluetooth and AUX capabilities so you can set the mood with the music of your choice. Unfortunately, this item is final sale, so there's no room to change your mind if you decide the infrared sauna life isn't for you. 
Bolin Webb R1 Prestige 24-Karat Gold Razor Set
Price: $425
You'll never be able to go back to disposable razors from the drugstore after using this set. Shave with the elite using this 24-karat gold-plated razor, which comes fitted with a precise Gillette blade and a matching gold stand. 
Dr. Dennis Gross DRx SpectraLite FaceWare Pro
Price: $435
This contraption by itself looks like something out of a "Star Wars" movie, but it promises big benefits for your skin. The mask uses red and blue LED light to help minimize lines, clear breakouts, calm redness, and rejuvenate tired skin. The red light is said to stimulate collagen, while blue targets blemishes and future breakouts. The mask has three settings, and is marketed toward all skin types.
Make Your Money Work for You
Olivia Von Halle Contessa Minnie Silk Feather Slippers
Price: $870
The contessa is no longer barefoot when she wears these swanky slippers. These silk slippers were designed in London, crafted in Tuscany and finished with ostrich-feather pom poms. Olivia Von Halle's eye for chic comes from being a former trend forecaster for clients like Louis Vuitton and Gucci.
BALMUDA The Speaker
Price: $399
This speaker promises killer sound and a show. Inside the speaker are three LED units that bump to the beat. Plus, it's made with 360-degree effect sound to make it sound like you're hearing live music. The owner of BALMUDA was in a Japanese rock band, so you know it's made with expertise in sound. It's also small enough that you can take it anywhere, so you can experience a concert no matter how far away you are from the nearest stadium. 
Cereza Cherry Pendant Necklace
Price: $770
If you've ever wanted an elite twist on your favorite Claire's jewelry, Cereza's got you covered. The necklace has a double cherry pendant with the stems in 9-karat yellow gold. All the girls from your algebra class would be screaming. 
Yali Glass Cocktail Stirrers 
Price: $299
Stirring cocktails just isn't the same unless the stirrers were made in Murano, Italy, by glassblowing maestros. This set comes with eight stirrers, which comes out to about $38 per stirrer. We won't judge if you shed a tear when one breaks.
Business & Pleasure Co. Premium Beach Umbrella
Price: $299
Gone are the days where you will have to slum it with a free umbrella you scored through your work. Now, you can keep shielded at the beach with this lovely 6-inch wide umbrella, adorned with thick, undyed cotton fringe. The 7-foot pole is made from reclaimed timber, with a marine-grade aluminum handle and hinge. The whole contraption weighs a whopping 10 pounds, but luckily, it comes with a canvas bag for you to pack it all up and carry with ease.
Make Your Money Work for You
Last Crumb Luxury Cookie Box
Price: $150
Have you ever eaten a cookie and thought it wasn't luxurious enough? Here is your answer. Each box comes with 12 unique flavors, like Netflix and Crunch (a cinnamon streusel cookie swirled with vanilla milk), and Donkey Kong (a mix of marshmallows, vanilla pudding, white chocolate and bananas). The cookies are individually wrapped and are said to "never crumble," as that would be beneath their class.
Tapper Gold Plated AirPod Chain
Price: $110
For the person who's always losing their AirPods and loves to show off, may we suggest an 18-karat gold-plated rope chain with magnets at each end to attach to the AirPods. You'll never lose your AirPods again, and will stun people with your chain selection whenever you walk into a room. 
More From GOBankingRates