10 Secret Thrift Shopping Terms To Know So You Can Get the Best Deal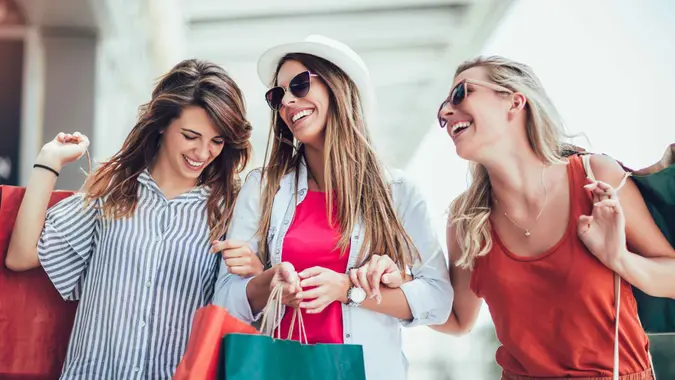 Jovanmandic / Getty Images/iStockphoto
Thrift shopping is like a treasure hunt. You dive into a sea of second-hand goods hoping to find that one pearl that will make the dive worthwhile. To maximize your chances of success and get the best deal, you need to speak the language of thrift. Here are 10 secret thrift shopping terms that will help you navigate the waters like a pro.
Flip Potential
This term is used for items that can be bought at a low price and sold for a profit. If you're thrifting with the intention to resell, always assess the flip potential. A designer label, for instance, might cost you a few dollars but could sell for much more online.
NWT/ NWOT
These acronyms stand for "New With Tags" and "New Without Tags," respectively. They indicate that an item has never been used. Knowing these terms helps you spot brand-new items that are often a fraction of the retail cost.
Grail
A 'grail' refers to a highly sought-after item that you've been searching for, often for a long time. It could be anything from a vintage concert T-shirt to a rare edition of a book. When you find your grail, it's usually worth splurging on.
Fast Flip Section
Some thrift shops have a special area where they put items that they know will sell quickly. This could include designer brands or seasonal items. Ask an employee if they have a fast flip section to check out the hottest items first.
Make Your Money Work for You
Bundle
Bundling is when you buy multiple items and ask for a discount. Sellers are often willing to lower the price per item if you're buying in bulk. Use the term when you're ready to negotiate.
Pop
When something 'pops' at you from the rack, it stands out because of its unique style or vibrant color. This term is a favorite among thrifters when they discover something eye-catching.
Thrift Score
This is the term for an item that's both incredibly cheap and perfect for your needs. It's the thrift equivalent of hitting a home run. Share your thrift scores with friends to show off your savvy shopping skills.
Upcycle Potential
This refers to the possibility of repurposing or updating an item to fit your style or needs. If you're crafty, always be on the lookout for upcycle potential to turn something old into something fabulously new.
Vintage vs. Retro
Vintage items are typically at least 20 years old, while 'retro' refers to newer items that are made to look old. Knowing the difference can help you identify and possibly bargain for genuine vintage pieces.
Deadstock
Deadstock refers to the old stock of merchandise that was never sold or used. These items are often from a previous era and can be highly valuable to collectors. Spotting deadstock could lead you to the most unique finds in the store.
The Takeaway
With these terms in your thrift shopping vocabulary, you're better equipped to navigate the thrift store aisles, negotiate with sellers, and walk away with not just a good deal, but a great one. Remember, the thrift world is vast and full of surprises, so use these terms to communicate effectively and unearth the best thrift items available. 
Make Your Money Work for You
Editor's note: This article was produced via automated technology and then fine-tuned and verified for accuracy by a member of GOBankingRates' editorial team.
More From GOBankingRates