8 Affordable Alternatives to the Dyson Airwrap and Other Pricey Hair Products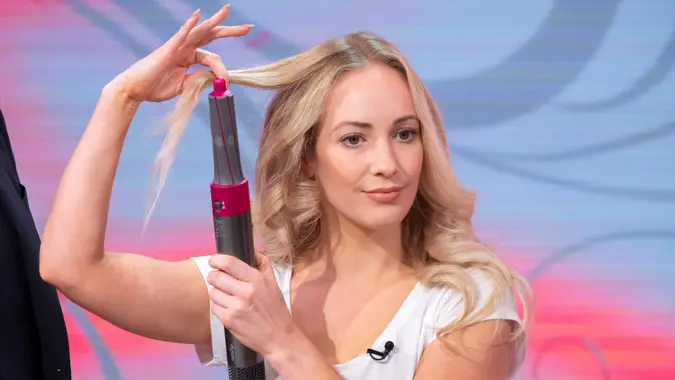 Ken McKay/ITV/Shutterstock / Ken McKay/ITV/Shutterstock
The Dyson Airwrap is all beauty influencers can talk about these days; but, at more than $500, it's an expensive item to add to your hairstyling routine.
Since its release, many dupes have come out that are similar but will cost less than half the price. Other trendy products such as Moroccanoil, Olaplex No. 5 and Briogeo Scalp Revival also have dupes on the market that your wallet will be so grateful you found. 
Related: 8 Hidden Costs of Being a Woman
Good Question: Should You Buy Toothpaste and Other Personal Care Products at the Dollar Store?
Dyson Airwrap
Price: $549.99
Alternative: IG INGLAM 4-In-1 Hair Dryer Brush Set, $93.99
The styler of the hour has been praised as being a one-stop-shop tool for hair. The Dyson Airwrap has the capabilities to dry your hair, give beach waves, tight curls, silky straight hair or a classic blowout look all with one purchase. At a fifth of the price, the IG INGLAM 4-In-1 Hair Dryer Brush Set has been lauded by customers as having very similar attachments and capabilities as the Dyson. You can blow dry, curl and straighten your hair with the IG INGLAM tool, and it even has a diffuser attachment, which the Dyson does not. 
Make Your Money Work for You
Moroccanoil Treatment
Price: $48
Alternative: One N' Only Argan Oil Treatment, $11.75
Reviewers on sites like Sephora love Moroccanoil Treatment because it leaves hairy shiny and frizz-free. However, for 3.4 ounces, $48 is a little steep. The One N' Only version gives you the exact same amount of product for a quarter of the price. The reviews say the product smells great and gives hair a lovely sheen. 
Bumble and bumble Hairdresser's Invisible Oil Heat & UV Protective Primer
Price: $29
Alternative: Strength 'n Silk by Silk Elements Coconut Heat Protection Spray, $8.49
A heat protectant is really important if you use hot tools to style your hair frequently. Though Bumble and bumble's version has been a bestseller for quite some time now, Strength 'n Silk's Coconut Heat Protection Spray offers a similar protection while leaving hair shiny. Reviewers say the dupe doesn't weigh down hair or make it feel greasy, making it a worthy alternative to Bumble and bumble's. 
Learn: Best and Worst Things to Buy Generic
Olaplex No. 5 Bond Maintenance Conditioner
Price: $28
Make Your Money Work for You

Alternative: OGX Restoring + Bonding Plex Conditioner, $5.60
If you're looking for the damage repair powers of Olaplex, try OGX's much cheaper alternative. Both claim to maximize moisture to revive overly processed and damaged hair. You also get five more ounces in the OGX bottle than the Olaplex bottle. Reviewers say the OGX conditioner works wonders for dry hair with split ends, making it much more manageable and soft. 
Amika Perk Up Talc-Free Dry Shampoo
Price: $26

Alternative: Eva NYC Freshen Up Invisible Dry Shampoo, $11.99
Amika's dry shampoo effectively absorbs oil so you can look like you just washed your hair even if you can't remember the last day you touched a bottle of shampoo. Reviewers say the Eva NYC alternative is half the price and feels like the exact same formula as Amika's. 
Also Find: 10 Best Store-Brand Alternatives to Popular Name-Brand Products
Make Your Money Work for You
Briogeo Scalp Revival Charcoal + Coconut Oil Micro-Exfoliating Scalp Scrub Shampoo
Price: $42
Alternative: Equate Scalp Care Exfoliating & Detoxifying Daily Shampoo with Charcoal + Tea Tree, $5.62

This Briogeo shampoo is a godsend for anyone with a dry, itchy or flaky scalp. The formula exfoliates the skin and leaves behind a very pleasant peppermint smell. Equate's version is said to do the exact same while also leaving hair soft and shiny. Reviewers are super impressed with the Equate version, with one saying: "I have been a Briogeo customer for years and their micro exfoliating shampoo is one of my FAVORITES! This Equate version is just as good with the same ingredients and scent!" 
Bumble and bumble Surf Spray
Price: $29
Alternative: Not Your Mother's Beach Babe Texturizing Sea Salt Spray, $6.99
To get those fresh, loose waves that look like you've been spending all day beachside, Bumble and bumble offers a nearly $30 bottle of saltwater spray that adds volume and texture. Not Your Mother's cheaper alternative delivers twice as much product and gives your hair the same effortlessly texturized look. 
Drybar: The Brush Crush Heated Straightening Brush
Price: $149

Alternative: REVLON One-Step Volumizer, $34.88
If you're looking for a brush that will give you a blowout in record time, these brushes are what you need to get. The Drybar version allows you to use just one tool to blow dry damp hair and straighten it or give it some volume for a fresh from the salon look. The Revlon's much cheaper version can do everything the Drybar brush can, and even starts to give the Dyson Airwrap a run for its money. 
More From GOBankingRates
Make Your Money Work for You