8 Affordable Luxury Goods at Aldi: Treat Yourself Without Overspending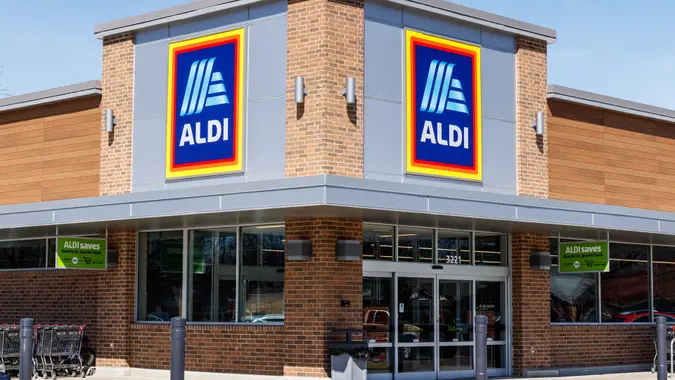 jetcityimage / Getty Images
Shoppers don't ordinarily associate Aldi with the latest in luxury goods. After all, it's their place for milk, eggs, bread, fresh fruit and snacks to stock the pantry.
However, Aldi doesn't scrimp when it comes to stocking items that give consumers a treat, a chance to relax, a pick me up or an impressive gift. And when you shop at Aldi, you'll pay less for these luxury items than at other stores or at Amazon. Here are eight luxury items that are cheaper at Aldi.
Wine
Whether you're looking for a nice dinner wine or an impressive, yet affordable, bottle for a gift, Aldi stocks an unexpectedly large selection of red, white, rosé, sparkling and specialty wines.
Choices of Cabernet Sauvignon, Chardonnay, Pinot Grigio, Red Blend, White Zinfandel, Riesling, Sauvignon Blanc, Moscato — and more abound — but Aldi even carries the unusual. You can pick up sweet peach or pineapple wines or the chocolate specialty. Several of the wines have received high rankings from the Beverage Testing Institute.
Chocolates
When you want just a little something sweet, the German-made Schogetten chocolates are perfect. While it looks like a candy bar, once you open the package, you'll find 18 bite-sized pieces and feel like you've transported yourself to a Bavarian chocolate shop. Choose from a variety of flavors: milk or dark chocolate, crunchy peanut butter, caramel brownie and hazelnut.
Make Your Money Work for You
Salmon
Create an elegant dinner for two or a healthy family dinner with the Fremont Fish Market Wild Caught Salmon. The skinless and boneless frozen filets are individually wrapped with no preservatives and filled with protein. For two, try the 16-ounce size. The two-pound pack provides an affordable meal for the family.
Hammock
Is a hammock considered a luxury item? The Adventuridge Portable Hammock with Stand at Aldi sure is. Leave the kids with the grandparents for the afternoon and set up the hammock in a sunny spot for a few hours of relaxation and "me time."
The hammock assembles quickly and contains the essentials: a pillow, holders for your favorite drink and your magazine, as well as a storage net to hold your keys, sunscreen, glasses, cellphone and other essentials. Walmart sells something similar for $89.
Filet
If you want a fine-dining experience without the fine-dining price, choose the bacon-wrapped beef chuck filets at Aldi. The two-pack comes fresh, so it's ready to throw on the grill.
Kombucha
Millennials and Gen Zers have added kombucha to their menus, adopting the drink for the health benefits. Food Engineering magazine says kombucha can increase metabolism, reduce headaches, rebuild connective tissue, and reduce blood pressure and blood glucose levels. Aldi has managed to put the generally costly drink on its shelves at an affordable price with its Health-Ade kombucha.
Night Cream
Amazon sells the LaCura Q10 anti-wrinkle night face cream for $9.70. That 1.7-ounce container is sold at Aldi, too, for less than half the price. The brand has gotten strong reviews from Amazon buyers and certainly is worth a try if you're looking for this product without the spa-like prices. Aldi sells the day cream, too.
Make Your Money Work for You
Butter Cookies
When you invite a friend over for coffee and tea, you'll want to serve a little something, and the Specialty Selected butter cookie coated with chocolate will do the trick. It's an elegant treat, and your friend probably will ask the name of the bakery where you got them. We won't tell.
More From GOBankingRates
Note that prices might vary between locations and that all items might not be available at all Aldi stores.