Aldi's Best Deals? Superfans Reveal 5 Standout Buys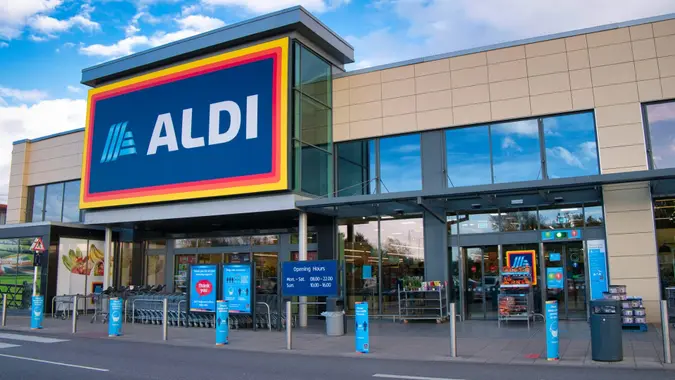 Alan Morris / Getty Images
Amazing deals are never hard to find when you shop at Aldi. Its low-priced grocery items are always in stock and continually offer customers discounted items on quality products. Aldi even has its own line of products at fantastic prices, which are available all the time to shoppers.
The way Aldi continues to offer deals every week, there's always a new way to save money on your favorite products.
GOBankingRates reached out to some superfans of Aldi's to find out what they think are the standout buys at their favorite store. Make sure to add these to your list the next time you shop at Aldi.
Produce
Fruit, vegetables and deals galore! Aldi's produce section is fresh with savings, even when it comes to organic produce.
"Aldi's assortment of fruits and vegetables is incredibly affordable," said Aldi superfan Helen Armstrong, founder of Apsley Australia. "I genuinely believe 95% of [the] products are a better buy than at a Kroger, a Publix, or even Walmart."
"For me, the quality is the same, or even superior to, name brands, and at a much better price," Armstrong added. Take for example, blueberries, which are $2.99 per pint right now as an Aldi Savers deal compared to Whole Foods' $5.99 for the same size.
Meat
It's barbecue season and Aldi is ready to bring the juiciest cuts of meat to your next cookout. 
Make Your Money Work for You
"The chicken legs have been $4.72 for a 10lb bag for some time," said Reddit user DinBlinton, an Aldi fan from North Texas. "They pop up at near $7 sometimes but rarely."
"The ribs were half off," DinBlinton added. "Originally just over 11 for the ribs before half off. I will probably go through 6 or 7 bucks worth of pellets and the seasonings were another couple bucks so I'm all in on this for probably $20. Works for me!"
Snacks
As the summer days drag on, you and your family might find yourselves craving some tasty snacks between meals. Aldi has everything you need to fill up your picnic basket to satisfy those cravings. Right now, you can get a 21-ounce box of Savoritz Family Size Cheese Crackers for just $2.79, beating out Target's offer of the same-sized box of Cheez-It Original Baked Snack Crackers for $6.19.
Though for Richard Dixon, the founder and business operations head of Team Emergency Plumber, it's all about the organic White Cheddar Puffs from SimplyNature.
"A comparable white cheddar-flavored puff is sold in every store because kids are crazy about them," Dixon said. "When compared to other snack foods, they are crunchy and delicious, organic, and have no added sugar, which makes many parents feel good about them. These are far less expensive than alternative solutions."
Cereal
"Because many of Aldi's house-brand cereals are exact replicas of well-known name-brand goods, the cereal aisle there always looks extremely familiar," said Aldi superfan Dr. Shira Kresch, optometrist and founder of Michigan Contact Lens.
"There are boxes of Honey Nut Crispy Oats, Crispy Rice, Cinnamon Crunch Squares, and even Millville Marshmallows and Stars, which resemble Lucky Charms except that the box features a wizard rather than a leprechaun," Kresch said.
Make Your Money Work for You
"Aldi's Fit & Active Vitality Cereal with Strawberries also resembles Special K Red Berries. Even a copycat of Reese's Puffs exists."  We're told that Aldi provides a decent knockoff of your favorite cereal at a considerably lesser cost.
Frozen Foods
Sometimes you don't feel like cooking dinner…but that doesn't mean you aren't hungry. Thankfully, Aldi is ready for quick and easy meals in its frozen food section.
"I mean, $3.99 for a pizza????" wrote Aldi superfan and Reddit user ProudNativeTexan. "It is a small pizza, about 11.5 inches. I don't feel guilty about eating it because the whole pizza is only 880 calories…wife and I only like [thin] crust so this is perfect."
"Honestly I would take this over Pizza Hut," ProudNativeTexan added. "$3.99 (maybe .25 cents worth of pepperoni on it if I am feeling like it) versus $13 – $16 for a Pizza Hut pizza? No brainer for me. I hope it becomes a regular item."
More From GOBankingRates