Amazon Prime Hack Allows Members To Earn Cash for Delayed Shipments — Here's How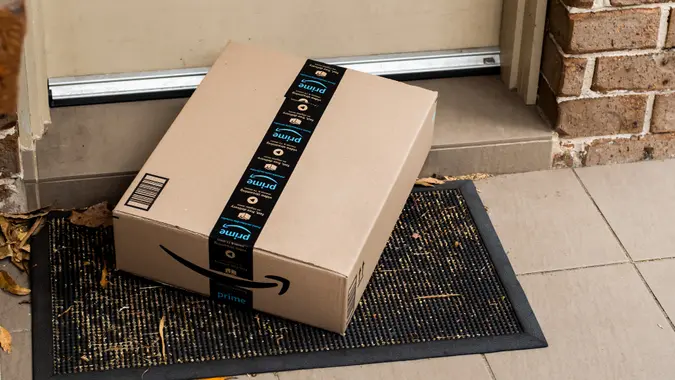 Daria Nipot / iStock.com
If you're an Amazon Prime member that can stand to wait a few days to get your purchase, Amazon will thank you for your patience.
Plus, according to TikTok user Samantha Christopolis, if your order is late, you may get an apology from the online retailer in the form of a discount or promotional credit. All you need to do is message customer service and explain that the whole reason you pay for Prime is the expedited shipping.
Here's how the program works for patient shoppers:
At checkout, select the free, no-rush shipping option. Then, depending on what you have in your cart, Amazon will present one of two potential perks: an instant discount on the current order (which non-Prime members can also receive) or a digital reward you can use on a future purchase (a Prime member exclusive benefit).
That digital reward can be applied at checkout when you shop for downloads like:
Videos
eBooks or Kindle books
Music
Amazon Appstore apps
Make Your Money Work for You
It's important to note that you can't receive a discount and a digital reward on the same order. If you have items that qualify for both types of perks in your cart, Amazon will automatically select and apply a discount.
So, why is Amazon doing this? The e-commerce giant processes an unfathomable number of orders each day. By volunteering for a slower shipping time (despite being entitled to the two-day Prime window), Amazon can better serve customers who need their goods fast. Rewarding you is the company's way of saying "thank you."
If your order is late, you'll have to be more proactive. Contact customer service, explain that you're a Prime member, and share that your order got delivered behind schedule (or hasn't arrived yet). The customer service representative will then use their discretion to determine what perk to offer to make the situation right, as noted in the TikTok above.
Maximize Your Amazon Prime Membership
You probably signed up for Amazon Prime to get fast, free shipping on the stuff you need. But here are a few more reasons you should stick with Amazon Prime:
You'll get access to exclusive deals.
You can save money on Whole Foods orders.
You can download movies and shows to watch offline.
You'll be able to listen to music, read books and play games at no additional charge.
You can share your membership with other people in your home.
Make Your Money Work for You
Know: Amazon Fresh Ends Free Shipping for Orders Under $150
More: 9 Amazon Prime Perks That Will Save You Money
Of course, if you don't shop much on Amazon or think you can get better deals elsewhere, you should probably cancel Amazon Prime.
More From GOBankingRates
Make Your Money Work for You