Back-to-School Shopping: Parents Share Their Hacks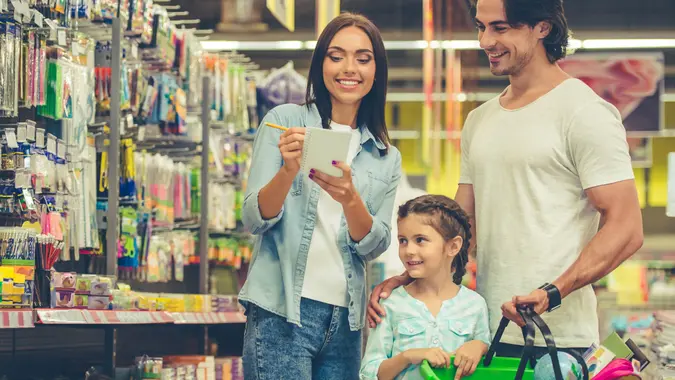 ©Shutterstock.com
Summer is in its second half, which means it's time to start thinking about sending your kids back to school. If you're like many parents, you might be ready for a break from your adorable-yet-energetic kids, but you're not looking forward to all of the expenses associated with a new school year.
Discover: 10 Items That Are Always Cheaper at Sam's Club
Find: 10 Biggest Deals at Walmart for August
Families expect to spend an average of $864 on back-to-school costs this year, according to the National Retail Federation, but you're hoping to stay well below that number. Thankfully, plenty of parents have tried-and-true hacks they're willing to share.
Ready to save serious cash on back-to-school shopping this year? Use this advice from seasoned moms and savings experts to get everything your kids need without breaking your budget.
Shop Your Home First
"To save money, we 'shop' our home first," said Starr Wells, founder of parenting blog Mom Hacks 101 and a busy mom of three. "We go through the closets and desks looking for newer clothes and school supplies we already have."
She said they do this because, even with back-to-school sales, kids' clothing can be expensive.
Make Your Money Work for You
Take Our Poll: Do You Tip for Service?
"I recommend larger families take full advantage of hand-me-down clothing that is in good condition," she said. "If your kids don't have the same taste, you can always take the gently used clothing to a consignment store to get store credit."
Comparison Shop
Your standard go-to store for school supplies might not actually be the cheapest, so Brad Godwin, head of revenue at shopping rewards app Shopkick, recommended shopping around before making a purchase.
"To maximize savings when shopping in store, consumers should compare prices online before even leaving the house, ensuring they get the best price," said Godwin, who is also a money saving expert. "When it comes to shopping online, reseller websites such as eBay, Depop or Poshmark are great alternatives to paying full price for back-to-school clothing."
Think Ahead
When you find a great sale, Godwin recommended buying more than you need now to save money later.
"It's no secret kids grow out of clothes quickly," he said, "so taking advantage of BOGO (buy one, get one free) deals and buying different sizes is a smart way to stretch your dollar."
Make Your Money Work for You
Take Advantage of Tax Holidays
If your state has a tax holiday, Godwin advised waiting until then to do your shopping.
"Shoppers can make sure to take advantage of their state's tax holiday so they can spend even less on items that they would be buying anyway," he said.
For example, New Jersey has a sales tax holiday for select goods from Aug. 27 to Sept. 5, 2022. Some of the items covered include certain computers, school art supplies, school computer supplies and school instructional materials.
Set Up a PTA-Run Swap
Karen Aronian, a former New York City public school teacher and college professor, recommended starting a PTA-sponsored swap for school clothes, supplies and books.
"Every fall and every spring families can bring their gently used items to the swap," said Aronian, who is also founder of Aronian Education Design LLC, a full-service design firm. "Organizers can ask for the items ahead of the swap, sort and organize and then invite school families to the event."
Make Your Money Work for You
She said this is done at her children's secondary school in Connecticut, and she also has seen it at an elementary school in New York City.
Make Promotional Emails Your Friend
Chances are you get your fair share of promotional emails from brands. This can be annoying, but Kathleen Fletcher, founder and CEO at Kitty Baby Love, said you can use them to quickly find some of the best back-to-school deals.
"I have a separate email account that I use to subscribe to and, crucially, get emails and promo offers from all of my favorite brands and online retailers," said Fletcher, who has three school-aged children. "I spare my personal email from being clogged up by constant promotional material and concentrate all the promotions sent to me in one place."
To make it easy to find deals, she uses an email filter that deletes all messages that don't include related terms like "back-to-school" and "back-to-school deals."
"Back-to-school sales actually start as early as May at some retailers," she said, "so keeping your eye on this email between May and August would be a great idea."
Start Shopping Early
Waiting to start back-to-school shopping right before your kids' first day of school can cost you. Stephanie Eddy, founder of the parenting blog Dresses and Dinosaurs, said she saves money by keeping a careful eye on weekly flyers for stores such as Target, Walmart and Staples.
"I start looking as early as the end of July and, if one of the stores is having a sale, I plan to buy the needed school supplies then," said Eddy, who is a mom to a second-grader and a kindergartener. "It may seem super early, but it can help to save a lot of money."
Wait It Out
Timing your shopping until after the back-to-school rush also can enable you to save, said Julie Cole, co-founder of Mabel's Labels and a mother of six.
"If you can wait," she said, "September has terrific sales on new clothing and school supplies after the school rush."
You might not be able to wait to purchase everything on your kids' lists, but hold off on items that aren't needed during the first few weeks of school.
Buy Only What You Need
It's easy to get carried away on fun back-to-school supplies, but doing so can easily lead to overspending.
"Save your money and only purchase what the teacher requests," Cole said.
Bundle and Buy in Bulk
Chances are you already purchase items in bulk to save money at stores like Costco and Sam's Club, so apply this philosophy to back-to-school items.
Cole said, "Go in with other friends and family, purchase school supplies from wholesale stores and share the bundle amongst everyone."
More From GOBankingRates
Make Your Money Work for You