The Best 2020 Black Friday Deals for Everything on Your Shopping List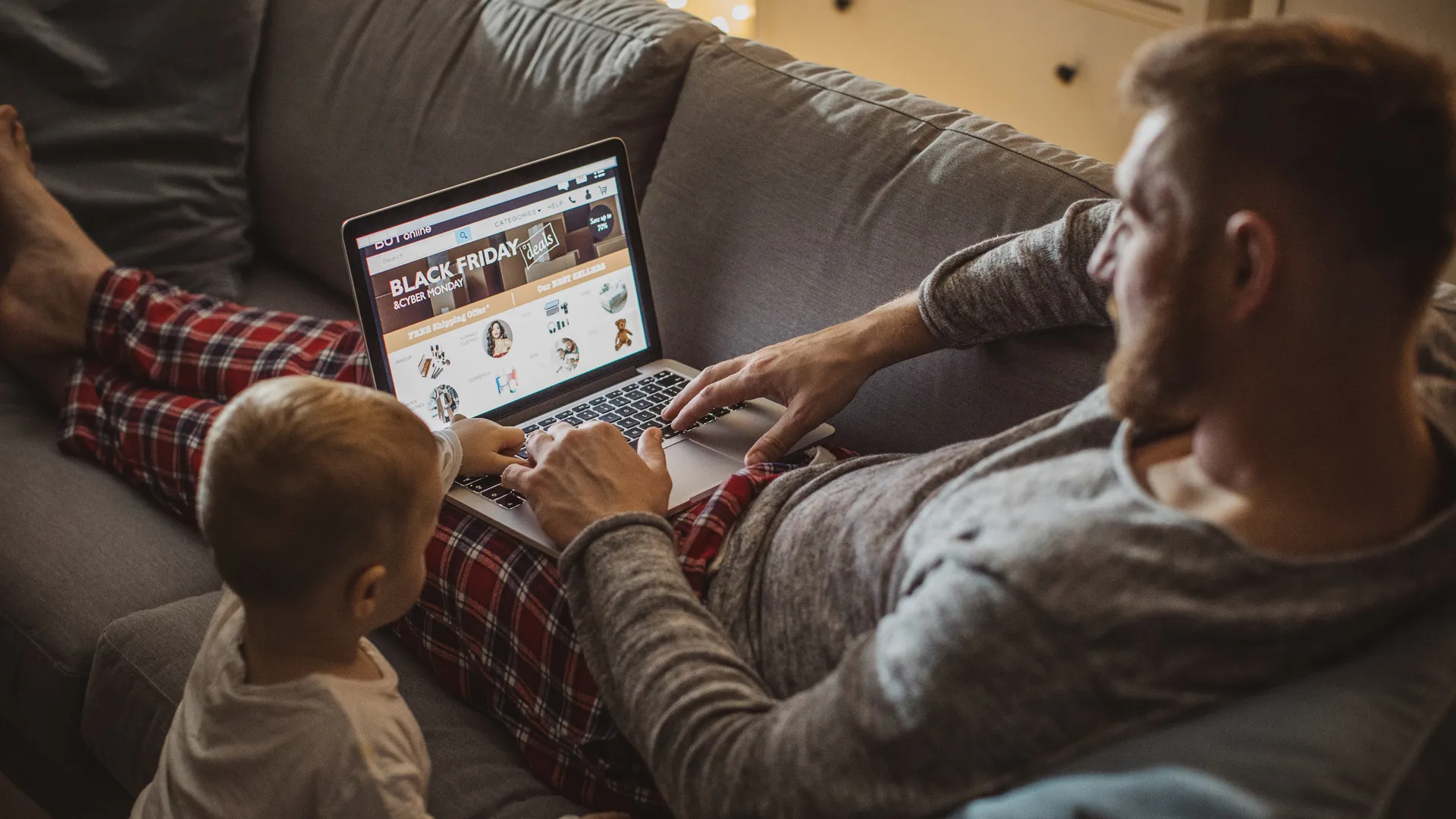 Apple Products
If you shop all things Apple, you'll want to snag products at the best prices possible (because they're usually not cheap). According to DealNews, you should keep an eye out for these price drops as Black Friday gets closer.
New iPad: $250
iPhone SE: $120
Apple Watch Series 6: $350
Apple TV 4K: $169
Apple HomePod: $200 or less
TVs
Black Friday is a great time to update your family TV — or add new TVs to your household. Here are the brands you can expect to get the most from and the prices you can snag them for.
32-inch and below TVs: $59-$95 from Insignia, Samsung
40-inch to 49-inch TVs: $150-$214 from TCL, Samsung, LG
50-inch to 59-inch TVs: $150-$425 from LG
60-inch to 69-inch TVs: $280-$854 from Samsung
70-inch to 79-inch TVs: $500-$831 from RCA, JVC, Vizio
82-inch and above TVs: $1,399-$1,673 from LG
Make Your Money Work for You
Phones
With new phones selling upwards of $1,000, you'll want to grab the best possible price while it's available. Consider buying an older model for cheaper with these deals.
Apple iPhone SE: $120
Google Pixel 5: $200 off
Google Pixel 4a: $250
Moto G: $149
Smart Home Devices
Are you ready to make the switch to an Amazon Alexa or Google Home? You can connect these devices to your lights, sound systems and more for a smarter experience at home.
Light starter kit: $30
Amazon smart plug: $5
Amazon Echo: $60
Smart display: $55
Previous-generation smart speaker: $50
Apple HomePod: $200 or less
Ring products bundled with Echo devices
Laptops
Black Friday is the best time to avoid paying full price on a new laptop. Here are some of the best models available at a discount.
Chromebook: $99
Windows laptops: $200 or less
MacBook: Comes bundled with a gift card
HP Pavilion 2-in-1 laptop: $689 on eBay
Gaming
Gaming products make fantastic gifts for the holidays and are available at incredible discounts. Consider individual games and consoles at these prices.
Nintendo games: $14 or less
Nintendo Switch Lite: $175
Popular PlayStation titles: $5
Xbox games: $5
Xbox One S: $110
Sony PlayStation VR: $200
PS4 bundles at discounted price
Xbox Series S in full-priced bundles
Streaming Media Players
There's a streaming media player for every budget these days, but there will likely be incredible deals for Black Friday. Whether you prefer Google, Amazon, Apple or Roku, here are some of the best possible deals.
Streaming devices: $25 or less
Chromecast with Google TV and Netflix bundle: $90
Amazon Fire TV Stick with Alexa bundle: $50
Make Your Money Work for You
Speakers and Headphones
Many name-brand headphones and speakers will also be available at a discount.
Overall: Expect up to 50% off
Klipsch 12″ 600W Powered Subwoofer: $300 at Adorama
Bose QuietComfort 35 Series II with Alexa: $200 at Amazon
Other Electronics
You can also save big on other electronics, like Fitbits and cameras.
GoPro HERO9 20MP action camera: $350
Fitbit Charge 2: $85
Toys
Gifts from Santa don't need to be spendy. In fact, toy deals are expected to reach up to 60% off this holiday season.
Lego Classic Bricks and Animals Set: $30 at Walmart
Nerf N-Strike Elite RapidStrike CS-18 Blaster: $20 at Walmart
SNK MVSX Arcade Machine with 50 SNK Games: $500 at Amazon
Men's Clothing
Men's dress, casual and outdoor clothing can all be found at discounts. Here are some of the best deals.
Suits at Men's Wearhouse: $100 or less
Suits at Macy's: Up to 70% off
Alfani Men's Adam Cap Toe Oxford Shoes: $20 at Macy's
Men's graphic tees: $8 at Target
Women's Clothing
It may be time for some new winter boots or coats for the lady in your life — or, for yourself. Check out these discounts at popular stores.
Women's boots: $20 or less at Target and Kohl's
Jackets: As low as $20 at Forever 21
Tops: As low as $9 at Forever 21
Women's sweaters: $5 at Walmart
Kids' Clothing
You can buy clothes for all seasons with the deals you'll get on kids' clothes this holiday season.
The Children's Place: Up to 80% off
Macy's: Up to 60% off
Coats: $15 at JCPenney
Pajamas: $9 at Walmart
Flights
You may not be so keen on traveling now, but you can book tickets ahead on the cheap — and then you'll have a trip to look forward to. Here are some of the best deals on plane tickets.
One-way domestic flights: As low as $14 from Frontier
One-way domestic flights: $28-$58 from Alaska, JetBlue and United
Round-trip international flights: As low as $335
Make Your Money Work for You
Hotels
Accommodations are another important part of planning trips. And this year, hotel stays are dropping below regular prices.
Hotel rates per night: $99 or less
Travelocity and Orbitz: Up to 60% off
Karisma: Up to 80% off
Use big sites to book as opposed to hotel chains
Cruises
Cruises got a bad name when the pandemic started but may make a comeback next year. Here are some of the lowest prices you can expect to see.
Shorter cruises: As low as $99 per person
Norwegian Cruise Line: As low as $118 per person
4-night Bahamas cruise: $99 per person
11-night New Zealand cruise: $249 per person
7-night Western Caribbean cruise: $334 per person
Vacations
Vacation bundles are another great way to save — this is when you buy your travel tickets, accommodations and even tours together. Take a look at some of the best bundles this Black Friday season.
Northern Lights in Iceland: As low as $599 per person
New Zealand: As low as $1,031 per person
6-night trip to Paris and Rome: $650
6-night trip to Paris and Amsterdam: $676
More From GOBankingRates
Photos are for representational purposes only.