6 Best Appliances To Get Deals on at Walmart in March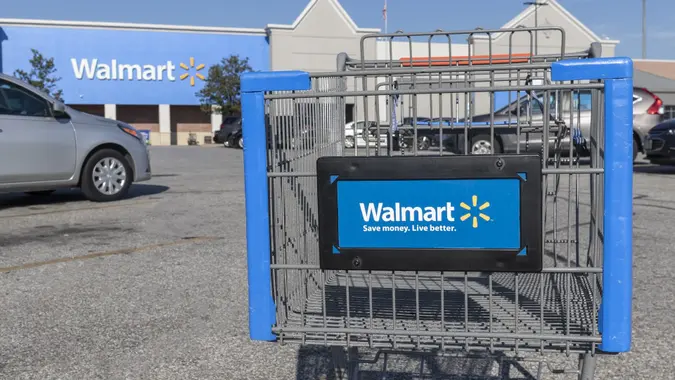 jetcityimage / iStock.com
Walmart is known for going big — from the size of its stores to the number of locations, and especially when it comes to finding a good deal on clothes, groceries and much more. 
Find Out: 10 Aldi Brand Products Worth Buying
See: 3 Signs You're Serious About Raising Your Credit Score
You might even have a few tricks up your sleeve when it comes to shopping — including knowing the best ways to save at Walmart — but every month there's something new the mega retailer offers customers.
This month, Walmart is rolling back prices even more so it can pass the savings onto you, particularly when it comes to home electronics and devices. Here are some of the best appliance deals at Walmart in March.
Refrigerators
It's still cold outside, but that doesn't mean you want your favorite food and beverages to start warming up. That's why now is the perfect time to stop by Walmart and get a new fridge for your home. 
Make Your Money Work for You
The Mora 19 CF Capacity Side by Side Refrigerator is on sale now for $999 — down from $1,399 — and comes equipped with double pantry drawers to store produce, meats and snacks, plus another bin designed to make drinks easily accessible.
Perhaps you'd like a fridge with a little more style, but don't want to pay a fancy price? The Mora 21 cu ft French Door Refrigerator is now on sale at Walmart for $1,298, down from $1,599.
Live Richer Podcast: Scamdemic – Don't Fall Victim to These Money Scams
Toaster Ovens and Microwaves
Warm up your favorite foods with a toaster oven from Walmart at a price that won't burn through your savings account. This March, the Oster® Convection 4-Slice Toaster Oven's price dropped from $121.18 to $69.89 at Walmart.
Hungry and ready to eat now? Walmart has you covered, offering you Black+Decker's Over The Range 1.6 Cu Ft Microwave for $258, down from its original price of $289.99. This microwave not only cooks your food evenly using two-speed 300 CFM external fans, but automatically adjusts your cooking times with its food sensor menu.
Make Your Money Work for You
Air Fryers
The cooking wave of the future is through air frying. Now you can have the same delicious fried taste without all the mess of regular frying when you pick up an Emerald Air Fryer, now just $58.99 at Walmart or a COSORI Smart Air Fryer priced at $79.89 — it comes with an extra bonus skewer rack set.
Best Buy has only 4 models of COSORI Air Fryers on sale right now, with the lowest coming in at $99.99, meaning that you only need to make one stop for your air frying needs: Walmart.
Coffee Makers
Waking up has never been more delicious than when it's with a great cup of joe brewed by your favorite coffee maker, which Walmart is slashing prices on this month. 
The JOOODEEE Single Serve 3 in 1 Coffee Brewer Coffee Maker gives you the option to pick your favorite size of hot beverage — big cup/10 ounces, medium cup/8 ounces, small cup/6 ounces — as well as the option to use it for pods or drip coffee, plus tea. The cost is just $49.99, a $10 discount, so you can pick up more beans to brew.
Make Your Money Work for You
Don't worry if you prefer a sophisticated coffee that also is easily portable. Walmart has you covered with the AeroPress Original Coffee Maker with Tote Bag on sale for $29.95 right now. Take it anywhere you go to have your coffee ready in just about a minute.
Blenders
We're two months into the year — how are your resolutions from January holding up? If you're looking to eat healthier or get a meal plan together for spring, Walmart has a selection of top-brand blenders to make your favorite juices and smoothies.
The Hamilton Beach Smoothie Blender comes with the Wave Action System, as well as a container and blade system engineered to apply pressure to your ingredients against the blades to ensure smoothies are that much smoother. Right now, Walmart is offering a $22 discount on this blender for the sweet price of $22.96.
If you're planning a party and need to do some serious blend, pick up the Housnat Max 2200W High Power Home and Commercial Blender at Walmart, usually priced at $139.99 but now it's $99.99. Choose from any one of its eight preset programs to blend frozen fruits or veggies, crush ice or stir up some thick shakes.
Popcorn Machines
Every night can be movie night when you shop at Walmart for a popcorn machine, perfect for making loads of buttery hot popcorn your entire family can enjoy.
The AICOOK popcorn machine is on sale at Walmart for $49.99, down from its regular price of $159.99. Wanting to get that movie theater experience right in your own home? Pick up a Great Northern Popcorn Pop Pup Popcorn Machine in classic fire engine red for only $73.55 when you buy it at Walmart.
More From GOBankingRates
Prices are accurate as of March 6, 2023, and are subject to change.
Make Your Money Work for You