Maximize Your Money With These Clothes Trading Apps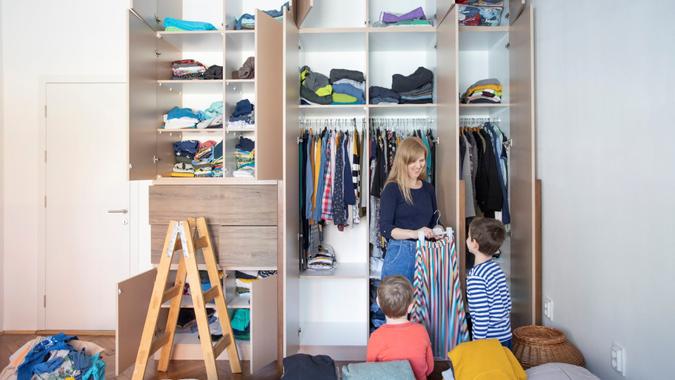 mmpile / Getty Images
If you're in a pinch for money, you can score a quick buck by selling the stuff that's collecting dust in the dreary corners of your closet. A one-off digital yard sale isn't the only option for turning ill-fitting or outdated clothing into cash, either.
See: 8 Clever Ways To Stop Wasting Money on Clothes
Find: Where and When To Shop To Save Money on Clothes
With the right apps, you can adopt a new perspective that treats clothing and accessories as tools for both earning and saving money. Instead of waiting for the sales when you buy only to donate unused clothes later down the road, stay on trend with threads you couldn't otherwise afford, get special clothes for special occasions without having to own them forever, and transform the clothing that you don't use back into money.
These apps will show you how to do it.
Kidizen
If it feels like your kids grow out of their clothes before you can even get the tags off, then you know the value of hand-me-downs. But if there aren't kids above or below in your family circle, or one wears stuff that won't work for another, Kidizen lets you partner with other parents who are in the same boat.
Make Your Money Work for You
Check Out: 25 Secret Money Traps at Target, Walmart and Other Big-Box Stores
You can maximize your money in two ways — by purchasing gently used clothing at a huge discount from other parents or by selling your own clothing to them. Kidizen makes it easy to set up shop, upload your images and list your clothing.
For buyers, deals include:
Newborn through 4T essentials for less than $10
Kids 5+ for less than $15
Women's clothes for less than $20
New-with-tags items for up to 80% off, including deals for less than $20
Stitch Fix
Stitch Fix gives the average person access to something that was long reserved for well-heeled clothes horses and fashionistas — a customized wardrobe. Something for everyone on every budget is a cliche, but with more than 1,000 brands and styles ranging from $25-$500 for men and women, Stitch Fix fits the bill. Kids' options start at under $10.
There are two paths to looking good for less. You can pay a styling fee of just $20 to collaborate with an expert stylist — or you can ditch the fee, take the style quiz and shop on your own through Stitch Fix Freestyle.
Make Your Money Work for You
Either way, you can keep what you like and send back what you don't — shipping, exchanges, and returns are always free. There are no hidden fees, and while automatic delivery is available for those who want it, no subscription is required, which sets Stitch Fix apart from so many similar apps.
Poshmark
Poshmark's TV ads pitch the app as "the perfect side hustle." While that's debatable, you can certainly both save money and make money when you use Poshmark. You can buy and sell not only clothing, but homeware and beauty products, too.
Speaking of Side Hustles: 22 Side Gigs That Can Make You Richer Than a Full-Time Job
A social media/e-commerce hybrid with millions of users, Poshmark lets you stretch your existing dollars and add new ones to your stacks. Just as Stitch Fix gives you access to a custom-designed wardrobe, Poshmark gives style-savvy sellers the opportunity to become curators themselves, building custom lines around their own personal taste and style. Upload your photos and list your items, share them, sell them, and bank the cash.
Make Your Money Work for You
On the other side of the coin, buyers save up to 70% while fielding personalized advice from millions of stylists and users.
Fashionphile
You can get yourself into some of the hottest designer styles and brands over and over again with Fashionphile, whose motto is "Shop. Sell. Repeat." Fashionphile specializes in previously owned ultra-luxe and rare items that you can buy way below market value to wear once or twice or however many times you like. Then, you can sell it right back to Fashionphile.
With most competing apps, sellers have to list their wares and offload them directly to buyers. Fashionphile streamlines the process by buying back their own high-end designer clothes, bags, accessories and jewelry.
More From GOBankingRates
Make Your Money Work for You