5 Best New Money-Saving Items Available at Costco in February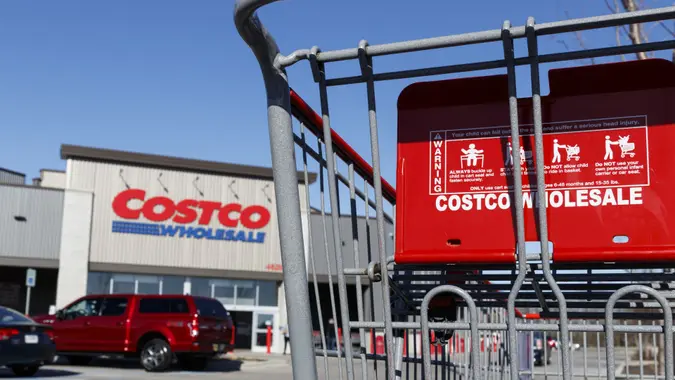 jetcityimage / Getty Images
If you're a Costco member, you know the kind of cult-favorite products and super savings you can get at the popular warehouse club. From your favorite blend of Kirkland coffee to the seasoned rotisserie chicken, it seems like Costco has it all — and that's just the food products.
Save More: 4 Reasons You Should Cancel Amazon Prime
Also: 3 Ways Smart People Save Money When Filing Their Taxes
If you're not a Costco member, you can buy a Gold Star membership for as little as $60 per year, which averages out to $5 per month. Or if you don't think you'll use a membership enough to justify the $60, you can shop online at Costco.com without a membership. However, you won't have access to all of the items Costco sells, and you'll also have to pay a 5% surcharge. That might be worth it, though, if you don't plan to shop at Costco more than once or twice per year.
Regardless of your Costco status, here are five best new money-saving items available there in February. 
Sharper Image Mirror
Putting on your makeup in a poorly lit room can result in all kinds of embarrassing mistakes — smeared eyeliner, gloppy mascara or contouring makeup that's not blended correctly. A great solution is a lighted, magnifying makeup mirror.
Make Your Money Work for You
"If you're in the market for a new vanity mirror, Costco has a great deal on the Sharper Image SpaStudio Vanity Mirror with storage trays," said Rebecca Gramuglia, consumer expert at TopCashback. "At Best Buy, the mirror goes for $249.99, but Costco's price is $100 less at only $149.99."
Brownie Brittle
You can save calories and stick to your New Year's diet with these perfectly portioned, one-ounce brownie brittle treats.
"As a light, tasty treat that mixes two classic desserts, Sheila G's Brownie Brittle is a great snack for both the cookie and brownie lover in your life — and it doesn't break the bank," said Gramuglia. "By shopping at Costco, you can score a 20-count of Sheila G's 1-ounce Brownie Brittle bags for $11.49. Compared to Amazon's price of $21.99 for the same item, you're saving over $10 by shopping at the wholesale club instead."
Take Our Poll: Do You Have a Second Job or Backup Plan in Case You Are Laid Off?
Coleman Cooler
If you're in the market for an upscale but affordable cooler that comes with a solid reputation, Coleman has been manufacturing coolers since the 1950's, and Costco is offering one for under $130. 
"Even though there's still some time to go until the warmer months of the year, the winter is a great time to find deals on spring and summer gear," Gramuglia said. "For example, Costco is now offering a Coleman 54-quart Steel Belted Cooler for $129.99. Typically, a quality cooler like this goes for over $50 more than that at retailers like Backcountry, which offers the same item in different colors for $199.99."
Make Your Money Work for You
Ham and Cheese Pastry
This item isn't exactly new to Costco, but it's new for 2023.
"So far, one of my favorite items for 2023 is Costco's ham and cheese pastry," said Greg Larkin, managing editor of Costco Food Database. "It's not brand new to Costco, but it is returning after nearly a two-year hiatus. The pastry is crispy and buttery, and the delicious filling is made with ham, provolone cheese and bechamel cheese sauce. The ham and cheese pastry is extremely easy to cook in the oven or air fryer and makes for a great breakfast option."
PMD Clean Body Cleansing Device + Shower Holder
A quick Google search will yield a handful of results for the PMD Clean Body Cleansing Device for $159, but you can get a much better deal if you get it at Costco. And at Costco, you get the device plus a handy shower holder.
To compare, if you try to buy the shower holder separately, it's an additional $30 on top of the regular price of $159. But if you buy the device at Costco, you'll pay only $114.99 for both the device and the shower holder — about $44 less than the device alone and $74 less buying the device and the separate shower holder.
Make Your Money Work for You
The catch? You just have to be willing to settle for the item in teal, dark purple or navy — the blush color isn't available at Costco.
More From GOBankingRates
Make Your Money Work for You