5 Best Places To Buy Luxury Items Secondhand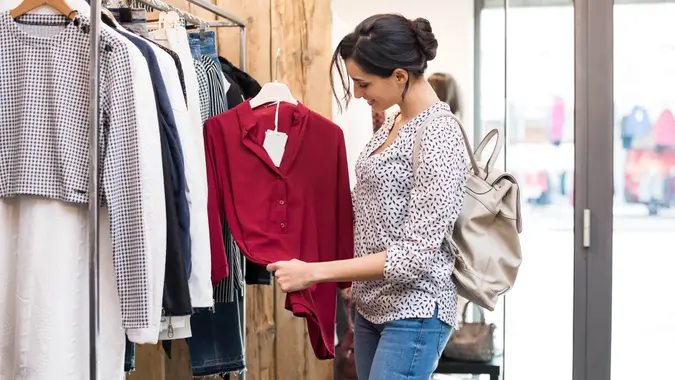 Ridofranz / Getty Images/iStockphoto
Shopping secondhand for luxury pieces is not only a sustainable way to shop but also an ideal way to discover new styles and find unique items to diversify your home and wardrobe. Today, it is easier than ever before to shop for items secondhand, with many stores operating fully online or featuring an online store in addition to an in-person one. While online shopping has connected sellers and buyers around the world, an in-person shopping experience is also very valuable to those who enjoy seeing and touching the products in real life.
To help you search for the best secondhand luxury items, GOBankingRates has compiled a roundup of the best brick-and-mortar secondhand and vintage shopping experiences sure to feature ideal pre-loved goodies.
Amarcord Vintage Fashion in New York
If you're looking for high-end fashion items to purchase secondhand, you'll want to visit Amarcord Vintage Fashion in New York. This boutique opened in 2000 and features two locations in the Big Apple. Currently, the store is spotlighting Jean Paul Gaultier's eclectic collections, and you can find rare pieces that cater to a quirky, camp, street and androgynous look. Additionally, you can find brands including Gucci, Fendi, Prada, Versace and Missoni at this one-of-a-kind vintage fashion location.
Make Your Money Work for You
If New York is a long plane ride away from you, be sure to shop online at Amarcord Vintage Fashion and enjoy free shipping on all domestic orders.
Elsewhere Vintage in Orange County, California
Nestled in Old Town Orange County is Elsewhere Vintage, a unique boutique that offers Victorian to 1990s vintage pieces. If you're looking for authentic vintage clothing from a particular era or to discover new styles and patterns to incorporate within your wardrobe, you'll find that Elsewhere has got you covered. The store features clothing for every event from period pieces and formal wear to retro sweaters and chunky knits.
FindFurnish in Minneapolis
If luxury furniture is your bread and butter, be sure to check out FindFurnish in Minneapolis to quench all of your luxury furniture cravings. This location features a collection of decor, furniture, clothing, records, hardware and art from vintage sellers. Some popular local sellers at this secondhand store include Tandem Vintage and Dearheart Vintage.
FindFurnish also features a regularly updated website with photos, descriptions and information on all of its offerings where buyers from around the world can shop and ship their desired pieces to wherever they are. From a vintage school chair to a large apothecary cabinet storage unit to beautiful and functional home furniture, this secondhand store covers all the bases when it comes to your home's needs.
Make Your Money Work for You
10 Ft. Single by Stella Dallas in Brooklyn, New York
A great pair of jeans can be hard to come by and many critics would argue this clothing item is just not made as thoughtfully as it used to be. If you're craving some well-made, high-end vintage denim, look no further. 10 Ft. Single by Stella Dallas in Brooklyn specializes in vintage denim and is the go-to spot for vintage Levi's jeans and T-shirts. Young people flock to this New York location for its brightly colored chalkboard signs that welcome guests, hanging vintage surfboards that create a laidback feel, and stacks and shelves of clothing seamlessly organized that cultivate a homey environment.
In addition to the vintage store's wide selection of denim, the store also features women's clothing, shoes and accessories.
Vintage Martini in Dallas
Vintage Martini is a go-to spot for women looking for luxurious antique, vintage and designer pieces. This secondhand clothing boutique sells Victorian and Edwardian-style vintage clothing and is renowned for its designer garment collection, which includes pieces from the 1960s through the 1990s.
Since 2007, Vintage Martini has featured a brick-and-mortar location in downtown Carrollton in addition to its continually updated website, where shoppers from around the world can purchase vintage products. The boutique welcomes all guests to bring their designer items to the store for people to purchase on consignment.
More From GOBankingRates